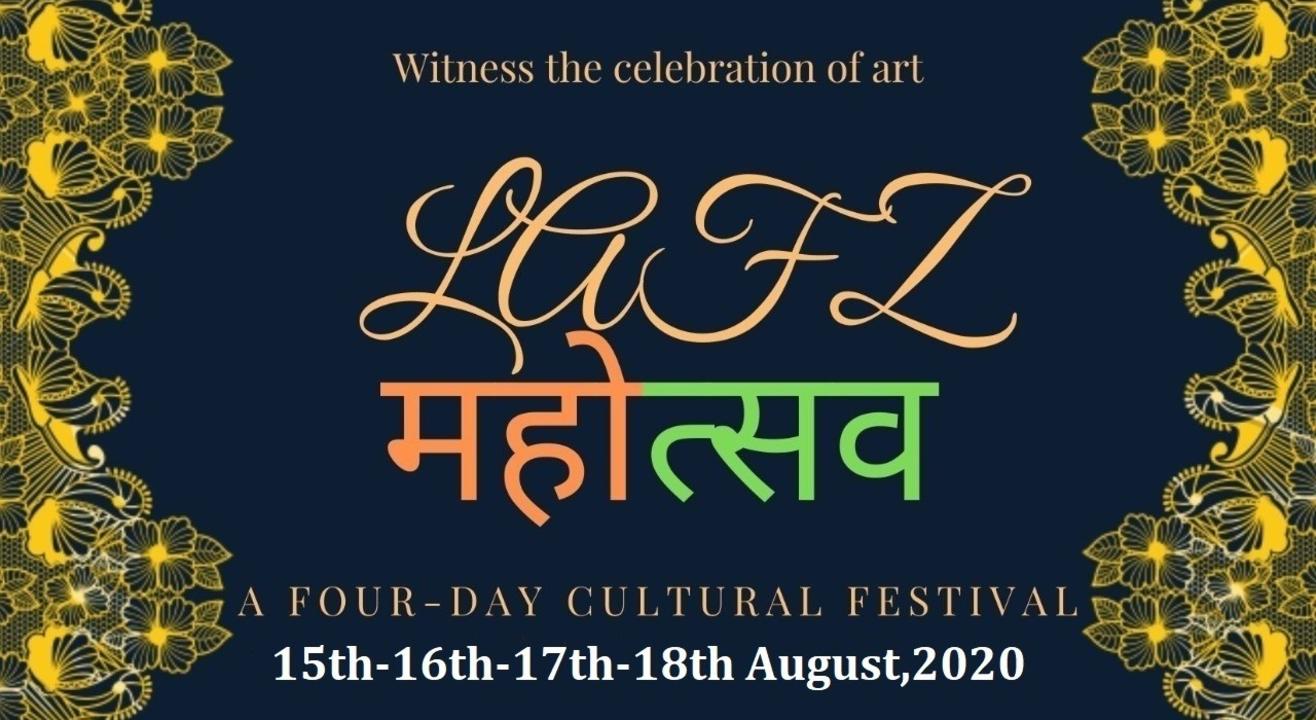 LAFZ I महोत्सव I Annual Cultural Festival I 15th to 18th August 2020 I
Enjoy this event from your home
Event Guide
Digital Event
Watch on Zoom
For Age(s)
Family Friendly
Live Performance
Enjoy a unique experience
Invite your friends
and enjoy a shared experience
Event Guide
Digital Event
Watch on Zoom
For Age(s)
Family Friendly
Live Performance
Enjoy a unique experience
Invite your friends
and enjoy a shared experience
About the Event
About us:
Lafz is a community of budding writers, poets and storytellers, comedians, actors, and all the artists out there. It is a platform which is fully driven by students only. we strongly believe in various art forms being performed by various talented artists. Be it poetry or storytelling, be it prose writing or performing artistry, Lafz aims to find beauty in differences and strives to uphold it, empower it and present it to the audiences in general. From daily activities to weekly seminars, from competitions to other zestful events, we try to create a healthy and joyful environment for the budding artists and help them strike a balance between emotional confluences and literary techniques in whatever they pen so that the depth of their words resonates with the thoughts of those who read it.
Events and workshops hosted by us are one-of-its-kind online events that aim to host a healthy yet competitive environment with myriad opportunities of learning. It is a platform for students, poets, writers, comedians, etc., to showcase their amazing works as well as to learn the nuances of the art form they wish to master. From challenging competitions to informative masterclasses, from distinguished speakers to blissful cultural evenings, Lafz has it all. Some might say that we are a full-on entertainment package!
What Will Happen in the Cultural festival :
Lafz Entertainments presents a Cultural Festival Lafz महोत्सव from 15th to 18th August.
Festival will have the following events:
1. Open mic Events of Poetry, Comedy, Acting, Storytelling, Singing.
2. Featured shows of all above mentioned Art Fields.
3. Workshops by various renowned Personalities of Bollywood Industry.
4. Interactive Sessions with Bollywood Celebrities.
5. Quizzes and Live Performance of a Musical Band.
6. Competitions of Poetry, Comedy, Singing and Acting.
6. Innaugural and Award Ceremony.
Single Pass will be required to participate in all of the above-mentioned events.
Prizes and Perks
1. A certificate will be provided to every performer and attendee.
2. Exciting Prizes for best performers of each competition.
4. A Chance to get a lifetime membership for our weekly Open Mic Events.
5. Workshops by renowned personalities of Bollywood.
6. Paid Promotion of worth rupees 2000/- for best performers on Youtube.
7. A chance to work and earn as a freelancer with Lafz Entertainments as an associated Artists. We Guarantee, you can earn a minimum of 2000 rupees per month by doing freelancing with us.
8. 50% share of revenue generated from the tickets of your bringers/Audience will be shared with you.
9. Your Podcast will be released on 8 different Platforms like- Spotify, Jio Sawan, Gana.com etc.
Chief Guest- Piyush Mishra Sir
Piyush Mishra, He is an Indian film and theatre actor, music director, lyricist, singer and scriptwriter.
There will be featured and open mic events of Poetry, Comedy, Acting, Singing etc. on 17th August, Fill the form to participate and get a chance to win exciting prizes.
Many Other Celebrities are coming. Marks the dates and join us.
All the Members/Audience who are joining us to attend the workshops, Interactive sessions or to see the amazing performances need to get a pass from here only!