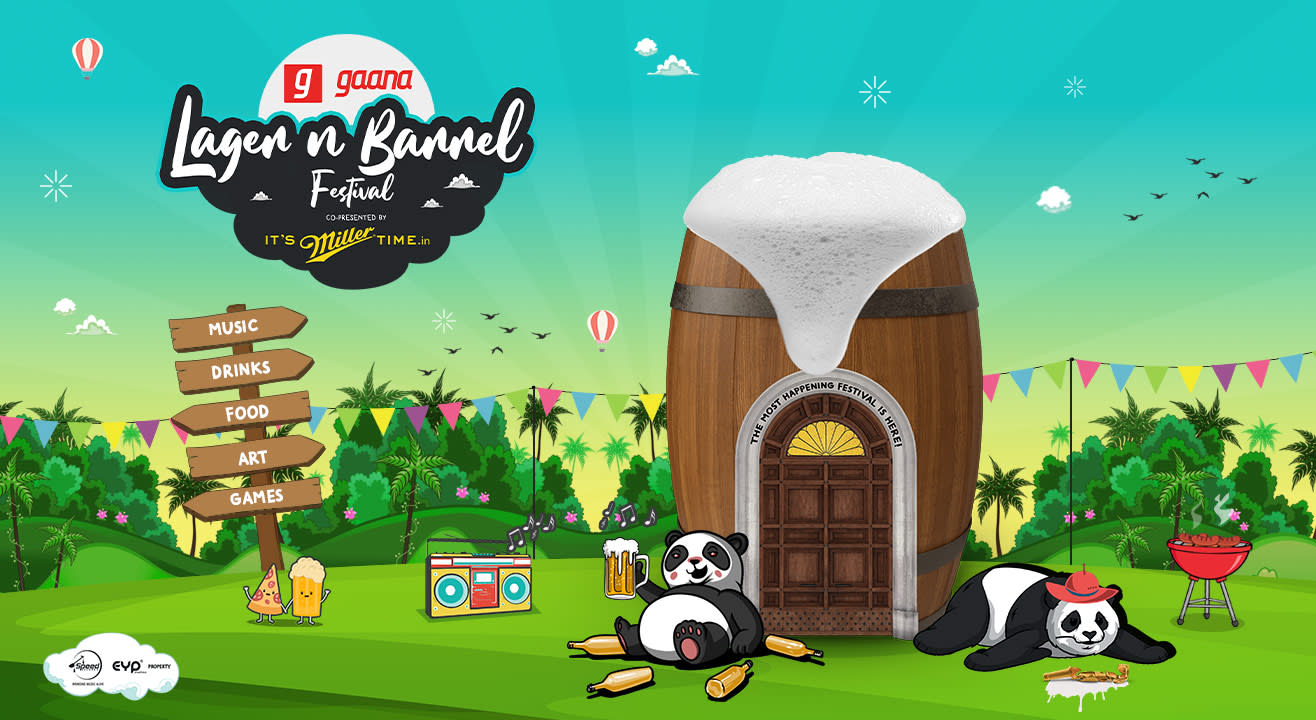 Food Fest
It's all good beer and good vibes at Gaana Lager n Barrel Festival!
Cheerful music, happy faces and all the hearty beer you need. Experience the full flavor of life at Lager N Barrel.

They had the city's beer lovers raving last year, and now they're back! Gaana Lager n Barrel Festival is one of those festivals that are great for both teetotallers and folks who are passionate about their brews. Why? For starters, you can expect a riveting music lineup. This time around, you get to watch top-notch bands like Parvaaz and Lagori! There are singers like Darshan Raval who'll croon away your blues, as well as musicians who make you want to dance instantly (Cherry Singh, for example!). There's also the firecracker duo Jassi Gill and B Praak to look forward to.

Here's what you can expect at Gaana Lager n Barrel Festival!

It's not just music that'll keep you up and pumped. Challenge your gang to exciting games like Beer Pong, Tyre Golf, and more. You might even get invited to a flip the bottle challenge! If the competition gets you drained, munch on delicious mains and sides from their food + flea market. You can find quirky stuff to take home too.

If you want to take a break and just relax, Gaana Lager n Barrel has beautiful spots to unwind at. There's the Beer Garden, where you can sip on signature brews under a starlit sky. Funky art installations will be up too! One of them is made of empty beer bottles - which should mean more beer, right? Right?

Check out the entire list of what's in store for you below.
Who's performing this year?

Day 1:

The Musical Journey by B Praak Feat. Jassie Gill
Virdas' Alien Chutney
Mellow D ft. Akull
Prakriti & Sukriti Kakar
Lagori
Stanley Live & Cherry Singh


Day 2
DIVINE
Darshan Raval
Parvaaz
The Yellow Diary
Afsana Khan & Khuda Baksh
Nissi Band



Jassi Gill and B Praak are set to take you on a musical journey! Then there's Darshan Raval, a YouTube sensation who captured hearts with his performance on India's Raw Star. Once you've heard his songs like Bhula Diya, Jab Tum Chaho and Kamariya, there's no turning back. Coupled with melodious music from Parvaaz and The Yellow Diary, you can expect a show that touches your soul.

It's not all mellow - there are quite a number of acts to get you up and moving. Move to beats from the 'hood when DIVINE takes over the stage. You can also catch powerhouse vocals from Stanley Live, Akull, Mellow D and Cherry Singh! Then there's Lagori, a super fun fusion band to watch live. They're most known for their track, 'Boom Shankar'.
This year's headlining acts:

You'll also get to watch these amazing musicians:

Here's a festival guide from the folks at Gaana Lager n Barrel themselves:
Over 10000 empty beer bottles dedicated to art!
Art is a form of expression, and a silent but effective way of communication, Lager n Barrel has been communicating its vibe, through live size installations, conveying happiness and relatability, using over ten thousand beer bottles to give the festival a jolly beer vibe also to enhance the festive decor, celebrating art by interactive installations.

Beer Garden
Lager n Barrel Festival offers a reintroduction of an older western era trend, The Beer Garden wherein the mood is wild and the only ceiling is the open evening sky.

Food Bazaar
Lager and Barrel has just the right amount of food you need with copious amounts of beer. That's right, INFINITE! Ranging from the sweetest to the sourest, mildest to spiciest, the event has every type of food a human brain can come up with even with the vastest of vocabularies. Get ready to get hella stuffed!

Taking out the inner child in you at the Gaming Arena!
Catering a beer festival that not just stops at beer but looks after all the other sphere from games to food covering everything, that doesn't stop families from coming to the festival, offering a safe and a fun festival where you find something for everyone. Families grooving to the rich music and enjoying every bit of it with your loved ones.

Flea Market
A flea fair where you find a match for the hippie inside you, quirky, cool stuff offering a great market place for the ones wild at heart. Leaving no stone unturned to bring fancy and quirky merchandise you would love to get your hands on.

Vibing and Chilling
Catering a carefree and chill aura where no one is judged and creating new boundaries for freedom. A free soul is the most productive and we at are festival believe in raw emotions and we work our best to offer a free vibe, so you can spread your wings and enjoy to your best, laying on the grass and enjoying beer with good music and chilling is what we aspire.

A Multigenre Festival
A festival offering a platter of genres, mixed and matched together to give your ears a perfect treat. From pop to metal and from punk to indie, Lager N Barrel has had it all - there was Papon, The Local Train, The Raghu Dixit Project and an endless list of artists on their lineup last year.

Here's what went down at Lager n Barrel in 2018!

Subscribe to receive our newsletter!
Find the best experiences happening out there in your city or enjoy handpicked content while sitting comfortably at home. Paytm Insider is your go-to place to figure out what to do today!