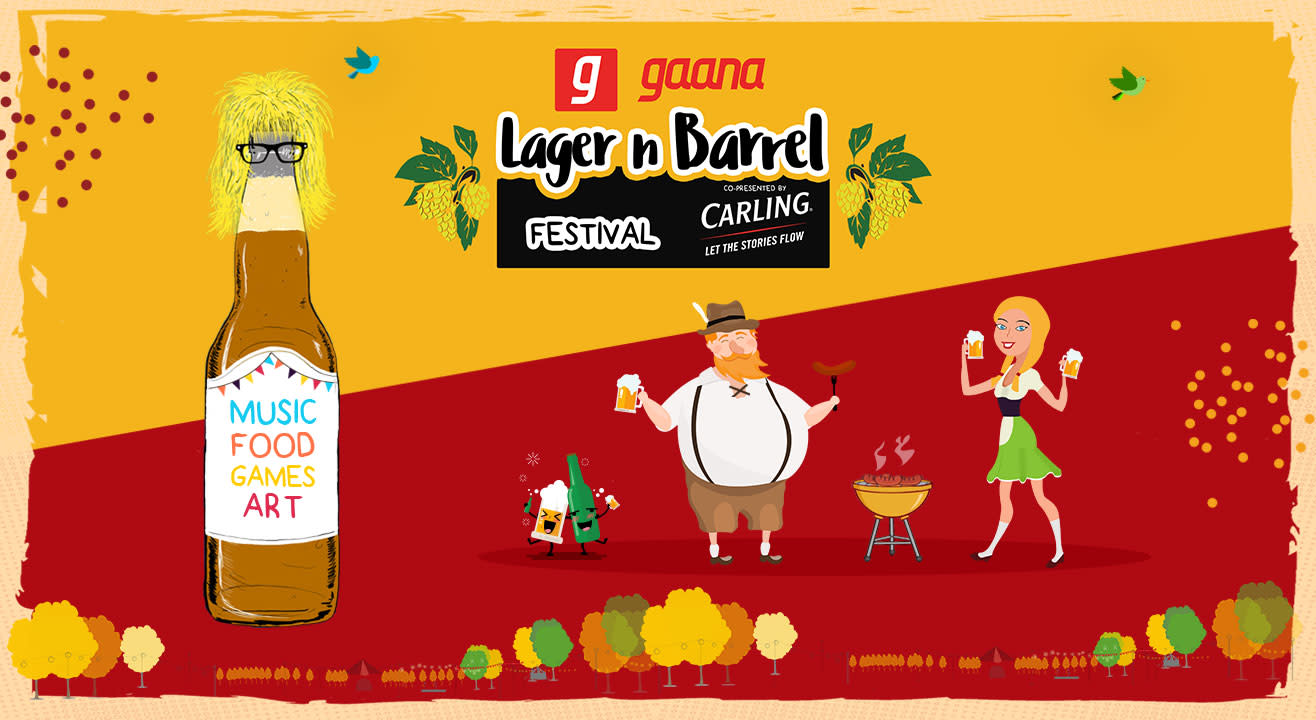 Drinks & More
Lager N Barrel Festival: Rock n Roll Beer Celebration
October 6 - 7 | 5PM & 4PM
Kingdom of Dreams, Gurugram
About
Lager n Barrel festival is the love child of Speed Records and EYP Creations. A rock n roll beer festival to celebrate beer, music, art and the love of a good time. The festival stretching from late afternoon through the night, offers a diversity of beers available for tasting and purchase, intends to ensure that the festival goers experience the full flavor of life through enriching music acts, lovable activities, delicious food and endless beer.
After 2 successful edition in Chandigarh, the festival is going to mark its debut in Gurgaon. For what it is, Lager n Barrel is poised to turn into a summer playground for beer lovers.
Divya Kumar
Divya Kumar is the man known for his signature enthusiasm and desi flare. He is the voice behind super hit tracks like: Title Track- Dolly Ki Doli, Jee Karda- Badlapur, GPhaad Ke- Happy Ending, Paaji Tussi Such a Pussycat, -Shake Your Bootiya- Finding Fanny & more

Mohammed Irfan
Mohammed Irfan is an Indian playback singer. Irfan caught the attention of veteran singer S. P. Balasubrahmanyam during a concert at a musical institute in Hyderabad.Balasubramaniam recommended him to A.R. Rahman, after which Rahman asked Irfan to provide background vocals for the Mani Ratnam-directed 2010 film Raavan.Irfan recorded the song "Behene De" for the film alongside Karthik. The track, which topped music charts for many continuous weeks, also received rave critical reviews.[5] The same year, he recorded two songs for Mithoon's Lamhaa, titled "Salaam Zindagi" and "Rehmat Zara", where for the latter he received the best male singer debut award.

Shefali Alvares
Born to a musical high, Shefali Alvares's vocals embody melodic goodness of smoky Jazz & Blues to up-tempo Rock filling up her music arsenal. She has made her presence felt in the live music arena of this country nearly a decade now, bedazzling a wide audience with her critically acclaimed singing skills. Over the last 2 years, Shefali started experimenting with her Indian music roots and has Sung in a couple of Bollywood Movies.
Yeh Dil Hai Nakhreywalla from the Madhur Bhandarkar Film Dil toh Baccha hai ji, Always Kabhi Kabhi, Salem, Mujhse FraandShip Karoge, Desi Boys – Tu mera hero with Mika, Ek main aur ek tu , Gulaabi Aankhen, Ratta Maar- Student of the year . Ill do the talking tonite - Agent Vinod

Millind Gaba
Millind Gaba, also known as Music MG, is a music director, singer, songwriter, rapper and actor from New Delhi. He is known for his work in Welcome Back (title track), Dilliwali Zaalim Girlfriend, Bas Tu by Roshan Prince, Aise Na Dekh, Bholeynath, Yaar Mod Do (featuring Guru Randhawa), Main Tan V Pyar Karda by Happy Raikoti, Bewafa and Kala Tikka (with Gurnazar).

Akhil
Akhil is a name that has found home in every heart. He has entertained us with songs such as Makhaul, Supne, Saari Saari Raat throughout the years. His final breakthrough came in the year 2016 with the release of "Khaab" which spread like a wildfire and went on to become a chart-buster song in all possible categories. The song was awarded as " The Most Romantic Ballad of the Year" at PTC Music Awards 2017. He is ever since winning our heart with songs such as "Teri Kami", "Gani", "Life" to name a few. Known for his signature charm, Akhil is unarguably one of the most desired singer & performer on the block. Back to back superhit songs, ever- increasing fan base and being the most followed youth icon, Akhil is here to stay forever !!

Akhil Sachdeva
Akhil Sachdeva is a young hot property of Delhi who has won our hearts with debut release "Humsafar" from Badrinath ki Dulhaniya. Known for energetic performance and thrilling voice, Akhil is a true party-turner.

Gurnazar Live
Gurnazar - the immensely gifted city-lad has completely changed the music and nightlife scenario all over North India. Hailing from the city of Kurukshetra, he has become a popular name among the youth today. Chattha kicked off his career in the year 2012 when he started singing live at Satva- a renowned lounge and bar in Chandigarh. He got his first mainstream break with Yaaran da Katchup movie and he hasn't looked back ever since. With over 10 songs from Punjabi movies he has the super-hit singles Aadatan and Bewafa to his name. After the success of his serenading romantic numbers, he has also ventured into the upbeat and dance genre andhas won over everybody's heart with his song Kala Tikka. An absolute favourite of the audience, his live gigs keep everyones ears glued and feet tapping.

Sumit Sethi
From having performed at prestigious ceremonies like the IIFA Awards, the opening and closing ceremonies of the commonwealth games, and World Series Hockey and World Kabaddi, he has won hearts with amazing remixes of Pink Lips, Desi Chhokre, Hangover and many more. He is the programmer of the song that is a rage with the teenagers- 'Chittiyan Kalaiyaan' and has also done the theme for Singham returns.

Stanley Live
Stanley is one of the most versatile budding artist of Chandigarh. His heart warming performances include genres like Sufi, Soft Rock, Bollywood, Fusion. He has been performing in and around the city, reaching out to more and more fans through his music. A staple lounge-night favourites, Stanley ensures to keep everyone grooving to their musical masterpieces till the night's end!!

Nissi Band
Hailing from the hills of Jammu, Nissi is one of the most sought after bands in North India. This five member group is known for their high voltage performances in the sufi, Punjabi rock and fusion genres. They set out with the sole aim of redefining the trend of live performances in the region. In their quest for the same, they have played at various colleges, lounges and music concerts. Winners of Manali Winter Carnival 2015 & 2nd Golden Guitar fest held in Jammu, they have started a brand new live music vibe. So don't shy away from trying a bit of head-banging the next time you hear Nissi Band play!

Runway Project
Think fusion, Think Runway Project- a six member band from Himachal Pradesh that has made a distinct place for itself in a short span of time. The band believes in creating music that resonates with the daily life experiences, making them highly relatable to the audiences. The band passionately works towards creating songs that strike a chord in the hearts of the listeners. Their performances are enthralling and engaging. Their music videos titled "Teen Patti" and "Poh Di Raat- Cover" got a super massive response. Let Runway Project sway your soul with the captivating stories they weave with their music.


October 6
Runway Project
Tarkash
Akhil Sachdeva
Millind Gaba
Parmish Verma
DJ Sumit Sethi

October 7
Nissi Band
Rossh
Stanley Live
Gurnazar Live
Akhil
BollyYouth - Divya Kumar, Mohammed Irfan, Shefali Alvares