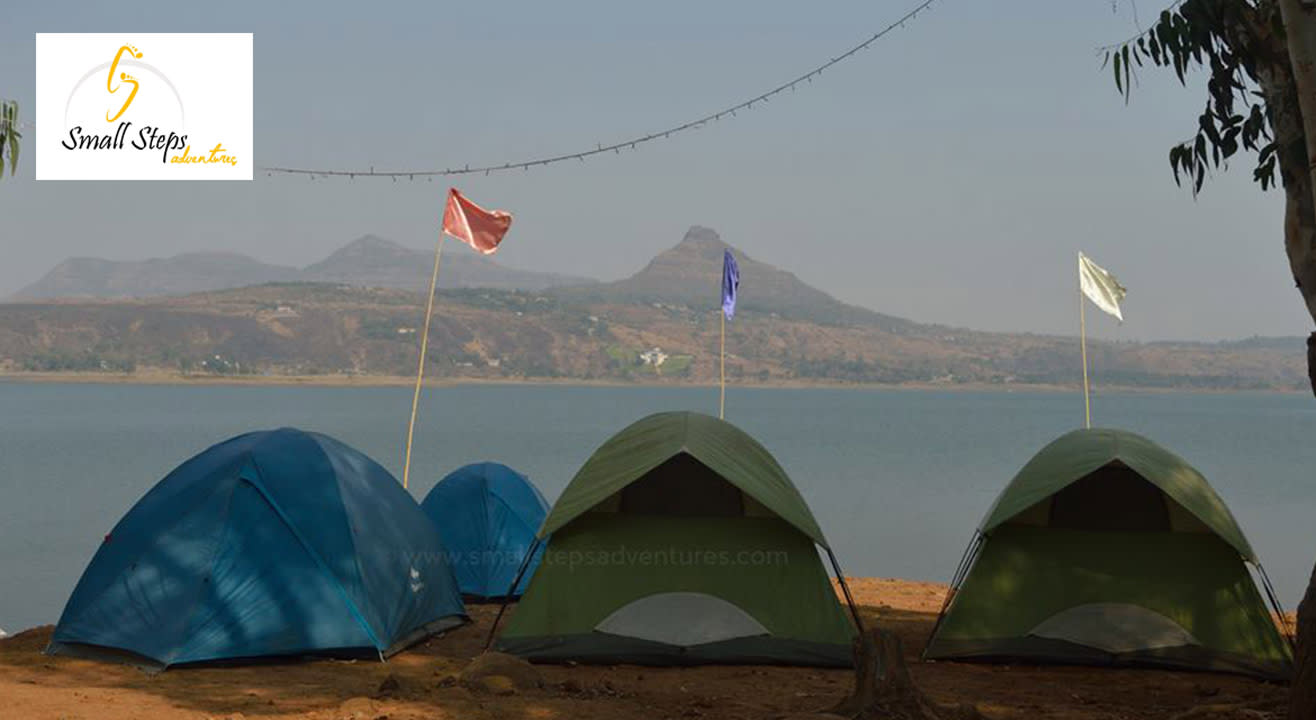 Camping
Lakeside Camping at Pawana Lake, Lonavla
December 16 | 23 | 24 | 3:30PM
About
Small Steps Adventures invites you to a special moonlight camping at Pawna Lake!
Pawna Lake is popular among campers while being quite hip. The lake is situated 3 Kms off-road, nicely isolating it from any possible hustle and bustle. A perfect, peaceful getaway that promises to surprise you, even more so at midnight, where you can star-gaze while the moonlight reflects against the surface of the lake. You can even swim there, (with a life jacket) go pedal-boating and partake in enjoying good music at night along with the food!
Saturday (First day)
03:30 PM: Reach campsite by your own vehicle. (bike/car)
04:00 PM: Evening snacks; start the party; campfire, swimming with life-jacket (everyone can swim), pedal-boating.
09:00 PM: Dinner (Veg/Non-Veg); Music.

Sunday (Second day)
06:30 AM: Hangover call (Bio-break facility at campsite)
07:00 AM: Awesome sunrise view.
08:00 AM: Tea.
09:00 AM: Breakfast.
09:30 AM: Goodbyes with load of memories and pictures.

Welcome tea
Snacks, dinner. (Veg/Non-veg)
Swimming with life jacket.
Pedal-Boating 15-20 mins.
Breakfast.
Music.
Tent with bedding and blanket.

Any personal expenses.
Any item not covered under 'inclusions.'
Travel till campsite.
GST.

1) Is washroom and changing facility available?
- Yes

2) Age Group criteria
- Any age group can enjoy at lake side, as campsite is fully safe.

3) Can I do swimming without life jacket?
- No. it's not allowed.

4) Which kinds of vehicles are preferable?
- High ground clearance vehicles as last 3 kms are Off-roading. Parking space is available.

5) BBQ
- We will provide you bbq equipment with screw n coal. You have to prepare it on your own.

6) How will be stay facility?
- Stay will be in Tent (sharing of 3-4 basis), Blanket and pillow will be there.
Cancellation and Refund applicable on the tour cost
If cancellation done prior to 15 days of outing 75% will be refunded.
If done prior to 10 days of outing 50% will be refunded
After that no refund will be provided
Small Steps Adventures want people to come out of their comfort zone and ordinary life; experience the great nature and its beauty. Adventure, thrill, fun and memorable moments that is what they offer with best safety standards, thanks to their professionals and volunteers with proper experience. The activities they carry out are trekking, camping, waterfall rappelling, river rafting, rock climbing and valley crossing.
Pawna Lake is an artificial lake in the vicinity of Pune stretching for about 10 Kms. It came into existence after the construction of the Pawna Dam and is now a scenic site for campers and trekkers to travel to.