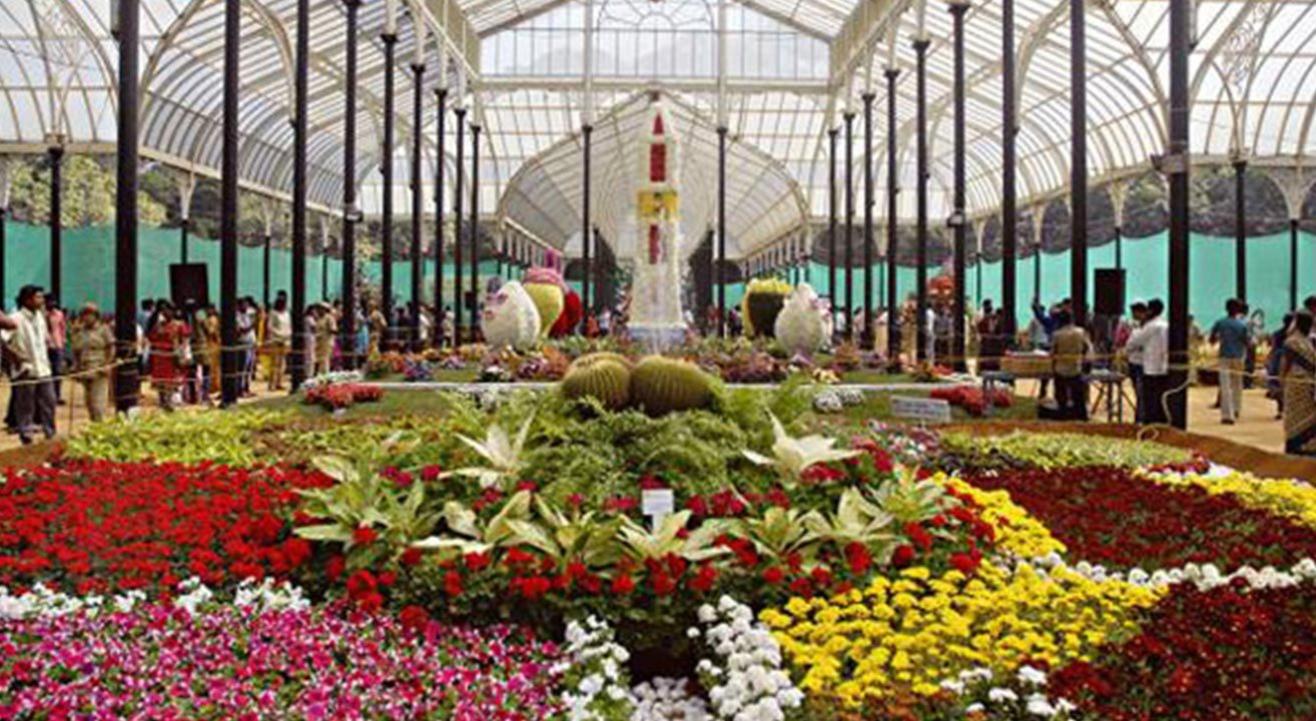 Lalbagh Flower Show 2019 – Independence Day Celebrations
August 9 - August 18 | 9AM
Lalbagh Botanical Garden, Bangalore, Bengaluru
Invite your friends
and enjoy a shared experience
Lalbagh Flower Show 2019 – Independence Day Celebrations
August 9 - August 18 | 9AM
Lalbagh Botanical Garden, Bangalore, Bengaluru
Invite your friends
and enjoy a shared experience
Invite your friends
and enjoy a shared experience
Celebrate Independence Day at Bengaluru's very own horticultural treasure! Lalbagh Garden's contribution to science and botany, as well its place in history, make it the perfect place to spend August 15th at. Every year there's a world-class flower show that attracts folks from across the city. You'll be treated to a visual extravaganza of flowers in every colour with flower-decked installations and artistically arranged displays. For nature enthusiasts, there's a wide variety of plant species to feast your eyes on. For those looking to really just get away from the traffic and noise, it's the perfect sanctuary for peace. Revel in the country's flower power on its 73rd Independence Day!
The construction of Lalbagh as a private garden was commissioned in 1760 by Hyder Ali who was the ruler of Old Mysore at the time. His son Tipu Sultan added his own contributions to the garden when he became king. During the British Raj, Lalbagh was extended to include several plant species and became a Government Botanical Garden 1856. The world-renowned garden is now maintained by the Directorate of Horticulture, Government of Karnataka.
Top Attractions at Lalbagh
- The Glass House: home to many exotic plant species and the venue for the biannual Flower Show.
- The Bandstand.
- The Lecture Hall.
- Pigeon House.
- Deer Paddock.
- Aquarium.
- Lalbagh House.
- The Museum.
- The Aviary.
- Kempegowda Tower.

Open every day from 9.00AM to 6.00PM
Entry from NORTH GATE (Urvashi Theater Lalbagh Road) & WEST GATE (Lalbagh Metro Station).
Lalbagh Botanical Garden, Bangalore
Mavalli, Bengaluru, Karnataka 560004
GET DIRECTIONS
Lalbagh Flower Show 2019 – Independence Day Celebrations
August 9 - August 18 | 9AM
Lalbagh Botanical Garden, Bangalore, Bengaluru
Invite your friends
and enjoy a shared experience