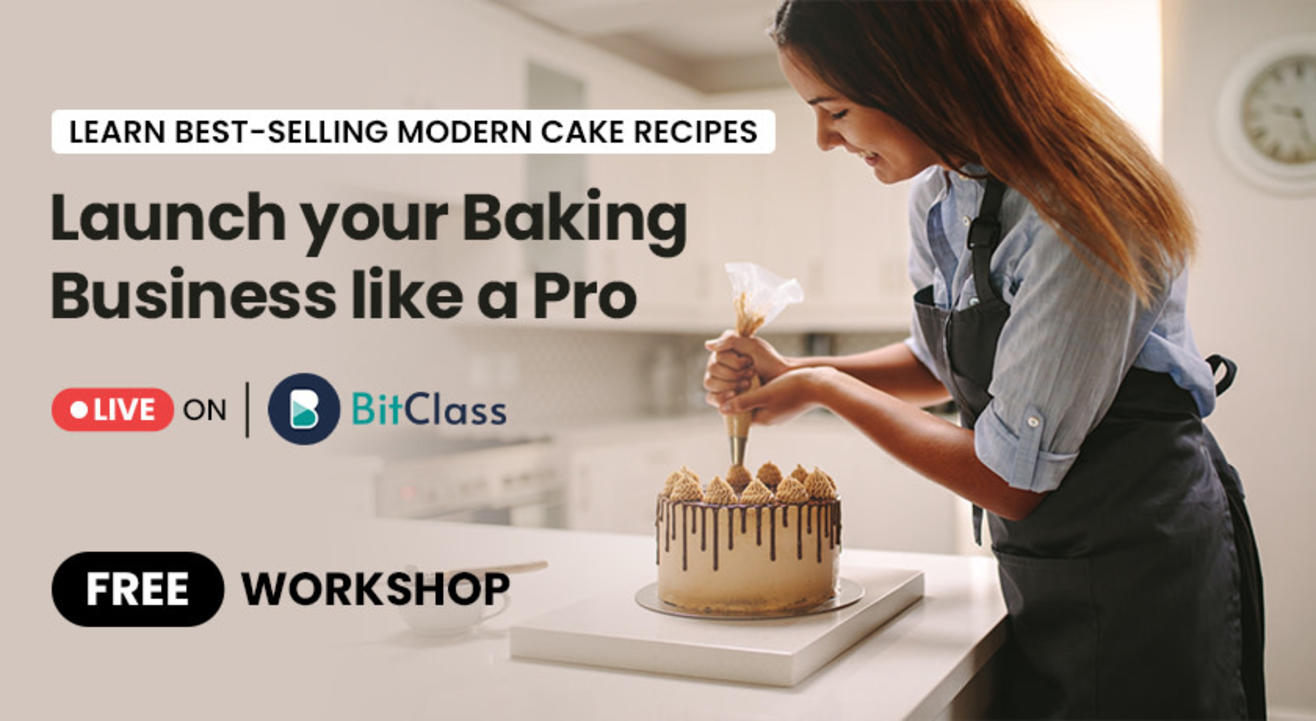 Launch your Baking Business like a Pro | Learn Best-Selling Modern Cake Recipes
Enjoy this event from your home
Event Guide
Masterclass
Learn from an expert
Invite your friends
and enjoy a shared experience
Launch your Baking Business like a Pro | Learn Best-Selling Modern Cake Recipes
Enjoy this event from your home
Event Guide
Masterclass
Learn from an expert
Invite your friends
and enjoy a shared experience
Event Guide
Masterclass
Learn from an expert
Invite your friends
and enjoy a shared experience
About this Course
Do you often wonder how people bake fabulous cakes like the ones on TLC? Are you looking to build a business out of your baking hobby?
Worry not, we have got you covered! Welcome to the Modern Cake Baking Class.
The bakery industry is a huge business that caters to people's weaknesses for tasty bread, cakes, pies, and sweet rolls. The baking industry generates more than $30 billion in revenue each year. This place is the perfect learning platform for you to start your journey for your own baking business!
Here you will learn how to perfect your cake baking method through which you can start your own business professionally. You will learn new recipes with extraordinary execution techniques to get your dream of having a cake shop come true!
In this class you will learn:
A hassle-free tea cake demonstration will be shown.
A complimentary recipe for a sandwich cake will be shared!
By the end of this workshop, you would learn from a professional about recipes that could be the star of your cake shop. Make the best-selling items right here!
If you are a baker or chef or someone who loves to bake with flooding compliments from your friends and family members, here is the space for you to embark on your dream baking business.
This workshop could be the perfect place for you to learn the baking techniques with accurate methods and professional recipes from an expert. Get ready to step up, be your own boss and enter the baking industry.
REGISTER TODAY and become a professional to establish your own cake shop!
Launch your Baking Business like a Pro | Learn Best-Selling Modern Cake Recipes
Enjoy this event from your home
Event Guide
Masterclass
Learn from an expert
Invite your friends
and enjoy a shared experience