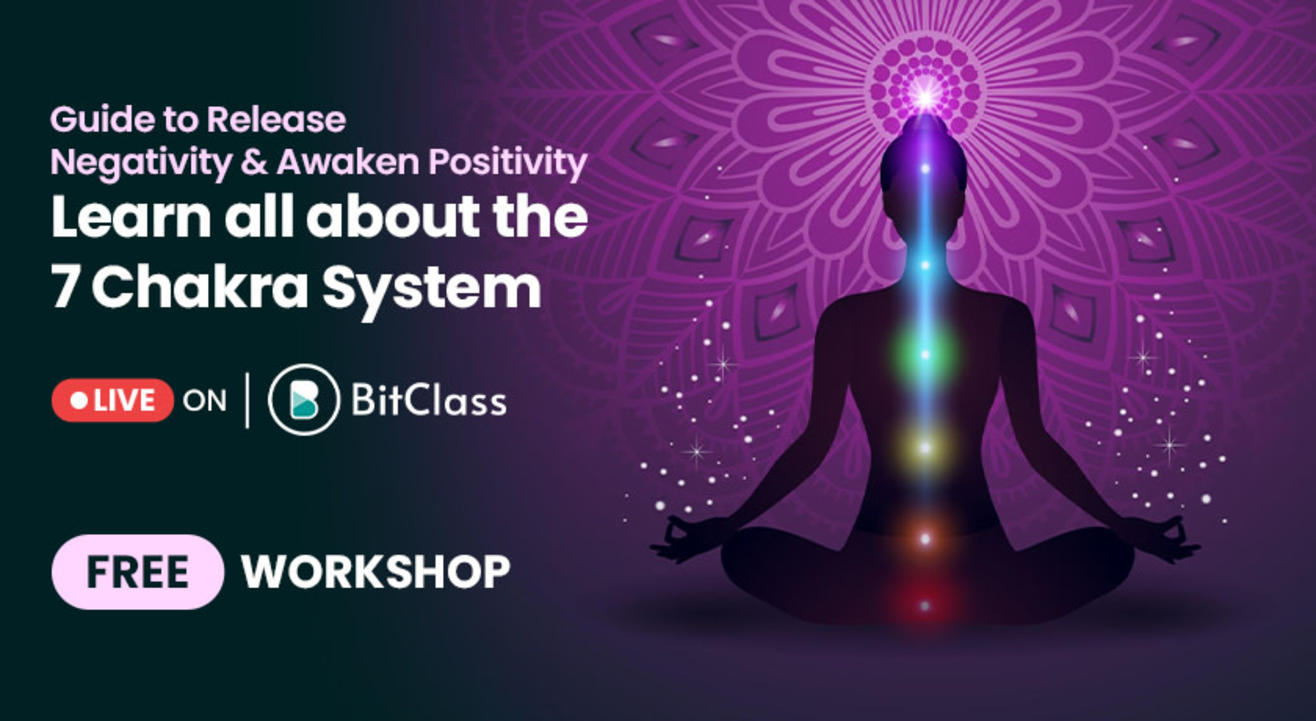 Learn all about the 7 Chakra System | Guide to Release Negativity & Awaken Positivity
October 6 | 3PM - October 8 | 4PM
Event Guide
Masterclass
Learn from an expert
Invite your friends
and enjoy a shared experience
Learn all about the 7 Chakra System | Guide to Release Negativity & Awaken Positivity
October 6 | 3PM - October 8 | 4PM
Event Guide
Masterclass
Learn from an expert
Invite your friends
and enjoy a shared experience
Event Guide
Masterclass
Learn from an expert
Invite your friends
and enjoy a shared experience
About this Course
Heal your energy, start unblocking your chakras and begin a new life with new possibilities- start with one of the best therapies in the world.
If you have ever felt relieved after a quick yoga session or have attended a healing session to become a chakra healer then here is where your professional journey begins!
Welcome to the FREE 7 Chakra System Workshop, where you learn all about the 7 chakras in your body in order to work with them.
In this workshop, you will learn from A to Z about the 7 Chakra System, locate, identify and diagonse the chakras and effective techniques in order to unblock energies and strengthen your spiritual self. Chakra helong is one of the most practiced healing therapies and meditation procedures. here you will also attain the complete guide to Eregize your body, soul & mind!
What will you learn?
Introduction to Chakras
How to identify the 7 chakras of the body
How to deal with blockages
Learn the physical and emotional connection of your Chakras
Learn about the Color Therapy to Balance Chakras
What are the benefits?
Know in-depth about each chakra in your body
Excel in learning about the 7 system of the chakras
Practice steps in the live class to enhance your chakras for outcomes
Get introduced to the most practical system of spirituality
Begin your professional journey as a healer & practitioner
By the end of this workshop, you will learn the basics of the 7 chakra system to awaken your chakras and auras within yourself. Live a happy, peaceful, and fulfilling life.
So, come along and become a better version of yourself!
REGISTER TODAY for FREE!
Learn all about the 7 Chakra System | Guide to Release Negativity & Awaken Positivity
October 6 | 3PM - October 8 | 4PM
Event Guide
Masterclass
Learn from an expert
Invite your friends
and enjoy a shared experience