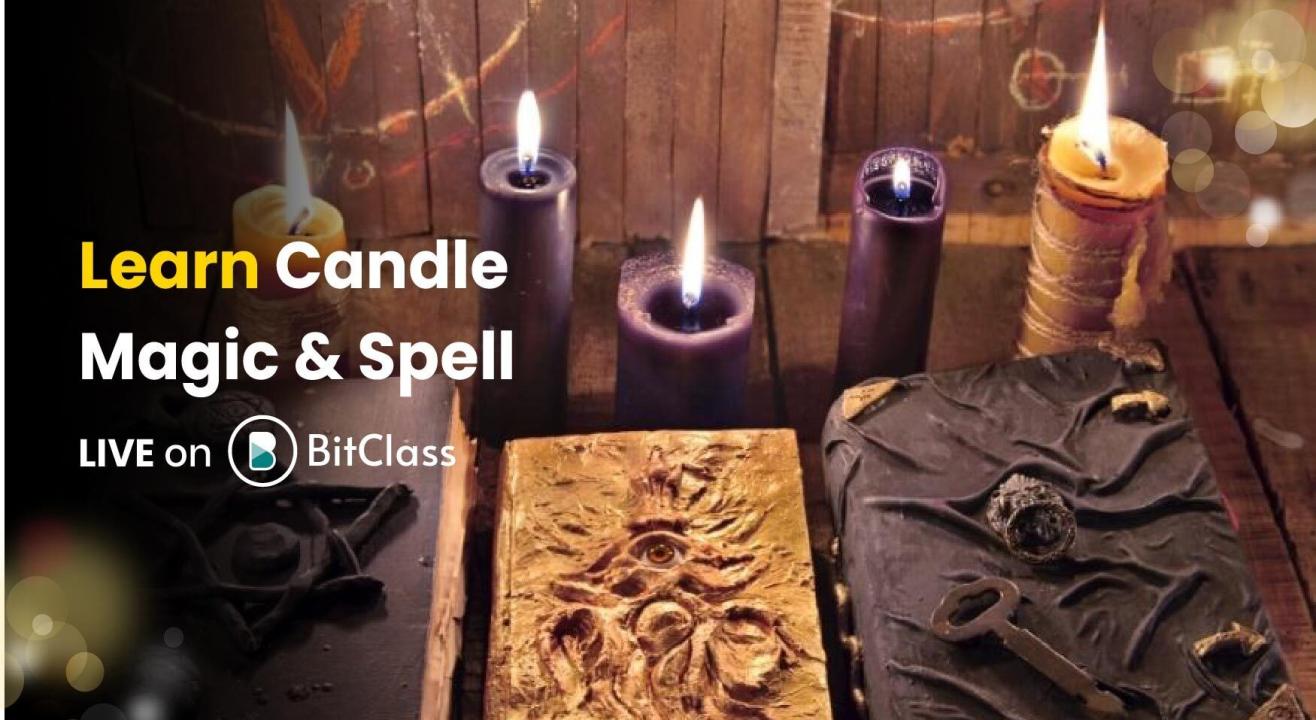 Learn Candle Magic & Spell | Laws of Attraction to Get What you Desire
August 9 | 9PM - August 11 | 10PM
Enjoy this event from your home
Event Guide
Masterclass
Learn from an expert
Invite your friends
and enjoy a shared experience
Learn Candle Magic & Spell | Laws of Attraction to Get What you Desire
August 9 | 9PM - August 11 | 10PM
Enjoy this event from your home
Event Guide
Masterclass
Learn from an expert
Invite your friends
and enjoy a shared experience
Event Guide
Masterclass
Learn from an expert
Invite your friends
and enjoy a shared experience
About this Course
Are you in search of reasons for your unhappiness and unfinished and unsatisfactory work? Do you work hard but still do not get the desired skills?
If these are some of your questions and you wish to solve your issues on a daily basis, then get in the class and get what you desire!
Welcome to FREE Candle Magic & Spell Workshop with an expert.
Candle magic or magick and spell is an art of tackling the unspectacular vitality of the universe into certain thought forms that work to create an impact in the physical world for the betterment. Candle magic and spell is a ritual that coordinates positive powers and gets things going.
In this workshop, explore the magnificent world of candles, and understand how the spells work with the magic of candles. Here is a hands-on practical workshop that will guide you to find answers and solutions, it is an aid to getting desired results.
Manifest your life of dreams with the magic of candles and watch it become reality!
What you will learn?
How divination is related to the candle magic
Learn how easy it is to learn and its working process
Understand the importance of establishing a meditative aura for the casting magic spells
Follow a step-wise ritual to manifest your dream life, job, career, and love.
Learn to get solutions and answers when the spell backfires
Learn how to protect from black magic and heal yourself
Learn how to make it a home-based earning skill
What are the benefits?
Make your wishes to come true by casting the candle magic spells
Get solutions to your problems by learning and practicing accurately
Perform it indoors at the comfort of your home
Make it a home-based earning skill and opportunity
Help yourself, family, friends, and protect them from negativity
Watch live to see how spells are casted with an expert!
Gain the right knowledge and significant skills and heal yourself with the spiritual entities in the world!
By the end of this class, you will be having the capacity to shape and survive tough conditions.
Register for FREE and empower your life with magical surroundings!
Learn Candle Magic & Spell | Laws of Attraction to Get What you Desire
August 9 | 9PM - August 11 | 10PM
Enjoy this event from your home
Event Guide
Masterclass
Learn from an expert
Invite your friends
and enjoy a shared experience