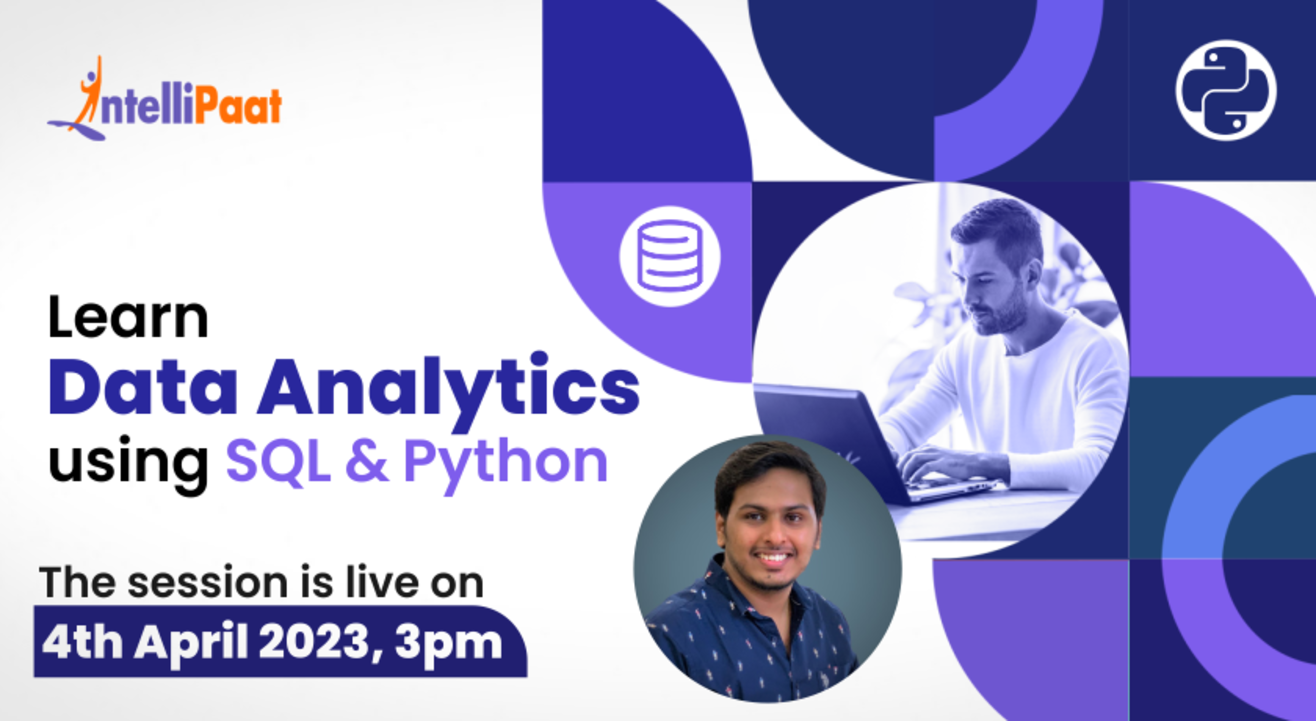 Learn data analytics using SQL and Python
March 7 | 12PM - April 8 | 12PM
Enjoy this event from your home
Event Guide
Masterclass
Learn from an expert
Invite your friends
and enjoy a shared experience
Learn data analytics using SQL and Python
March 7 | 12PM - April 8 | 12PM
Enjoy this event from your home
Event Guide
Masterclass
Learn from an expert
Invite your friends
and enjoy a shared experience
Event Guide
Masterclass
Learn from an expert
Invite your friends
and enjoy a shared experience
Data Analytics is an essential skill for professionals in a wide range of industries, from finance to healthcare to marketing. Join us for an engaging webinar on "Learn Data Analytics using SQL and Python" where we will provide an introduction to data analytics and demonstrate how to use SQL and Python to extract insights from large datasets.
In this webinar, our expert presenter will guide you through the basics of data analytics, including how to clean and prepare data, perform exploratory data analysis, and visualize data using Python. You will also learn how to use SQL to retrieve data from databases and perform data manipulation and analysis.
Our presenter will provide real-world examples and practical tips to help you get started with data analytics using SQL and Python. Whether you are a beginner or an experienced professional, this webinar is for anyone looking to expand their data analytics skills.
Don't miss this opportunity to learn from our expert presenter and gain valuable insights into data analytics using SQL and Python. Register now for "Learn Data Analytics using SQL and Python" and take the first step towards becoming a skilled data analyst.
The session is live on [ 4thApril, 3 PM ]
Agenda:
1) Introduction to Data Analytics
2) SQL and Python Basics
3) How can Non-IT Professionals make a career in Data Analytics?
4) How to get certified and land a job in Data Analytics?
5) Q & A session
Terms & Conditions
This event will be streamed online.
The event may have interactive elements and will involve participation from the audience.
You may not be able to attend the session if late.
If you face interruptions during the course of live stream, please check your internet connectivity.
Recording of the stream will not be shared in case of non-attendance.
We are committed to a respectful and safe environment, free from harassment, violence, discrimination, bullying, abuse, and solicitation. All parties, trainers and attendees are to be treated with respect and dignity. Participation in activities or behaviors that discriminate on the grounds of race, colour, place of origin, gender, age, marital status, religious beliefs, citizenship, mental and physical abilities, sexual orientation, or any other prohibited grounds within applicable law will not be tolerated.
Learn data analytics using SQL and Python
March 7 | 12PM - April 8 | 12PM
Enjoy this event from your home
Event Guide
Masterclass
Learn from an expert
Invite your friends
and enjoy a shared experience