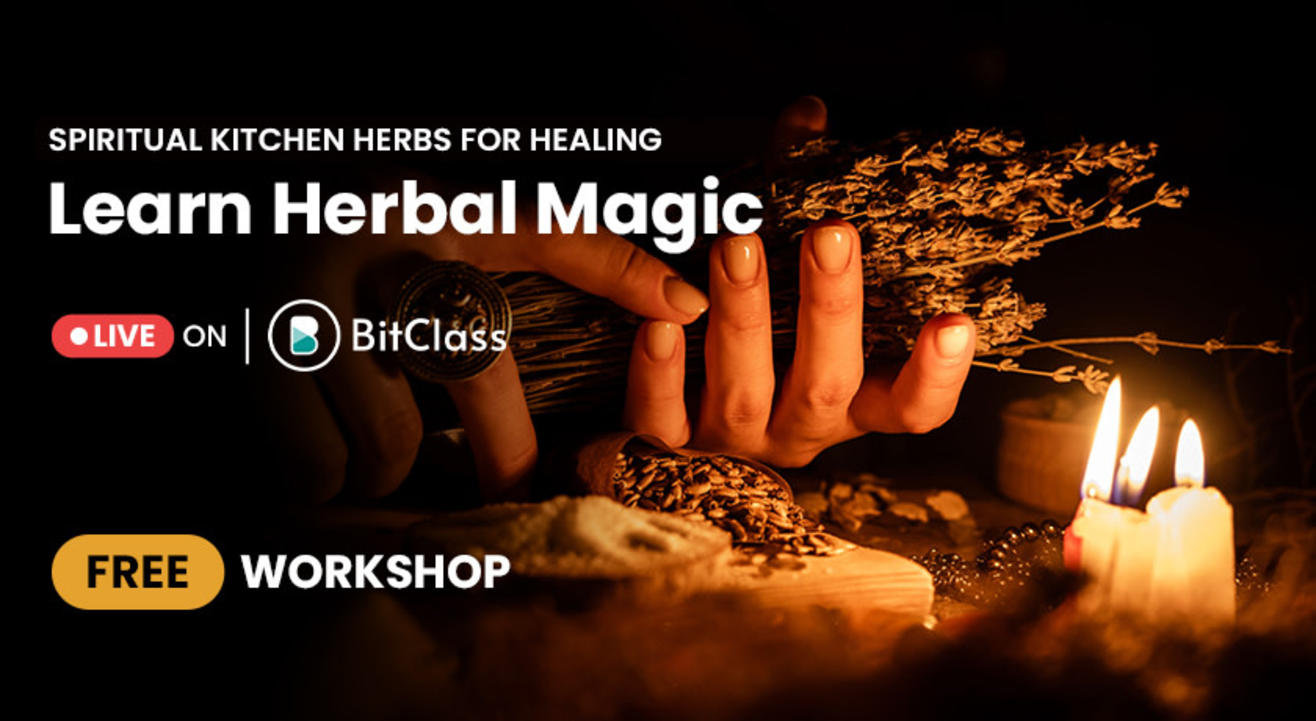 Learn Herbal Magic | Spiritual Kitchen Herbs for Healing
July 6 | 7:30PM - July 13 | 8:30PM
Enjoy this event from your home
Event Guide
Masterclass
Learn from an expert
Invite your friends
and enjoy a shared experience
Learn Herbal Magic | Spiritual Kitchen Herbs for Healing
July 6 | 7:30PM - July 13 | 8:30PM
Enjoy this event from your home
Event Guide
Masterclass
Learn from an expert
Invite your friends
and enjoy a shared experience
Event Guide
Masterclass
Learn from an expert
Invite your friends
and enjoy a shared experience
About this Course
Do you know that "kitchen spices can help you manifest your desires and charge up your life with growth and prosperity?"
Welcome to the 'Magical Herbs Manifestation' Workshop.
In this online class, we will learn about some kitchen herbs that will actually bring out prosperity in life. We will learn about easy kitchen remedies with spices like garlic, star anise, supari, bay leaf, basil, cinnamon, coriander, etc., and understand their purpose for use: to recover stuck money, for abundance, attract customers, good luck, good fortune, etc.
What will you learn?
The craft of magical herbalism.
What are the magical herbs?
principles of herbal magic.
What are the rituals?
Spices and the kitchen
Learn about 20+ different herbs (coriander, cloves, basil, cinnamon, bay leaf, etc).
abundance, attract customers, money magnet, protection, struck money, friendship, cleansing spray, road opener, wish manifestation)
Learn how to create a protective bag and how to heal relationships with herbs.
High jhon root, lavender in detail
Examples (cinnamon and clove)
What do you require?
What benefit will you get?
Receive overdue, blocked money from people who owe you.
Attract luck and good fortune in life.
Invite protection, love, healing, abundance, and more.
Put a halt to negativity and get rid of your life problems.
Curious? Want to learn more? Register Now!
Learn Herbal Magic | Spiritual Kitchen Herbs for Healing
July 6 | 7:30PM - July 13 | 8:30PM
Enjoy this event from your home
Event Guide
Masterclass
Learn from an expert
Invite your friends
and enjoy a shared experience