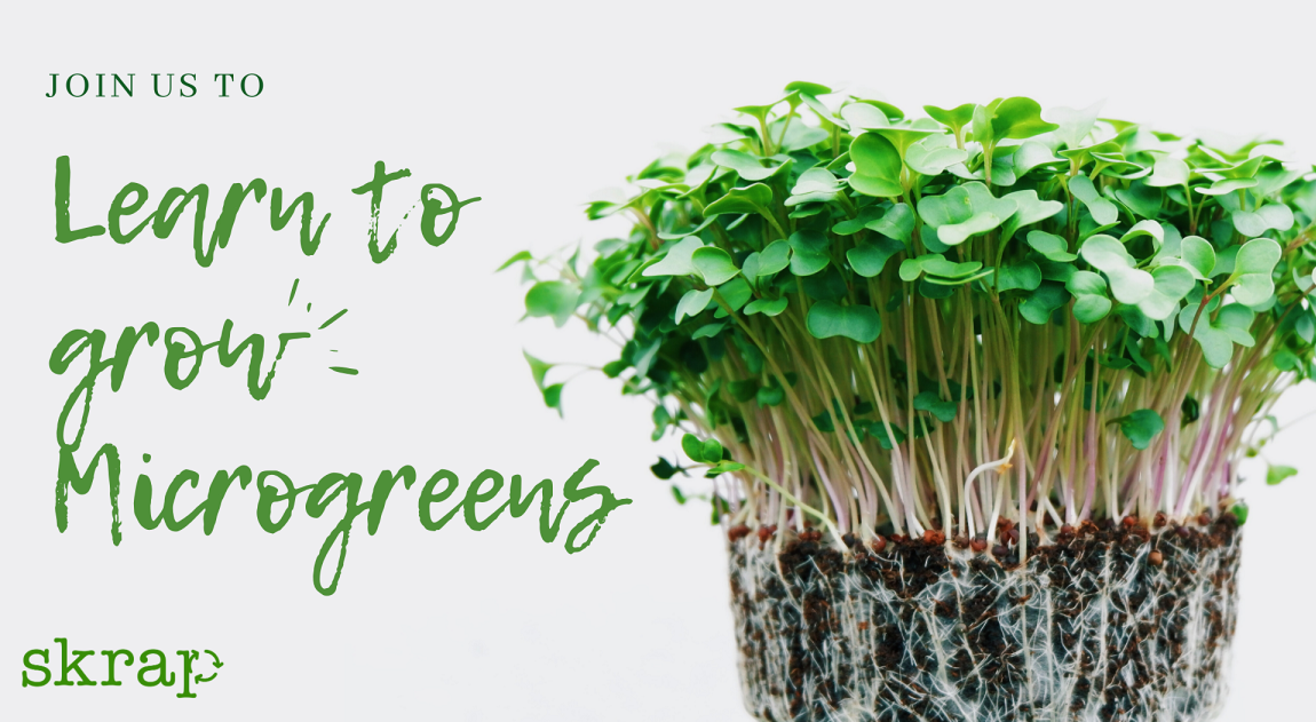 Learn how to Grow Microgreens!
Event Guide
Digital Event
Watch on Zoom
For Age(s)
Family Friendly
Masterclass
Learn from an expert
Invite your friends
and enjoy a shared experience
Event Guide
Digital Event
Watch on Zoom
For Age(s)
Family Friendly
Masterclass
Learn from an expert
Invite your friends
and enjoy a shared experience
About the Event
Always wanted to be a plant parent but still waiting to take that first step? Come join the Skrap team for an interactive session on Growing Your Own Microgreens! 🌱
Microgreens are young vegetable greens power packed with nutrients. 💪 Perfect for beginners, they are easy to grow and don't take up much space! They have a wonderful burst of flavour and can be used to enhance the taste of our food like noodles, pastas, smoothies, pizzas, sandwiches etc. 🥪
During the session we'll talk about what microgreens are, what are the benefits of growing these (gosh, there are so many!), how do we use them and also have a do-it-along demonstration of sowing our microgreens. We'll also share simple and practical tips to care for them until harvest. 🤩
Materials needed
For this online workshop, it's BYO Ingredients! You'll require the following items for the workshop:
Mustard or Methi or Flax seeds - A handful to cover the container
A plastic container - Takeaway food containers work well
Soil/Compost/Cocopeat (preferred medium) or Tissue paper (optional medium) - Enough to make a 2-inch bed in the container
A nail or safety pin (to poke holes as a drainage outlet)
Once you sign up for the workshop, we'll email you a detailed note on the ingredients, quantities, and tips to keep in mind.
P.S.: The session is most fun when you sow your seeds for the microgreens during the workshop. You can also chose to attend the session to learn about the process and make later.
Who is this workshop for
Our workshop is great for anyone who is keen to take the first step towards growing plants and their own food. Our workshops are also a good place to connect with like-minded folks.
Duration of the workshop
The workshop will be held for 60 minutes from 5 - 6 PM.
Check out what participants had to say about our workshops:
It was a great session. You answered all the queries in great way! I plan to use microgreens for my children's food preparation with dal. Thanks! - Priyadarshini
Thank you, waiting to try it over the weekend. - Pramodini
Thank you for a very useful session presented very well. - Hariharan


About Skrap
Skrap is a social enterprise that helps events, organisations and individuals adopt zero waste practices and sustainability solutions. Our aim is to minimize the amount of waste that ends up in our local landfills, villages and oceans. And instead transform this waste into valuable resources by reusing, recycling and composting.
About the Facilitators
Shipra Agarwal leads sustainability workshops at Skrap. She is a facilitator and programme executer with expertise in the fields of education, sustainability and sanitation. Shipra has facilitated over 400+ hours of sustainability-themed sessions with over a 1000 children and adults in the last four years.