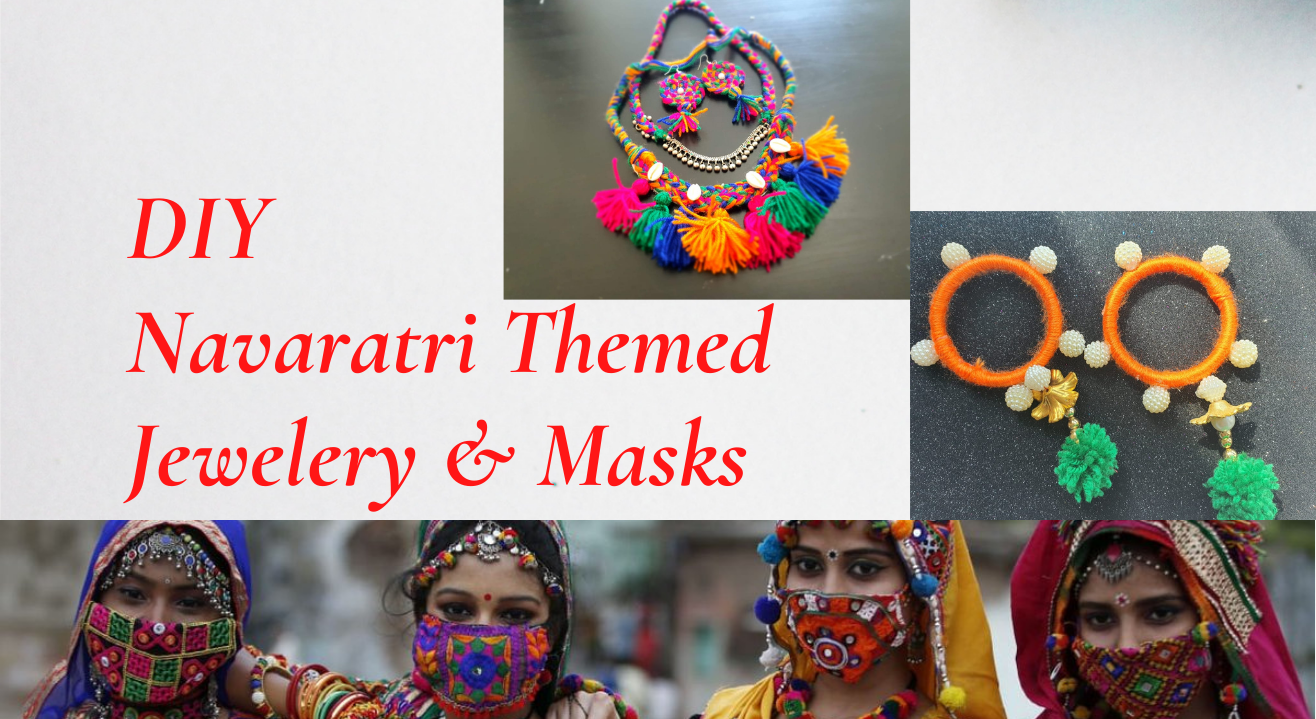 Learn how to make Navaratri themed Jewelry & Masks
October 21 | 3PM & October 24 | 11:30AM
Event Guide
Digital Event
Watch on Zoom
For Age(s)
Family Friendly
Masterclass
Learn from an expert
Invite your friends
and enjoy a shared experience
Event Guide
Digital Event
Watch on Zoom
For Age(s)
Family Friendly
Masterclass
Learn from an expert
Invite your friends
and enjoy a shared experience
About the Event
Kem Cho!
With COVID-19, Navaratri celebrations will not be celebrated on the same scale as previous years owing to safety concerns. Many people will miss the packed grounds, live bands playing Garba hits and other garba and dandiya entusiasts flaunting their dance moves and chic outfits.
You can still celebrate this much loved festival in smaller, closed groups with friends, family, neighbours in your local communites and societies.
The celebration won't be complete without folks dressing up in traditional outfits and accessories. In 2020, a new accessory gets added to the Navaratri outfit: The COVID-19 mask!
This festive season, we bring to you a workshop where you can learn to make you own designer mask & jewelry for Navaratri, Dussehra or Diwali celebrations.
The session is divided into two parts. The first part is a hands-on tutorial showing how to combine the various raw materials and designing your own jewelry and face masks. The second part is an open Q&A where you can interact with the instructor over audio, video or chat.
The tutorial will be in Hindi & English. The Q&A in Hindi, English, Marathi, Telugu & Gujarati.
The event is open to audiences across the world.
The event would be conducted live.
Learn to make masks that compliment your traditional ghagra choli or chanya choli or kurtas and colourful jewelry that can be worn on various occasions!
Make these for yourself or for personalized gifting to your loved ones!
Materials Required
For the Mask:
Pieces of cotton cloth (colours or patterns you want to include in your design)
Any kind of lace
1 A4 size paper, ruler & pencil
Scissors
Threads (Choose colours you want for your design)
Sewing Machine or Sewing kit
Elastic Bands
1-3 Layer Cloth Mask if you only want to personalize a basic mask and not create the mask from scratch.
For the Jewelry:
Mirror lace or any kind of border lace
Woolen threads (Choose colours you want for your design)
Pearls, Stones and Shells/Kowdi
Earring hooks
Hot glue
Normal glue
Scissors
A4 Cardboard, ruler & pencil
Necklace rope of any kind if available. If not available, Kalyani will show how to make in the event.
About the Instructor
Kalyani Golla is a Punekar who settled in Dubai many years ago but is still in touch with her Indian Heritage through arts & crafts.
She is a mother, vlogger, homemaker and arts enthusiast who is completely self taught.
She enjoys quilling, rangoli art, jewelry making and clay modeling and aims to share her passion with other like minded people!
Check out her YouTube channel - https://www.youtube.com/channel/UCD7X-6NkhAZ0BDwEZM-R3oA