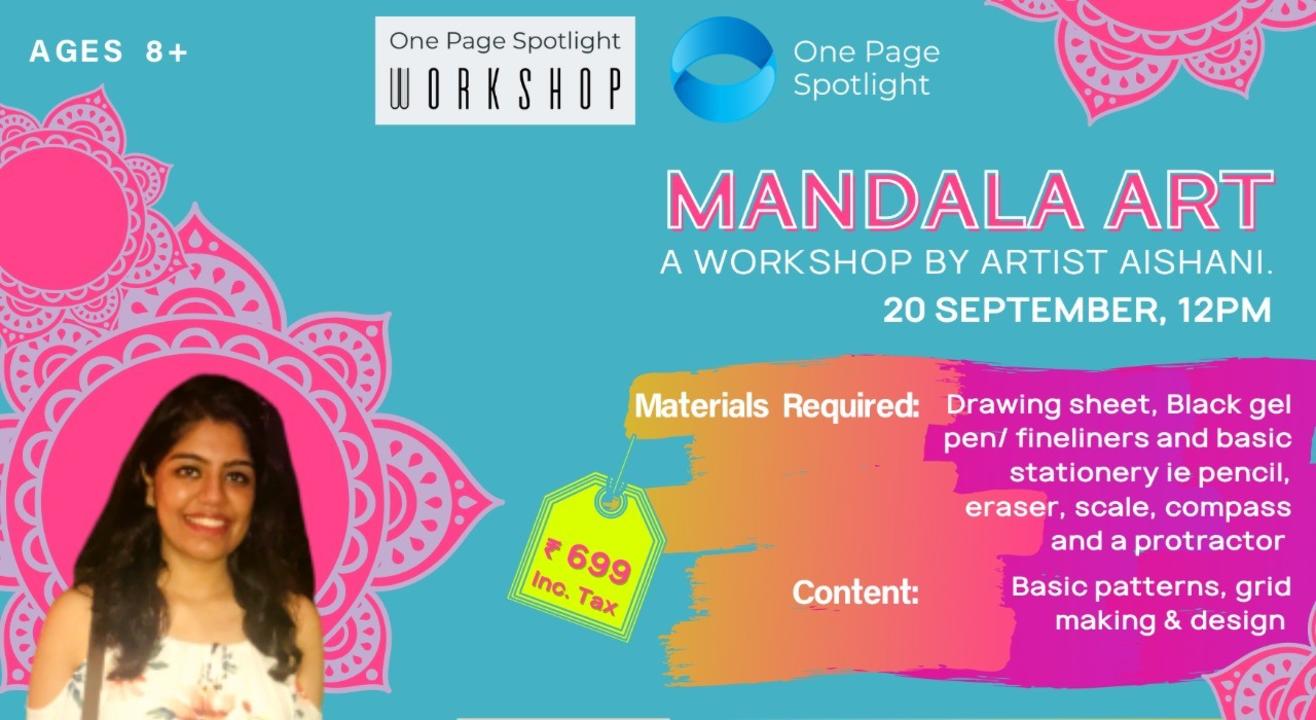 Learn Mandala Art - A One Page Spotlight Workshop
Enjoy this event from your home
Invite your friends
and enjoy a shared experience
Invite your friends
and enjoy a shared experience
About the Event
This workshop by Mandala Artist Aishani Dhawan teaches you how to draw a Mandala along with Zentangling. The workshop enables you to use Mandala as an Art Therapy and for product ideas within your Art Store like bookmarks, posters, brochures, logos, Wall paintings, clothing, and other products!
Aishani Dhawan is a Mandala Artist who has been practicing and teaching Mandalas since 2017 where she took over this interest professionally. She believes that drawing Mandala has a healing power and has ever since been doing workshops with different organizations on the same.
About One Page Spotlight:
One Page Spotlight is a virtual platform for creators to create, connect and collaborate with fellow creators and organisations. With existing platforms, creators struggle to find the right audience and market as well as connect with the right organisation and people. One Page Spotlight provides creators with an authentic ecosystem of collaborators, thereby empowering them to position themselves under the spotlight. Sign-up now on https://www.onepagespotlight.com
Materials Required for the workshop:
1. Drawing Sheet
2. Fineliners or Black Gel Pen
3. Pencil and Eraser
4. Scale
5. Protractor
Process of Purchase:
1. Once the payment is made, you will receive a call/message from One Page Spotlight and we will send you the link to join the private community on www.onepagespotlight.com for access to the workshop broadcast
2. You will be added to the private community and receive full access to the workshop or can send a join request on the following link: https://www.onepagespotlight.com/groups/Draw%20Mandalas%20Now!/profile/1151409950969430016/feed
3. Once you have signed-up, you can now go ahead and view the workshop anytime from 12 pm - 6 pm IST on the date of broadcast and as per the confirmation time and date sent to you by email.
General FAQ's:
1. What do I do if I miss the workshop?
A. The workshop is for 1 hour duration only. However, we have ensured that you have access to the workshop for 6 hours on the streaming date for your ease of reference.
2. What happens after the time period?
A. You are removed from the Community of Broadcast by the Admin after completion of the workshop. Participants shall also be given an E-certificate of completion.
3. What if my link is not working?
A. You can call us on +91 90084 90086 for a fast-track solution or email is on contact@onepagespotlght.com with the screenshot and your contact details.
What can I do post the completion of the workshop?
- Begin drawing Mandalas with an understanding of Basic Patterns, Grid making and Design.
- Start practicing Mandala as an Art Therapy
- Build up the passion professionally
- Progress to intermediate and advanced levels
- Use your certificate for professional submissions
Terms & Conditions
1. Workshop broadcast is available between 12 pm- 6 pm IST on the date of broadcast after purchase of the ticket.
2. You will be allowed entry to the workshop only on confirmation of receipt of the payment.
3. If you are unavailable at the stipulated time, you will not be refunded. However, in special cases, you can write to us at contact@onepagespotlight.com and we shall evaluate the same.
4. Taxes Extra (All payment gateway charges, Service Charge, Convenience Fees and GST to be paid by customer)
5. One Page Spotlight does not promise a job, money or internship for attendees after the workshop and is not liable for any claims for any damage to the participant.
One Page Spotlight Workshops - Mandala Art by Aishani Dhawan