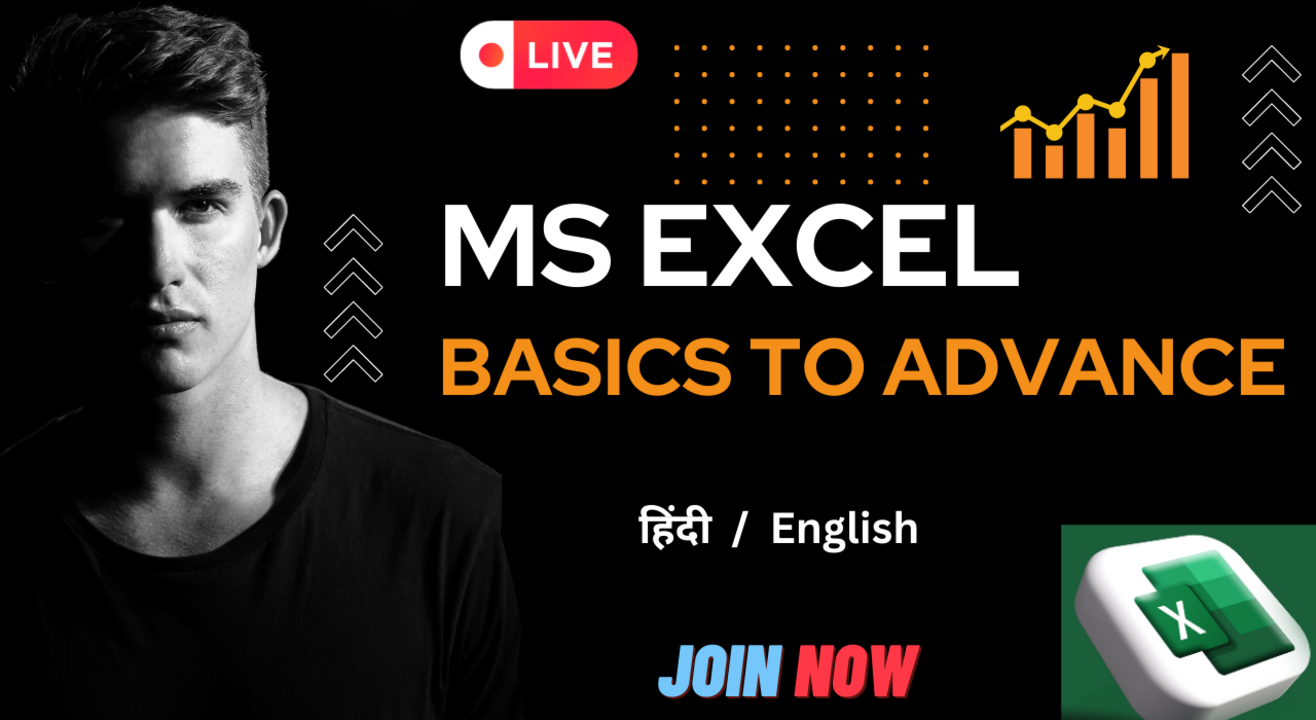 Learn MS Excel - Basics To Advance - Master Class
September 1 | 3PM - September 3 | 12PM
Event Guide
For Age(s)
Family Friendly
Masterclass
Learn from an expert
Invite your friends
and enjoy a shared experience
Learn MS Excel - Basics To Advance - Master Class
September 1 | 3PM - September 3 | 12PM
Event Guide
For Age(s)
Family Friendly
Masterclass
Learn from an expert
Invite your friends
and enjoy a shared experience
Event Guide
For Age(s)
Family Friendly
Masterclass
Learn from an expert
Invite your friends
and enjoy a shared experience
HOST - HR Analytics & Data Expert
15 Years Of Experience - DEEPAK AGGARWAL
LIVE PRACTICE
Paytm Insider - 20K Plus Students
In our roles as Data analysts, we often find it difficult to present our work to people who do not know any statistics at all. They are curious but also afraid to get familiar with the basic terms. I have a solution for you to speedup your data analysis in MS EXCEL.
Course Description:
Microsoft Excel is an essential tool for managing and analyzing data in today's fast-paced business environment. This course is designed to teach you the skills necessary to become proficient in Excel, from basic data entry to advanced data analysis and visualization.
Basic Excel - Content
Navigate and customize the Excel user interface
Create, edit, and format spreadsheets
Use basic formulas and functions to perform calculations
Analyze data using sorting, filtering, and pivot tables
Create charts and graphs to visualize data
Automate repetitive tasks with macros and VBA programming
Collaborate with other users and protect data privacy
100 Short Cut Keys to increase work efficiency
Advance Excel Content
Learn HR Dashboard / Sales Dashboard / Finance Dashboard
15 Different ways to apply to Vlookup / Hlookup / Xlookup
Basic To Advance Pivot Table Master Class
Top 50 Excel Formulas for Corporate companies
HR Analytics
Dashboard designing - Advance Chart - Slicer - Timeline -
Learn Dashboard Content
HR Dashboard
Sales Dashboard
Business & Finance Dashboard
IT / Engineering Dashboard
Small Business & Mid Market Dashboard
Stock Market Dashboard
Inventory Dashboard
Food / Sales / Development Dashboards
Become a Certified Excel Expert
Yes! You will be certified by a Microsoft Certified Trainer which can help to boost your resume and linkedin profile to increase potential and provide visibility in the job search market. Get Certification after successfully completion of the course.
This course is suitable for all levels even for those people who are new to Excel, as well as intermediate users who want to expand their knowledge and skills. The course will be delivered through a combination of lectures, hands-on exercises, and practical projects, enabling you to apply what you have learned to real-world scenarios.
Upon completion of this course, you will have a comprehensive understanding of Excel and be able to use it effectively to manage and analyze data in your personal and professional life.
Importance of MS Excel
Professionals across various industries use Microsoft Excel for a wide range of tasks, including data analysis, budgeting, project management, and financial forecasting. Here are some reasons why learning MS Excel is important for professionals:
Data management: Excel is a powerful tool for managing and organizing large amounts of data, such as sales figures, customer data, and project timelines. By learning Excel, professionals can efficiently handle data, and also analyze and interpret it to make informed business decisions.
Data analysis: Excel provides a range of tools for data analysis, including charts, graphs, and pivot tables. Professionals can use these features to visualize data trends and patterns, make comparisons, and generate insights.
Time-saving: Excel can automate many repetitive and time-consuming tasks, such as calculations, sorting, and filtering. By learning Excel, professionals can save time and increase efficiency in their work.
Collaboration: Excel is widely used in the workplace, and being proficient in it can make it easier for professionals to collaborate with colleagues on projects, share data, and communicate findings.
Career advancement: Proficiency in Excel is a highly valued skill in many industries, and it can enhance a professional's career prospects. By learning Excel, professionals can differentiate themselves from their peers, demonstrate their analytical and problem-solving abilities, and take on more challenging roles.
Overall, learning MS Excel can help professionals to manage and analyze data effectively, increase efficiency, and enhance their career prospects.
Please note:
This meetup will happen on Google meet & can be viewed from anywhere (It will be recorded for promotional activities).
You will receive the link to join the meetup on your registered email id / telegram channel 1 day prior to the session.
All you need is a good internet connection and a fully charged laptop/mobile with the Google Meet installed.
Every Day we have new session on different topics, so kinldy choose your desire topics and book your slots.
After Course completion you will get the certificate from Talentuply E-Learning
The instructors are fluent in English & Hindi. While the session will be conducted in Hindi / English we can answer queries in both languages.
Join On Time to avoid waiting time for others.
Happy Learning & See you in the class,
Learn MS Excel - Basics To Advance - Master Class
September 1 | 3PM - September 3 | 12PM
Event Guide
For Age(s)
Family Friendly
Masterclass
Learn from an expert
Invite your friends
and enjoy a shared experience