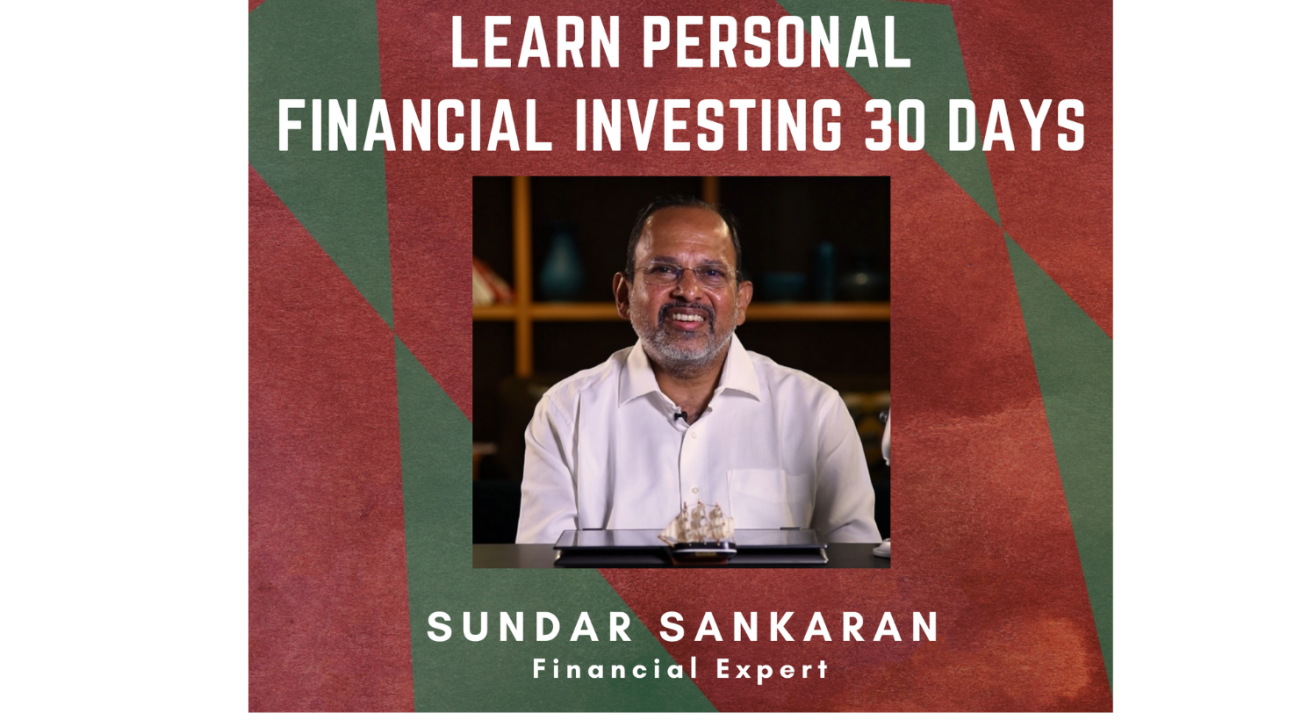 Learn Personal Financial Investing
Event Guide
Masterclass
Learn from an expert
Invite your friends
and enjoy a shared experience
Learn Personal Financial Investing
Event Guide
Masterclass
Learn from an expert
Invite your friends
and enjoy a shared experience
Event Guide
Masterclass
Learn from an expert
Invite your friends
and enjoy a shared experience
Masterclass on Personal Financial Investing
One of the key fundamental skills that every young adult needs to learn is Financial Investing. Building financial wealth isn't just about learning the financial jargon but about understanding the mindset, the learning associated with and tracking your progress systematically on a yearly basis.
With markets moving quickly and business cycles accelerating, you need to learn the principles and learn to thrive in these changing times.
In this course you'll reflect on the type of person you are, learn about different financial instruments that you can leverage based on your risk profile and then put a system in place to achieve these goals. Plus the focus of the course is on habit creation i.e. how do we get you into a learning mindset on an everyday basis.
THE COURSE COVERS
About the strategic, learning and operational objectives of financial planning
The path you'll take if you are an Employee, Entrepreneur, Influencer or Self-Employed
Different financial instruments like Real Estate, Equities, Debt, Mutual Funds
Other instruments like SIP, Fixed deposits, Gold, Will, Insurance, Loans
Principles of investing and how to create your investment fix
When is a good time to invest and playing the long term game
Apps, dashboards you can create for yourself to track your corpus growth
Finally daily habits to continue improving your knowledge post 30 days
ABOUT THE COACH
Sundar Sankaran is founder-director of Advantage-India Consulting Pvt. Ltd. (www.advantage-india.com) a 20-year old strategy consulting and knowledge incubation boutique. He has also founded finberry academy pvt ltd (www.finberry.org) and Stratberry Publishing (www.stratberry.com).
Over the years, Sundar has trained over 20,000 participants belonging to leading mutual funds, including Kotak Mahindra, Fidelity, Standard Chartered, Canbank, Tata, LIC, UTI, SBI, CITI, HDFC, Optimix,State Bank of Hyderabad, and BOB; financial product distributors, including Kotak Securities, JM Morgan Stanley Distribution, ICICI Capital, Cholamandalam Distribution, NJ IndiaInvest, Birla Sunlife Distribution, Integrated Finance and Bajaj Capital; and the media, including The Times of India, The Economic Times, Financial Express, Business Line, CNBC, across a range of innovative programs.
Sundar is a prolific writer. He has developed the courseware and examinations for over twenty certifications offered by apex education bodies such as SEBI's National Institute of Securities Market (NISM), National Stock Exchange's NCFM and Indian Institute of Banking and Finance.
Sundar also provides consulting and research inputs to leading corporations on their corporate structure, business plan, financial structure, performance management systems, product portfolio, channel management, customer insights, learning models and technology strategies.
Learn Personal Financial Investing
Event Guide
Masterclass
Learn from an expert
Invite your friends
and enjoy a shared experience