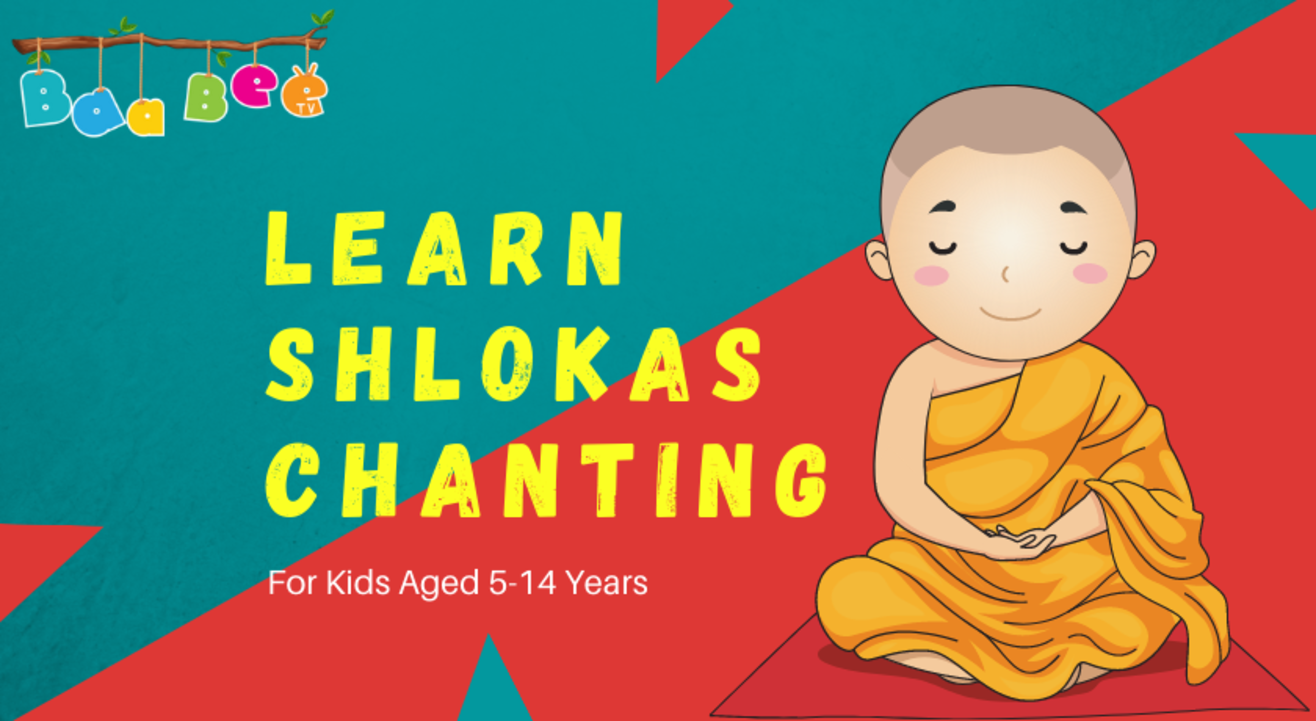 Learn Shlokas Chanting | Demo Class | For Kids Aged 5-14 Years | BaaBee TV
October 3 | 11:15AM - October 31 | 12:15PM
Enjoy this event from your home
Event Guide
Masterclass
Learn from an expert
Invite your friends
and enjoy a shared experience
Learn Shlokas Chanting | Demo Class | For Kids Aged 5-14 Years | BaaBee TV
October 3 | 11:15AM - October 31 | 12:15PM
Enjoy this event from your home
Event Guide
Masterclass
Learn from an expert
Invite your friends
and enjoy a shared experience
Event Guide
Masterclass
Learn from an expert
Invite your friends
and enjoy a shared experience
Shlokas made fun, an online interactive course for kids.
Enroll your child in Shlokas made fun online course a step by step journey of learning Sanskrit Shlokas in the most engaging manner with clear pronunciation and meaning. The course is full of fascinating Indian mythological stories, human values, and other creative activities. This is not about just teaching Shlokas, a sort of moral science program, instilling Sanatana Dharma into the brains of the young minds.
This will help the kids to grow in a respectable manner and being a righteous person in the society.
Why should kids learn Shlokas?
1) Sanskrit Sounds Can Boasts Cognitive Function
Chanting Shlokas can indirectly aid in keeping the mind alert and sharpening the intellect. As chanting shlokas is accompanied by systematic rhythmic deep thinking it brings in added supply of oxygen which not only improves the power of concentration but the chanting process can energise the brain as well.
2) Shlokas have a positive effect on us
Shlokas practiced in a spiritual setting have an added depth to it. The shlokas emit the vibrations that activate the Chakras and help the mind stay calm.Practicing shlokas can help relieve stress, restlessness and anxiety.
3) Sanskrit the mother of all languages
Shlokas are in Sanskrit which is the mother of all languages and hence recitation may help in learning other languages as well. Thus learning new languages through Shlokas helps neuroplasticity and keeps your mind young and flexible.
4) Improve your child's Immunity
The pressure on the tongue slips the vocal cord and connecting regions on the brain along with proper breathing techniques helps to boost the immune system. Every day chanting is responsible for regulating many bodily functions including some happy hormones, thus it helps the children in keeping their physical and mental health intact.
5) Kids have a better understanding of life
Chanting Shloaks will help your child build a better perspective on life. These include honouring the earth, praying for the peace and harmony of others among many. Inspiring to care for others and considering the requests of others first may promote the values of compassion and kindness. Encourage your child to harbour feelings of forgiveness towards others. The ability to forgive others is equally important for peace of mind and for being happy in life.
Meet Our Little Champs | BaaBee TV | Shlokas
Learn Shlokas Chanting | Demo Class | For Kids Aged 5-14 Years | BaaBee TV
October 3 | 11:15AM - October 31 | 12:15PM
Enjoy this event from your home
Event Guide
Masterclass
Learn from an expert
Invite your friends
and enjoy a shared experience