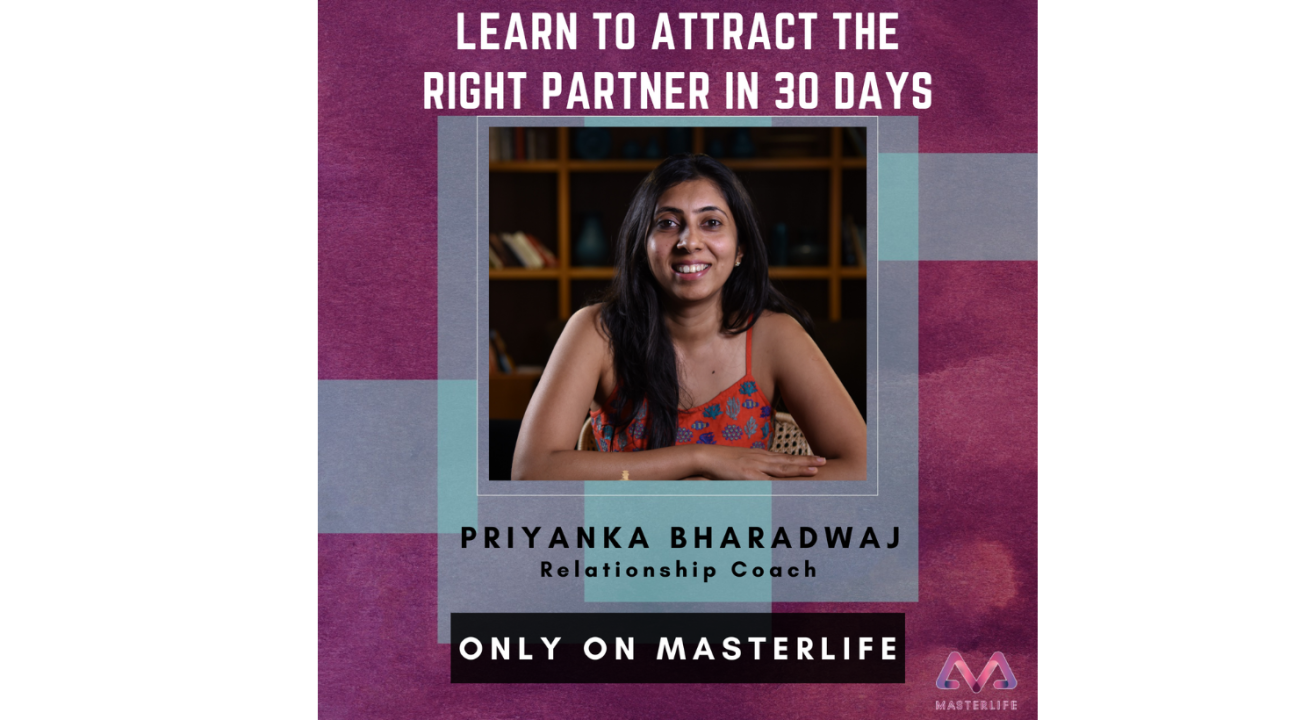 Learn to Attract the Right Partner
Event Guide
Masterclass
Learn from an expert
Invite your friends
and enjoy a shared experience
Learn to Attract the Right Partner
Event Guide
Masterclass
Learn from an expert
Invite your friends
and enjoy a shared experience
Event Guide
Masterclass
Learn from an expert
Invite your friends
and enjoy a shared experience
Master Class on How to Attract the Right Partner
Do you find yourself stuck in unhappy relationships time after time. Have you been single for a while and want to get into a romantic relationship that is worthwhile? Relationship Coach Priyanka Bharadwaj, Founder of Marriage Broker Auntie takes us through the complications of dating, relationships and how to put ourselves out there in way that ensures attracting the "right" partner for us.
This course covers
Understand yourself better
Be clear about your relationship values and goals
Learn to make a stellar dating profile
Get better at conflict resolution
Presenting Yourself to Potential Partners
ACTIVITY: Making a Stellar Dating Profile
30+ and Still Single - Should I Be Freaking Out?
How Do I Attract the "Right" People?
How Do I Manage Cultural Differences?
Should You Date Before You Get Married?
Why I Am the Way I Am | Previous Relationship Baggage
Considerations For Marriage
ABOUT THE COACH
Founder & CEO of Marriage Broker Auntie (M.B.A) and recently featured on the Netflix viral series "Indian Matchmaking", Priyanka has made it her life mission to help people make what she believes is probably the most important decision of their lives.
When it comes to choosing a life partner, she recommends that it's good to be fastidious because marrying RIGHT is the foundation for a good life in general.
Dating and matrimonial apps offer an endless array of prospective partners, but how do you know who is the right one for YOU? That's where she comes in.
She takes the time to understand you and your relationship trajectory in-depth, basis which she would help you build an effective strategy to find yourself an amazing life partner.
Started in 2013, M.B.A. has already helped nearly 500 individuals successfully build and realize their relationship aspirations.
Attract the right life partner
Learn to Attract the Right Partner
Event Guide
Masterclass
Learn from an expert
Invite your friends
and enjoy a shared experience