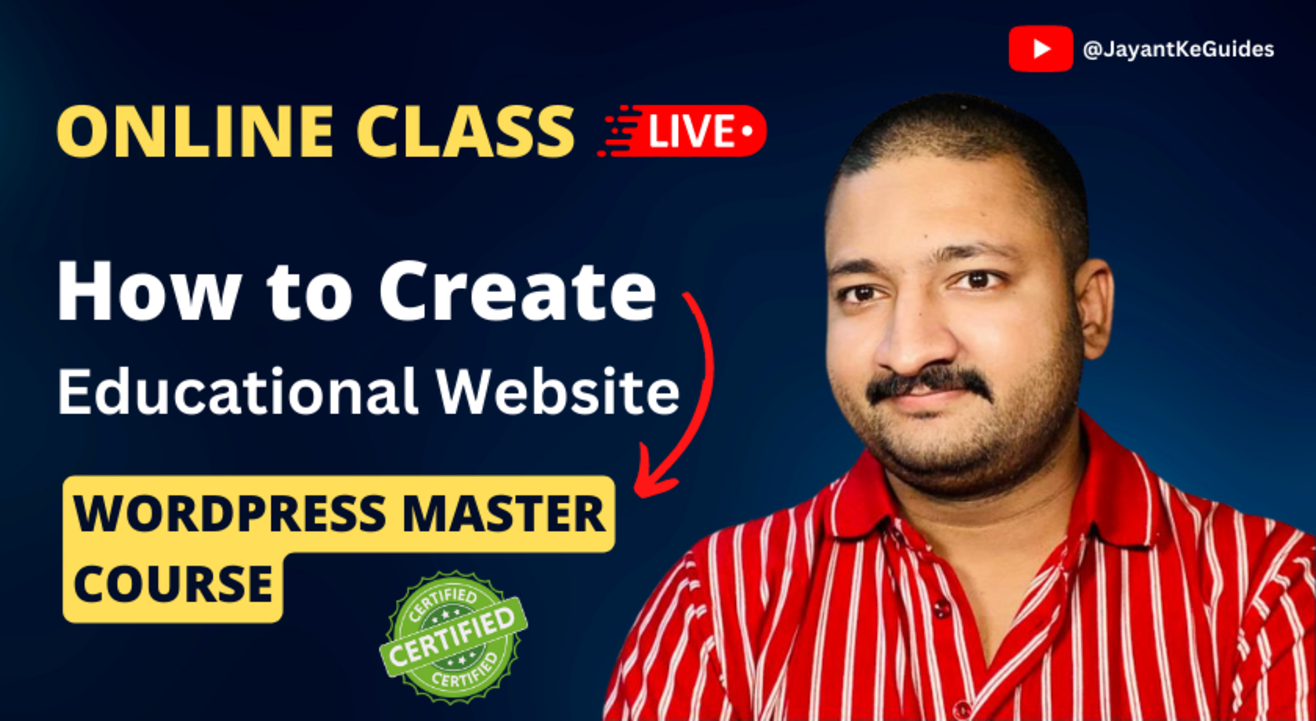 Learn To Create Education Website - Wordpress for Beginners - Master Wordpress in 2 Hours
March 19 | 8PM - December 28 | 10PM
Event Guide
Masterclass
Learn from an expert
Invite your friends
and enjoy a shared experience
Learn To Create Education Website - Wordpress for Beginners - Master Wordpress in 2 Hours
March 19 | 8PM - December 28 | 10PM
Event Guide
Masterclass
Learn from an expert
Invite your friends
and enjoy a shared experience
Event Guide
Masterclass
Learn from an expert
Invite your friends
and enjoy a shared experience
Learn To Create Education Websites - A Complete Guide to Wordpress!
In 2023, it's never been easier to build a fantastic, responsive website that looks great on computers, tablets, and mobile phones.
You can learn WordPress WITHOUT having any technical knowledge. I'll show you how you can set it all up on your own computer using free tools.
NOTE: This course will always be updated to cover the latest version of WordPress.
The primary goal of this course is to teach anyone, even a complete beginner, how to become a WordPress guru in a few short hours, without lots of technical gyan. I'll guarantee that after taking this course you'll have the knowledge you need to build a responsive, beautiful website with the latest version of WordPress. Not only will you know more than 99% of Wordpress users out there, but you'll actually enjoy using Wordpress too.
Once you are happy navigating around your new tools, we'll go through the main features you will need as you create your site, including:
The WYSIWYG Editor. This is where you enter all of your website content.
The Media Library, manages the images, videos, sound files, and other media you want to share on your site.
WordPress Settings, and I'll take you step by step to set those up just right.
We'll look at the differences between WordPress posts and pages, and I'll give you a simple way of knowing which one to use on any occasion.
We'll look at post excerpts, categories, and tags, and how to use them on a well-structured site to maximize the visitor experience and search engine ranking benefits.
You'll see the two main ways you can set your homepage up.
We'll create a contact form on the site so visitors can get in touch.
We'll setup an About us page, and I'll explain why this page is important and what information to include on it.
We'll cover the legal pages you need.
We'll discuss the navigation system on your site, and how you can set up customized navigation in the header, sidebar or footer of your site. We'll also talk about internal site linking.
We'll cover WordPress security, and set up a system that will keep the site safe from hackers.
We'll check out some great free plugins.
By the end of this course, you will have a website that you are truly proud of.
Classes will be conducted by - Jayant Srivastava ( Full Stack Developer )
Requirements
No prior knowledge of WordPress is required as everything will be covered in this course.
You will need a working computer and a web browser connected to the internet..
You don't need any coding experience at all. That is the beauty of WordPress.
Learn To Create Education Website - Wordpress for Beginners - Master Wordpress in 2 Hours
March 19 | 8PM - December 28 | 10PM
Event Guide
Masterclass
Learn from an expert
Invite your friends
and enjoy a shared experience