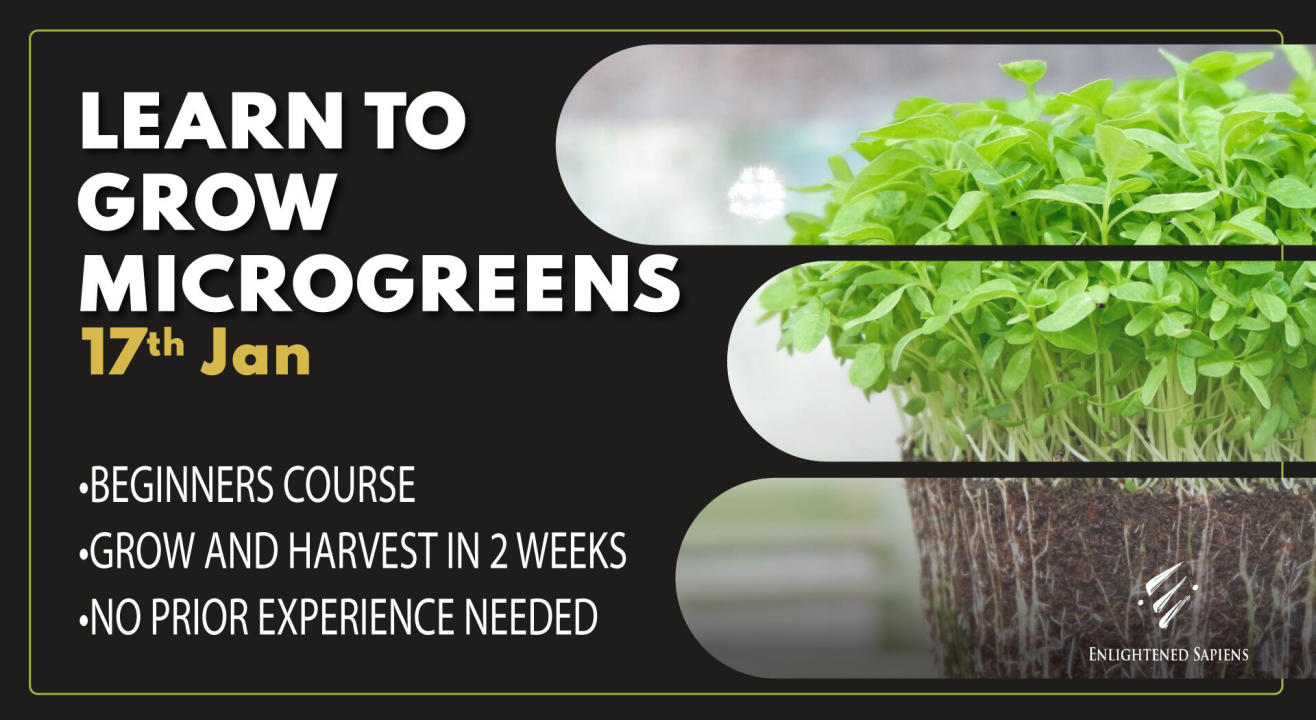 Learn to grow Microgreens
Enjoy this event from your home
Invite your friends
and enjoy a shared experience
Invite your friends
and enjoy a shared experience
About the Event
Microgreens are tiny edible plants that are usually grown and harvested in about 10-14 days. They offer excellent nutritional value and are easy to grow all year round. In this live and interactive session by our Knowledge Contributors – Karan Mulchandani & Vanaja Suryakumar, you will learn to grow your own microgreens at home. At the end of the session, you will understand the immense variety of seeds available at home in your own kitchen cabinets with which you can grow microgreens, how to harvest, possible issues while growing & their solutions.
About Enlightened Sapiens
We are a Social Enterprise, focused on inspiring each one of us to share our Experiences and Knowledge with one another and foster an open environment of Growth and Mindfulness. We aim to help you discover and pursue your interests and hobbies through interactive videos and try-at-home activities. Know more through our website: www.enlightenedsapiens.com
Let's get to know the Team
With a background in IT Engineering and a soul that lives in the mountains, Karan Mulchandani founded Enlightened Sapiens with a vision of a mindful and collaborative society that facilitates the exchange of knowledge through personal experiences. Some of the things he loves include Meditation, Time Management, Technology, Hiking, Gardening, Photography, Yoga, Cycling, Writing, Reading, Philosophy, Music & Art.
Vanaja Suryakumar is an energetic and enthusiastic housewife. Her interests include commercial art, painting, singing, gardening. She is a passionate yoga teacher and practitioner for the last two decades. Currently, she has focused her attention on learning the art of Bonsai and promoting it. Her unfilled desire is to do sky diving or paragliding – soaring high in the heavens and enjoying a rare state of absolute bliss.




What you'll need for the session
1 hour of your time
A working internet connection
What you won't need for the session
No gardening tools
No terrace space required
No credit card details
No prior experience in gardening
Are you ready to be part of the Gardening Community?