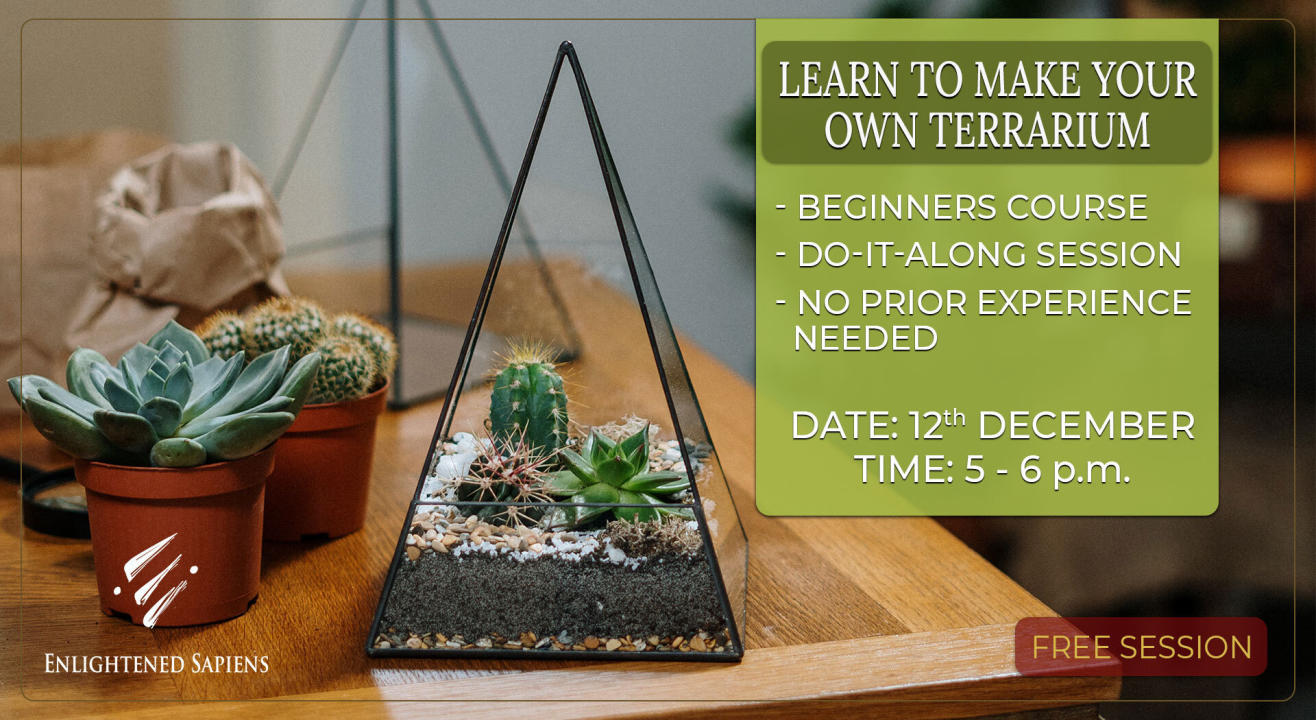 Learn to Make your own Terrarium
Enjoy this event from your home
Invite your friends
and enjoy a shared experience
Invite your friends
and enjoy a shared experience
About the Event
About the Session
Terrariums are miniature gardens enclosed in their own little world. Decorative as well as functional, they are easy to maintain and require less care. In this step-by-step, live and interactive session held by our Knowledge Contributor – Smita Kharbanda, you will learn how to make your own Terrarium. At the end of the session, you will have a better understanding on planting, decorating and taking care of your very own Terrarium using commonly available gardening materials.
Let's get to know Smita
Smita has been engaged in gardening activities and spreading awareness about the environment since 34 years. An avid nature lover, she has always felt at home amidst it. Through EcoKids – her initiative to inculcate learning and caring for Mother Earth in every child's heart – she is spreading her knowledge with kids as they are the future. Adventure and love for life is a fire that rages within her.
What you'll need for the session
1 hour of your time
A working internet connection
Optional (If you would like to do-it-along with us)
Any Glass Bowl or Jar (with or without lid)
Pebbles / small stones
1-2 cups of soil
One small plant (like a succulent, ribbon grass, syngonium, cactii, spider plant, etc)
Small decorative items to put inside the glass bowl or jar (Driftwood, Clay figurine, Colourful stones)
Handful of coal
Small scissors
Spray for water or a small cup of water
A pencil or small fork
What you won't need for the session
No gardening tools
No credit card details
No prior experience


About Enlightened Sapiens
We are a Social Enterprise, focused on inspiring each one of us to share our Experiences and Knowledge with one another and foster an open environment of Growth and Mindfulness. We aim to help you discover and pursue your interests and hobbies through interactive videos and try-at-home activities. Know more through our website: www.enlightenedsapiens.com
Are you ready to be part of the Gardening Community?