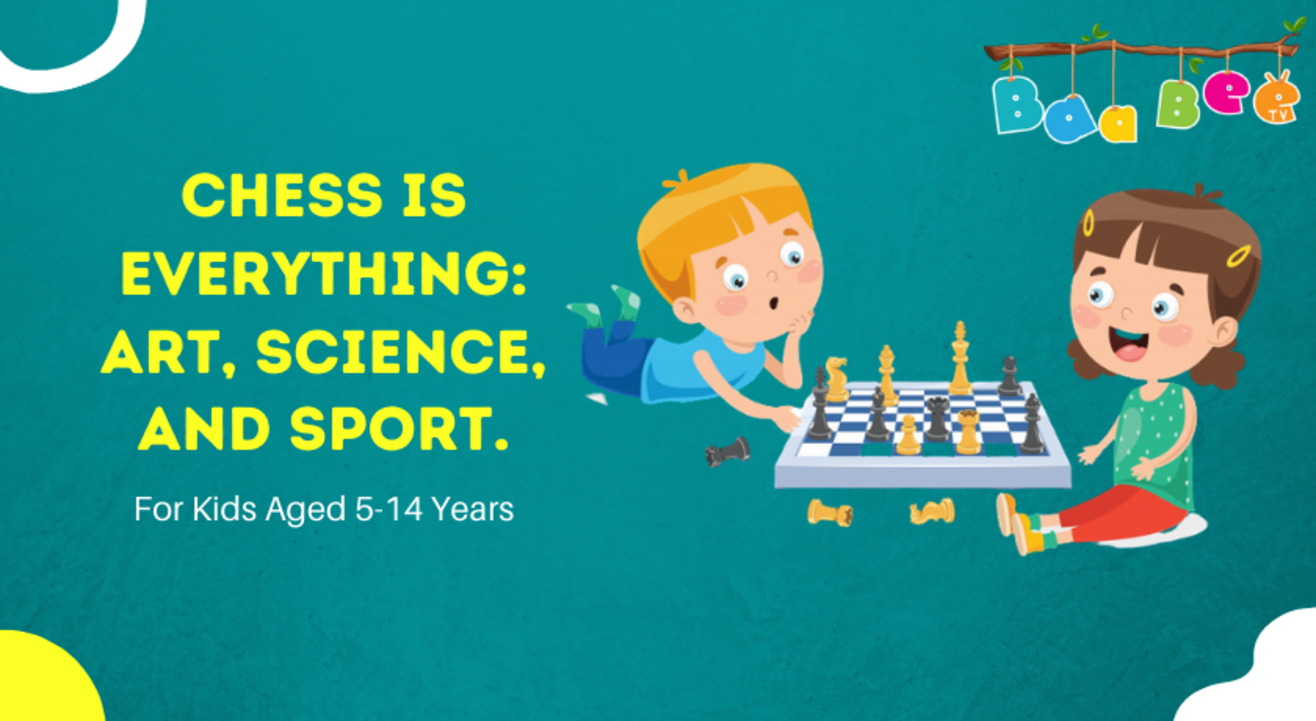 Learn To Play Chess | Demo Class | For Kids Aged 5-14 Years | BaaBee TV
October 2 | 7PM - October 30 | 8PM
Enjoy this event from your home
Event Guide
Masterclass
Learn from an expert
Invite your friends
and enjoy a shared experience
Learn To Play Chess | Demo Class | For Kids Aged 5-14 Years | BaaBee TV
October 2 | 7PM - October 30 | 8PM
Enjoy this event from your home
Event Guide
Masterclass
Learn from an expert
Invite your friends
and enjoy a shared experience
Event Guide
Masterclass
Learn from an expert
Invite your friends
and enjoy a shared experience
WHY KIDS SHOULD LEARN CHESS:
Pumps up Brain Power:
Numerous studies have proved that playing Chess helps improve and develop children's spatial-reasoning ability, concentration, analytical skills, problem-solving skills and visual memory. All this contributes to raising the IQ level of children. Hence, moving pieces is not just an ordinary activity, it is the result of raising intelligence at a young age. An active brain is a healthy brain!
Teaches and improves Social skills:
Playing the game of Chess reinforces discipline in children on and off the board. Social skills are not limited to verbal communication only. With Chess, children understand the beauty of winning and losing, showing RESPECT to others, to PATIENTLY wait for the opponent's turn, to remain CALM under pressure. It engages people together of different age, culture, race, religion and gender, and foster deep friendship among players.
Planning and Foresight:
Preparing a strategy and predicting the outcome is a key characteristic not only in the game of Chess, but in life as well. Chess prepares children to think ahead of the game while enhancing their creativity skills or artistic thinking in order to outplay their opponent.
Boosts self-confidence:
Playing Chess creates a positive environment which in return elevates self-image and self-esteem of children. When children learn to take winning and losing gracefully, it allows the potential of self-improvement in them.
Academic excellence:
Many studies have shown that exposure to Chess has improved the overall academic performance of children. Studying Chess systematically has increased exam scores, strengthened mathematical language and reading skills. Today, schools around the globe have adopted Chess in their academic curriculum.
Meet Our Little Champs | BaaBee TV Students | Chess
Learn To Play Chess | Demo Class | For Kids Aged 5-14 Years | BaaBee TV
October 2 | 7PM - October 30 | 8PM
Enjoy this event from your home
Event Guide
Masterclass
Learn from an expert
Invite your friends
and enjoy a shared experience