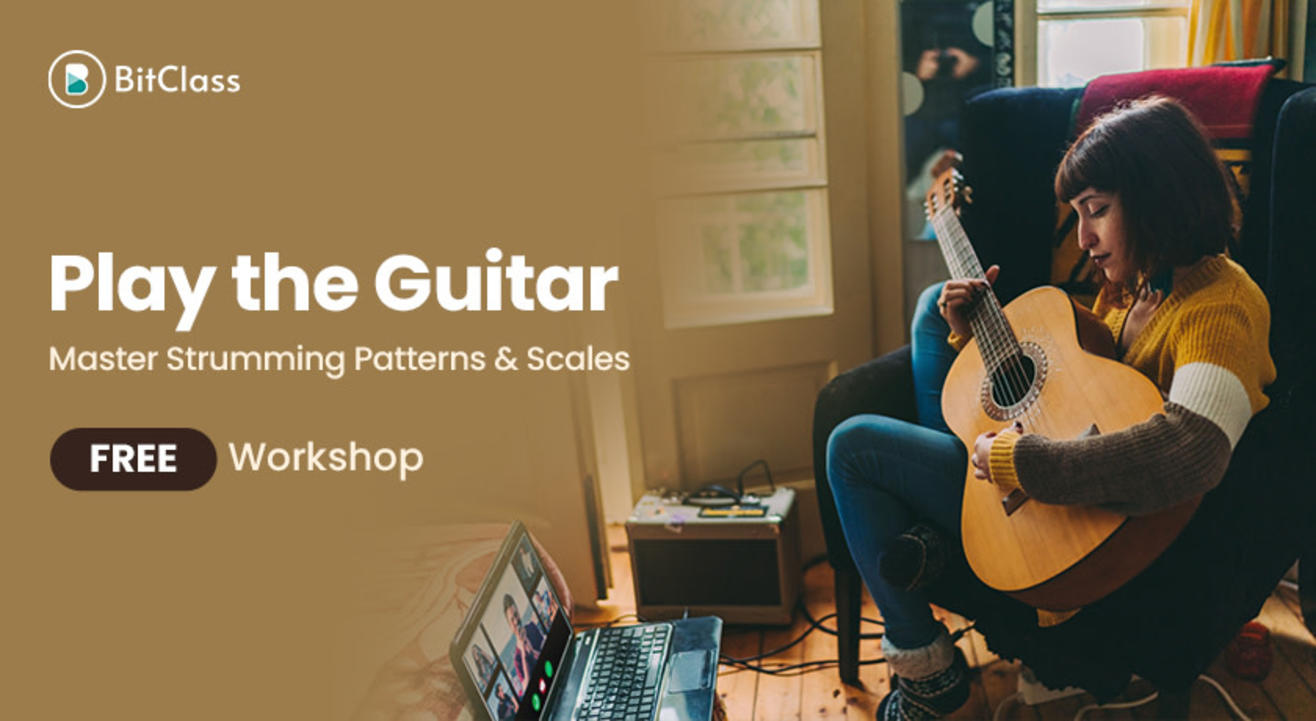 Learn to Play the Guitar | Master Strumming Patterns & Scales
Enjoy this event from your home
Event Guide
Masterclass
Learn from an expert
Invite your friends
and enjoy a shared experience
Learn to Play the Guitar | Master Strumming Patterns & Scales
Enjoy this event from your home
Event Guide
Masterclass
Learn from an expert
Invite your friends
and enjoy a shared experience
Event Guide
Masterclass
Learn from an expert
Invite your friends
and enjoy a shared experience
If you dream to build a career as a guitarist or launch yourself in the music industry,
The right way to start your journey is right here! Welcome to the Guitar Workshop for Beginners!
Learning the guitar is the key to showing anyone's love and interest in music. You can play your favorite songs and in fact, even create your own. In this workshop, you will learn the basics and get ready to rock that instrument.
No matter what your style is, you'll enjoy playing your guitar like never before!
No matter if you are just a beginner after all Jimi Hendrix was once a beginner too!
What you will learn in this workshop cover?
Introduction to Music
Basics of Guitar, Guitar Types, Guitar Parts & Mechanism.
Introduction to Music Notes, Scales, Chords, Progressions, Etc.
Q&A Session & Further Guidance About Learning Guitar.
Learn the Pro Guitar Tuner App, Pro Metronome App for the long run
Benefits of joining this workshop:
Gain accurate knowledge about the guitar
Understand the basics and get fluent with the instrument
Learn to play chords and notes
Learn the opportunities for a guitarist
Understand the right style of music for you
Get further insights into the music industry by the expert


There is no compulsion to own a guitar to join this workshop. You can join this workshop- watch and learn the techniques to play the instrument.
The initial journey for any learner is the one to remember. So start strumming those chords & create magic from your guitar effortlessly!
Learn to Play the Guitar | Master Strumming Patterns & Scales
Enjoy this event from your home
Event Guide
Masterclass
Learn from an expert
Invite your friends
and enjoy a shared experience