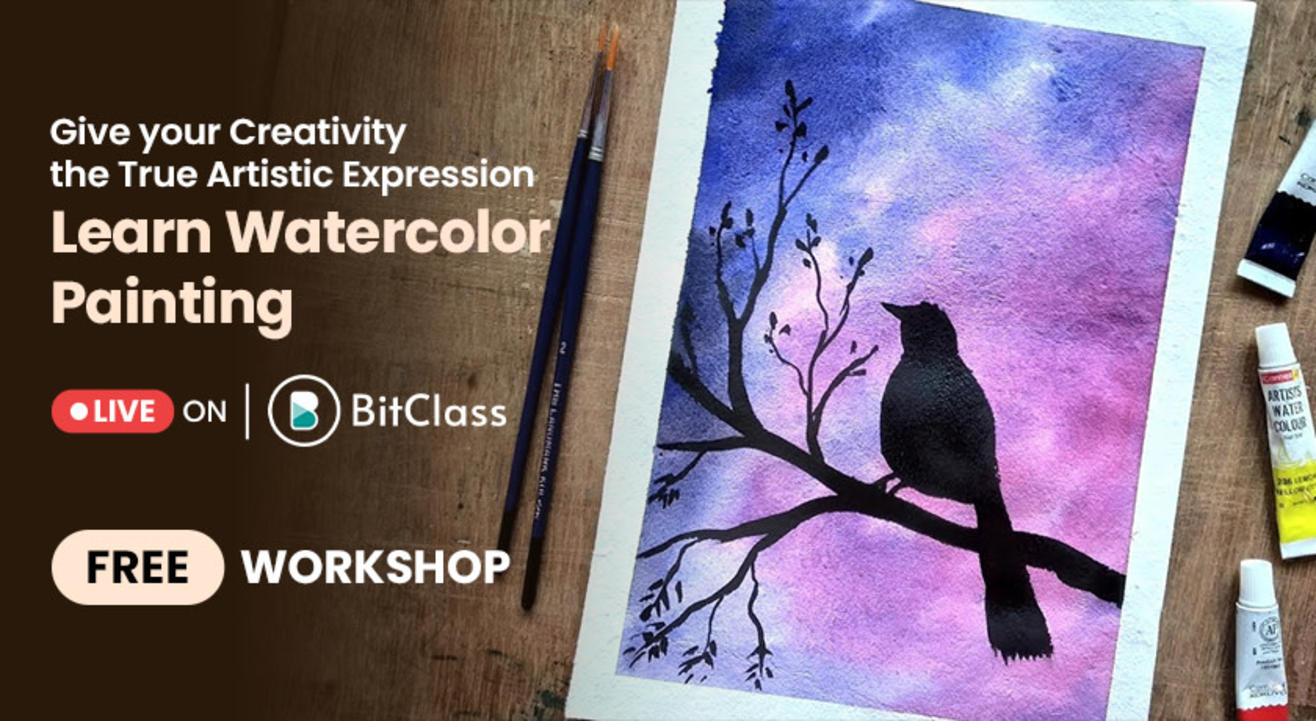 Learn Watercolor Painting | Give your Creativity the True Artistic Expression
August 22 | 7:30PM - August 24 | 8:30PM
Enjoy this event from your home
Event Guide
Masterclass
Learn from an expert
Invite your friends
and enjoy a shared experience
Learn Watercolor Painting | Give your Creativity the True Artistic Expression
August 22 | 7:30PM - August 24 | 8:30PM
Enjoy this event from your home
Event Guide
Masterclass
Learn from an expert
Invite your friends
and enjoy a shared experience
Event Guide
Masterclass
Learn from an expert
Invite your friends
and enjoy a shared experience
About this Course
Are you among those who try to copy the art of professional painters or artists? Are you willing to learn the art like experts, free?
If you wish to start your artistic journey and take it to the next level, then we have covered you.
Join this absolutely FREE session, The Essentials of Watercolor Workshop.
It is a blissful art that creates coolness in your mind.
Watercolor paintings are non-toxic and water-based. The equipment is also very lightweight and non-smelly.
Watercolor is great for Plein-air painting, as it allows for easy transport and doesn't take much space in your bag. Many great painters considered watercolor an ideal way to "sketch out" a painting in real color before finishing the real thing in oil.
Watercolor equipment is also very lightweight, allowing for easy transport. They also will not take up much room in your bag. This is great for Plein-air painting! There are even dozens of all-in-one watercolor kits, specifically designed for Plein-air painters or artists who travel frequently.
What you'll learn?
Learn the fundamentals of watercolors
A brief history of watercolors
Understand and get acknowledged the material selection
Activity: Preparation of sketch for a watercolor floral painting with an emphasis on forms
What you'll require?
Camel Artist Grade watercolor tubes (12-18 shades)
300 GSM cold-pressed watercolor paper (A4 size paper)
Round brushes (numbers 2,4, 6, and 10)
Flat brushes (3/4 inch or wider)
White gel pen
Large palette
2 tumblers for storing water
Paper napkins
What benefits you'll get?
Understand the transparent quality of a watercolor, which gives a very ethereal or emotive effects
Learn the right techniques of proper blending and mixing of watercolor
Understand how the brush moves and the designs they create
Get a chance to learn from a renowned International-level artist and a Member of the World Watercolor Forum, Dr. Soham Mitra.
Get creative and paint on antique book pages or other vintage ephemera, like old postcards
Learn LIVE making a watercolor floral painting during the session, along with the teacher
NOTE: For indivualised focus and knowledge from Dr. Soham Mitra, you can jump into his advance-masterclass session. You will get a certificate, as an add-on benefit, after completing this full course.
Make use of leisure time and turn creative!
Give a take on this watercolor painting workshop and turn into a colorful artist. Register Today for a FREE session.
Learn Watercolor Painting | Give your Creativity the True Artistic Expression
August 22 | 7:30PM - August 24 | 8:30PM
Enjoy this event from your home
Event Guide
Masterclass
Learn from an expert
Invite your friends
and enjoy a shared experience