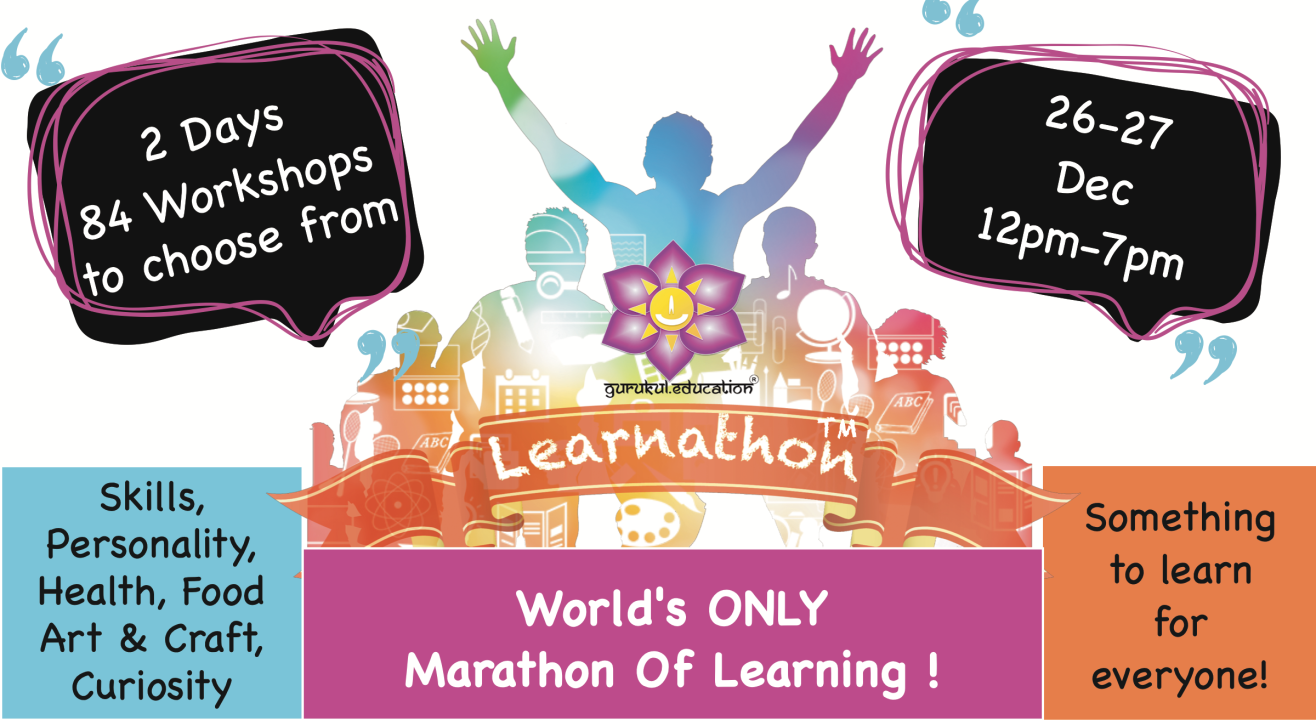 December 26 | 12PM - December 27 | 7PM
Enjoy this event from your home
Invite your friends
and enjoy a shared experience
Invite your friends
and enjoy a shared experience
About the Event
Check the workshops time table at : www.learnathon.co/workshops
Workshops would be hosted on Zoom. Workshop participation link to be shared over an email, before the event day.
Learnathon™ is the world's only learning marathon. Its an event organised by Gurukul.education with an objective of making learning fun and ageless experience ! Each year Learnathon™ attracts thousands of learners from toddlers to senior citizens and youth, learning variety of things from Abacus to Zumba, Digital Marketing to Dog keeping, providing a learning opportunity unlike any other. So join us in this learning revolution and lets make learning fun and ageless experience !
Website: https://www.learnathon.co
Facebook: https://www.facebook.com/learnathonpage/
Instagram: https://www.instagram.com/life.learnathon
Twitter: https://twitter.com/GElearnathon
YouTube: http://www.youtube.com/c/GurukulEducation
Timing & Workshops
The pass is valid only for the present event i.e. for the event on 26th &27th December 2020 specific to date and number of workshops mentioned on the pass.
Please note that we will try to accommodate your preferences as much as possible, however the entry is on first come first serve basis, in case of a houseful workshop we would encourage you to explore from spectrum of other workshops running at that time.
Workshop timings can be changed or modified without prior intimation.
Participants must adhere to the specific workshop timing, no late entry would be permitted.
The organiser may postpone, cancel, interrupt or stop the event due to adverse weather, dangerous situations, or any other causes beyond his reasonable control including technical failures.
The organisers may add, withdraw or substitute instructors and/or vary advertised programmes, event times, seating arrangements and audience capacity without prior notice.
Purchase/ Exchange/Loss/Refund of Tickets
No refund on tickets will be made under any circumstances
The resale/exchange of tickets is prohibited.
Learnathon(TM) reserves the right to cancel any tickets that have been resold.
Entry/ Disqualification /Grievances
The organisers reserve the right without refund or compensation to refuse admission to any persons whose conduct is disorderly or unbecoming.
No photography, audio or video recording (partially/fully) is allowed during the workshop unless otherwise stated by the Promoter.
Sharing of any discount codes or coupon codes or any link or any kind of information for the entry into the event is prohibited if found your pass would be cancelled.
Any complaints regarding the event will be directed to and dealt with by the organiser.
By purchasing the pass you agree to these terms and conditions of sale.
Online meeting rules
Some online meeting etiquettes must be followed:
Keep your audio and video on mute.
Any questions will be asked through the chat box which will be put forth by the room in charge or you can use the raise hand option.
For non-adherence to these rules, you could be removed from the meeting and you will not be allowed to join again.
You are advised to do the following:
Use of laptop or a desktop instead of the phone.
Do not use it on the go, sit in a comfortable position with pen and paper ready to take notes.
Learnathon™ - This is where we come alive ! JOY OF LEARNING