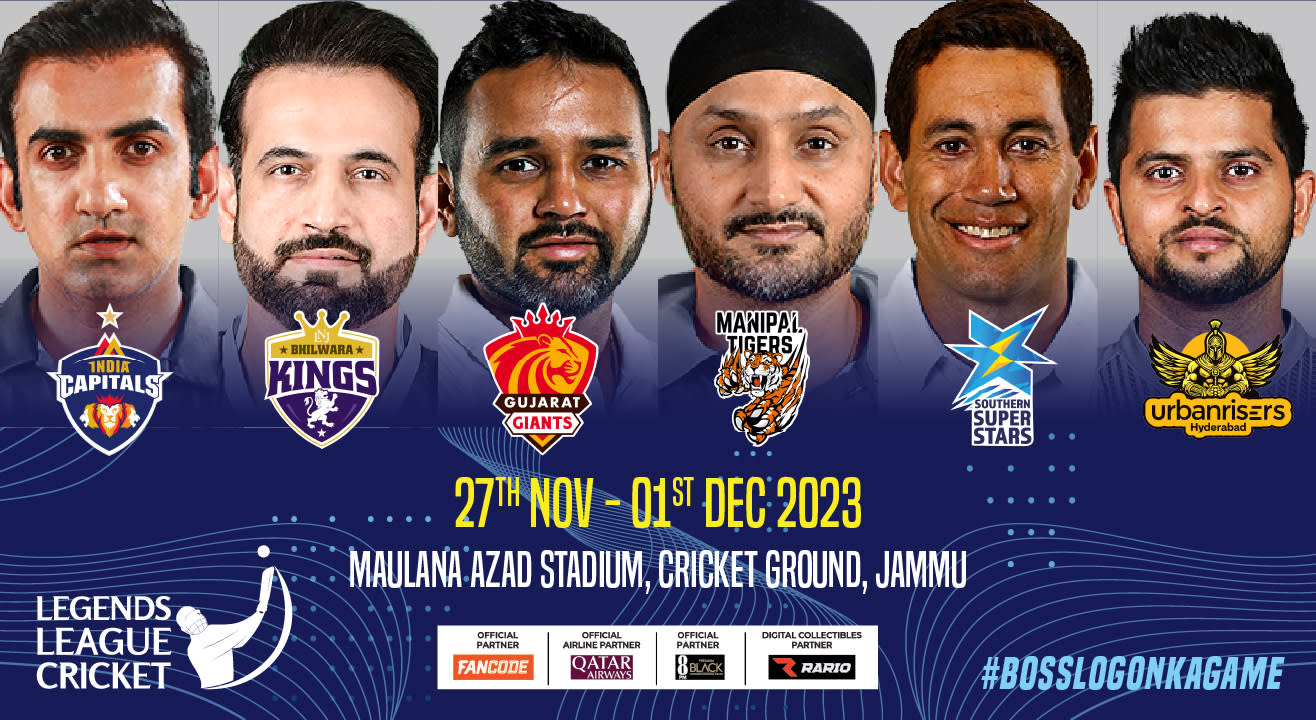 Legends League Cricket Season 2: Match Tickets For Jammu
The second edition of Legends League Cricket is here! Get your match tickets for Jammu!
Invite your friends
and enjoy a shared experience
A sporting extravaganza awaits as Jammu hosts a series of matches for the Legends League Cricket! Get ready to witness a series of thrilling matches, set against the breathtaking backdrop of Jammu's scenic beauty. It's a celebration of the cricketing legends as they return to the field, promising to recreate those unforgettable moments that have become part of cricketing history. The energy in the air is palpable, and the excitement is contagious.
Whether you're a die-hard cricket enthusiast or just looking for an extraordinary experience in the heart of Jammu, these matches have something for everyone. Grab your match tickets, witness the action live from the stadium and be part of the roaring crowd in Jammu.
Please note:

The merchandise will have to be collected by the winners before entering the stadium on matchday from the Box Office.
The merchandise can be collected on the matchday only.
Details about the pickup location will be shared.
Get your tickets for the following Legends League Cricket matches in Jammu:
27th Nov 2023: Manipal Tigers vs Southern Superstars, Jammu
29th Nov 2023: Bhilwara Kings vs Southern Superstars, Jammu
30th Nov 2023: India Capitals vs Gujarat Giants, Jammu
1st Dec 2023: Bhilwara Kings vs Urbanrisers Hyderabad, Jammu
Traffic Advisory for the upcoming Legends League T20 matches in Jammu
All ticket holders are hereby requested to park their vehicles in the designated areas provided to avoid unnecessary jamming and chaos. Please note that no parking is allowed inside the stadium. Shuttle Buses will be available at some parking slots as mentioned below.
The tickets holder will produce his ticket to the volunteer and will board the bus after that.
Available Parking Slots
North Jurisdiction
Peer Baba Ground GGM Science College
Hockey Ground GGM Science College
Cricket Ground GGM Science College
Old Campus University via Canal road
Yatri Niwas Bahgwati Nagar Jammu (Shuttle Service Available)
Baba Assa Ram Parking Bhagwati Nagar (Shuttle Service Available)
New JDA Bus Stand Parking (Shuttle Service Available)
JDA Parking Opp. Jewel Cinema
Cultural Academy (Abhinav Theatre) Parking
One Tube Road Opp. Hotel Fortune Rivera
JDA Parking (near Early Time Office)
One Tube from JDA parking to Samadian Cut
Bibi Chand Kour Gurudwara Parking Area
South Jurisdiction

Shuttle service is available at all below mentioned parking lots.
Govt. Women College Near Gandhi Nagar
Kala Kendra Bikram Chowk
SRTC Yard Bikram Chowk
Govt. Boys Polytechnic College Bikram Chowk
KK Hakku Stadium Parking
MAM College Parking
Jammu University Parking

Subscribe to receive our newsletter!
Find the best experiences happening out there in your city or enjoy handpicked content while sitting comfortably at home. Paytm Insider is your go-to place to figure out what to do today!