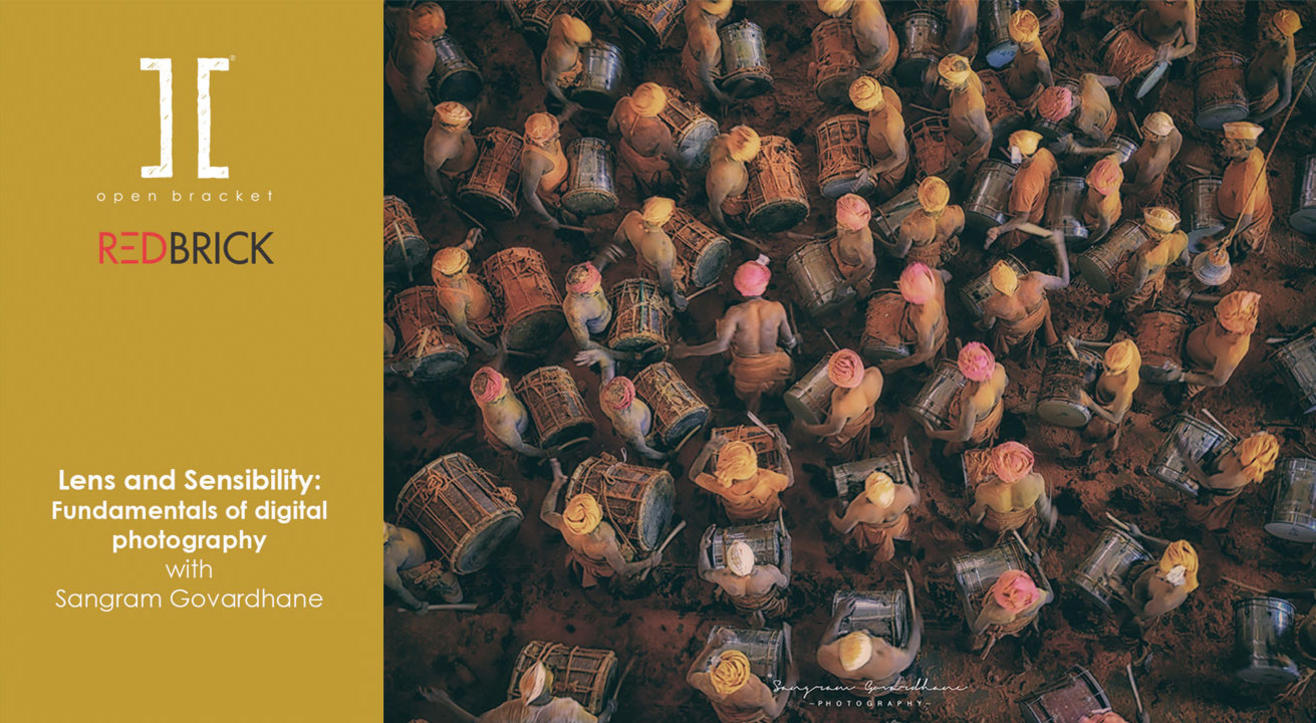 Photography
Lens and Sensibility- Fundamentals of Digital Photography
About
A shiny, new DSLR is a dream possession that probably is only un-boxed for that special group picture at a family function. 'Aperture', 'ISO' and 'shutter-speed' sound like Greek to even the most adept smart-phone photographers, and your camera never leaves the auto mode! If you have wondered why your pictures don't come out as well as they ought to, or how to get the right bokeh, hop on this wagon and we'll show you the way!
Open Bracket presents: Lens and sensibility, Fundamentals of Digital Photography - a workshop that will introduce you to the exciting world of digital photography. The artist, an expert photographer, will outline fundamental techniques using which you can start taking better images of any subject. By the end of the session, you will be able to judge the factors that influence an image and affect composition while framing a picture. This talk on equipment, light, modes and effects will conclude in an exercise of roaming outdoors and clicking photographs! So if you love wandering the streets with a DSLR around your neck, and wish to capture breathtaking pictures sign up with us for spirited 'camera'derie and serious 'exposure'!
Session 1: Indoor session - 10:00am to 3:00pm (Will include lunch break. Lunch will be provided by us.)
Session 2: Practical session+ Q and A- 3:00pm to 5:00pm
The workshop will cover the following
Camera Mechanism (SLR, DSLR)
Difference between DSLR and compact cameras
Exposure- Exposure triangle, Why 3 controls, exposure dial and modes
Pillars of Photography- Aperture, ISO, Shutter speed
Understanding – White Balance, Auto focus modes, Focal length, Depth of field and controlling DOF, cropping, metering etc.
Introduction to various lenses
Framing and composition
Carrying a DSLR/SLR is a pre requisite to attend the workshop. If you don't own one yourself you can borrow or even rent one. Please get in touch with us if you have any queries about this here - p.openbracket@gmail.com
The workshop will be conducted by our guest artist Sangram Govardhane. Sangram is an architect by profession, currently practicing architecture in Mumbai. Extremely passionate about photography, he has a peculiar interest in wildlife photography and is a hardcore nature enthusiast. He has travelled extensively across India, photographing and documenting the mesmerising natural beauty of the country. His images have been won, been appreciated and acknowledged in various photography competitions, newspapers, renowned magazines and exhibitions. Apart from being a self taught and accomplished photographer, he is also a talented artist and has a great hand in painting, sketching and sculpting. He is one of the DCP Explorers and currently is a wildlife photography expert & consultant – Strategy team - DCP Expeditions.
Open bracket is an experimental platform for all things creative! We organize and curate custom made workshops that stand firmly in the no man's land between classroom lectures and professional training, though never shying from mandatory hops of fun. The workshops are conducted by professionals who are invited from an extensive list of artists and creators from all over the country. To know more log on to - www.openbracket.in
Venue
Redbrick Offices, Mumbai
Kaledonia, 1st Floor, Sahar Road, Andheri East, Mumbai - 400069, Navpada, Mhada Colony, Vile Parle, Mumbai, Maharashtra 400069, India