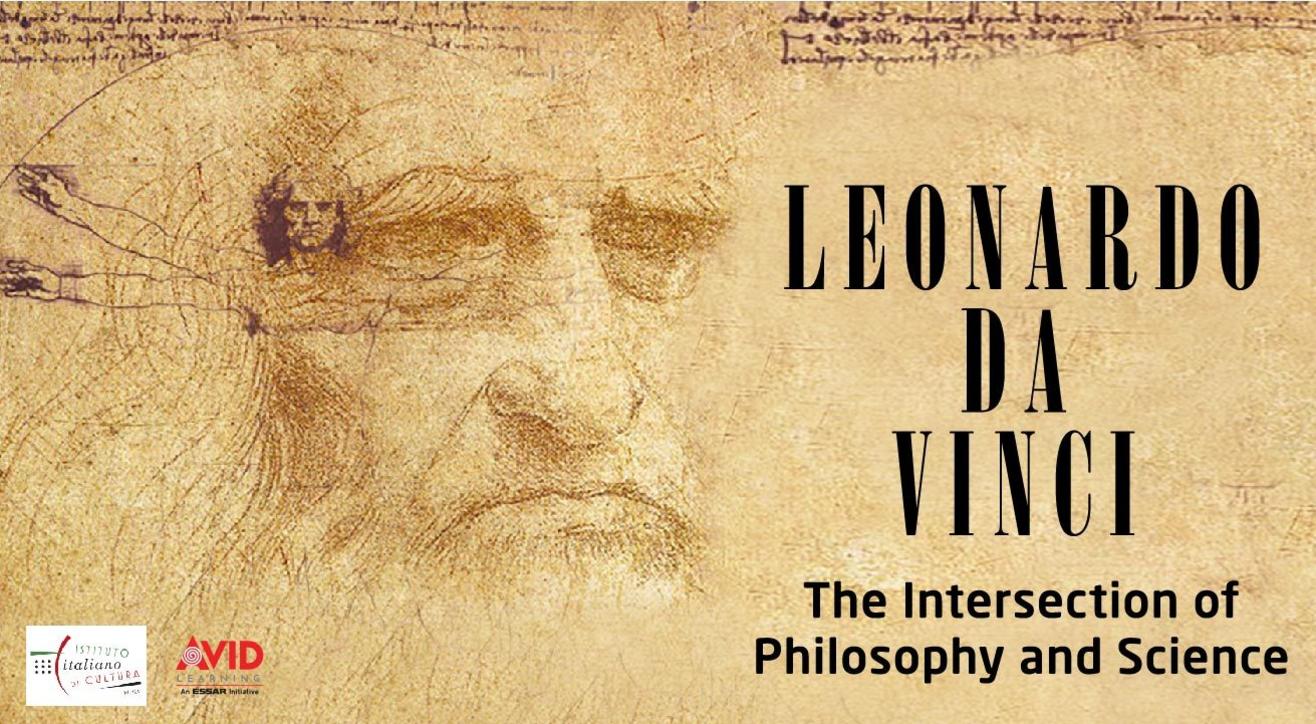 Discussion
Leonardo Da Vinci: The Intersection of Philosophy and Science
Essar House, Mahalaxmi, Mumbai
About
In celebration of 500 Years of Leonardo da Vinci, Italian Embassy Cultural Centre, Mumbai and Avid Learning present Leonardo daVinci: The Intersection of Philosophy and Science, a panel discussion that examines the influence and implications of Leonardo da Vinci's contributions to the Humanities and Science within a contemporary purview, while examining his prolific experimentation and dissolving of the boundaries between the binaries of art and science.
Author Ashish Jaiswal, Director General, Nehru Science Centre, Mumbai Dr. Shivaprasad Khened and Member, New Acropolis, School of Philosophy and Managing Trustee, the Swades Foundation Zarina Screwvala will be in conversation with Co-Founder and Head of Research at Live History India Akshay Chavan.
This panel of experts will shed light on the role and significance of Da Vinci's inventions, calculations and research, works of art, scientific experimentation and writings in the context of today, with the intention of recognizing the manner in which his work lives on in an evergreen fashion, retaining its importance and impact. This talk will explore key facets on how to develop the approach of bringing together philosophical, creative and scientific thinking by delving into his life and work, and better understanding his achievements, inspirations and influences.
Having conceptualized scientific ideas, such as the helicopter and solar power, that were centuries ahead of their time, the brilliance of Da Vinciholds much value in critiquing the self-imposed limits of the human mind while questing for solutions to the problems of today. As a scientist and engineer, Da Vinci's inventions stand firm against time despite being created in a period that hadn't developed the mathematical and scientific knowledge that are commonplace today. Though Da Vinci lacked a formal scientific education, leading the people of his time to overlook his scientific prowess, Da Vinci demonstrated the significance of curiosity and the practical application of ideas, unearthing discoveries through vigorous experimentation and challenging the widespread belief of the conventional nature and understanding of the discipline of science. This panel will examine how Da Vinci's mechanical experimentations, anatomical and medical research and other scientific innovations hold currency today. His scientific legacy is incomparable, ranging from the astonishing accuracy of his anatomical sketches to recent research further pointing atDa Vinci being a pioneer in field of palaeontology. His exploratory drawings and research also were key in developing contact lenses, artificial limbs, synthetic organs and surgical robots.
Da Vinci's philosophical quests were made through painting. His pursuit of Beauty and Wisdom motivated a vast investigation that included such diverse genres as art, music, engineering, botany, philosophy, etc. In every area of his work, it is evident that he strove to bridge the connect between the earthly and the archetypal. This panel will examine the significance of Da Vinci's philosophical musings and boundless creativity.
An exemplary illustration of the bridging of diverse disciplines can be observed in Da Vinci's prime work The Vitruvian Man, a creation of art that concurrently investigated the concept of proportion as a mathematical diagram demonstrated how a multitude of fields can be brought in together and connected across a single spectrum. Da Vinci's art relied on his studies in perspective, proportion, light and optics that lent his works their aesthetic magnitude. His knowledge and experience of sculpting aided in his experimentation toward bodily anatomy as seen in the plaster casts that he created through the insertion of wax into organs that helped deepen the elaborate understanding of anatomy and led to notable discoveries in neuroanatomy. Da Vinci additionally explored the natural world, sketching and studying birds, animals, rocks, fossils, plants among others. His comprehension of proportion can be traced to nature seen through mathematical concepts of the Fibonacci sequence and Golden Ratio that are expressed abundantly in natural surroundings.
This panel discussion will aim to understand and appreciate the scope of this great thinker's prolific body of work and explore the implications of his inventions and achievements through a modern lens while examining its practical applications in contemporary life.
Join us as we bring this quintessential Renaissance Man to life and learn through his eclectic and comparative approach, how to engage with our world on the brink, problem-solve and perhaps bring about a contemporary Renaissance in our own times!
Ashish Jaiswal thinks that most of our current practices of education are dangerously outdated and we need to bring a paradigm shift in the way we are preparing ourselves for the coming future. Ashish has spoken and taught all around the world on the shift needed. Fluid, his latest book, assimilates lessons from the approach applied by geniuses throughout history and offers a fresh model of learning and thinking. His last book, How to Reform a Business School, includes an on campus multi-year case study of how Yale transformed its business school. Ashish's debut book, True Dummy, is an internationally acclaimed inspirational fiction. His written work has appeared in several publications, including The Guardian, India Today and The Hindu and has been covered by international media including BBC – Oxford, CKLN – Toronto, 33voices, USA, Gulf Today, UAE, NDTV, The Times of India, The Hindustan Times, The Asian Age and The Indian Express. Ashish also advices schools, colleges, universities around the world on innovative curriculum and pedagogy. Ashish holds a doctorate and a master's in the field of education from the University of Oxford and is currently a research fellow at the Oxford Centre for Higher Education Policy Studies (OxCHEPS). OxCHEPS is an Oxford based independent think tank that works on improving understanding of higher education. Ashish is also the founder of iHER (India for Higher Education Reforms), a community platform with over 100,000 of students, educationists and policymakers with the aim to discuss transformative ideas on education.

Zarina Screwvala is Managing Trustee/ Director at Swades Foundation India, which operates with the single-minded focus of empowering rural India through holistic and sustainable growth by engaging with and empowering village communities, executing multiple programmes on the ground and working towards an exit strategy. The Swades foundation has created a unique 360-degree model of development with 350 full time staff, who work in 1900 villages impacting just under half a million people across drinking water & sanitation, nutrition, health, education, progressive farming, animal husbandry, skilling & other livelihoods. Zarina was also one of the Founder-Directors of UTV (now a part of the Walt Disney Company India) and is an active member of New Acropolis, a school of philosophy.

Shivaprasad Khened is currently the Director of the Nehru Science Centre, Mumbai. He has served as Director of Science Museum in Delhi and Bangalore and National Gallery of Modern Art, (NGMA) Mumbai. He is credited with more than 50 scientific papers, exhibition catalogues and articles. He has curated several exhibitions on varying subjects and his latest exhibition is the Cricket Connects: India–UK exhibition. The "Information Revolution" gallery, which he co-curated won the Dibner award instituted by the Smithsonian. His other curatorial works include; Our Technology Heritage, Our Science and Technology Heritage, 100 Years of Nobel Prize, Human Genome and Beyond, Our Body Guards (Immune System), Pulses the Smart Food, Cricket Connects exhibition for Australia and South Africa. He is also involved in the setting-up of the National Museum of Indian Cinema in Films Division campus. One of the exhibition that he curated "Sir M Visvesvaraya: The Legendary Nation Builder", was selected for the "Pride of India" award for exhibition, which he curated and exhibited during the 102nd India Science Congress, at the Mumbai University. He is the recipient of the Smithsonian scholarship (1988) and the 16th NES, Jagadguru Shankaracharya, H.H, Sri Jayendrasaraswathi, National Eminence Award (2017). Under his able leadership, Nehru Science Centre received the prestigious National Award (2017) for the Best Communication Campaign (External Publics) instituted by the Public Relations Society of India for the exhibition "The Future of Food: Pulses".

Akshay Chavan is the Co-Founder and Head of Research at Live History India, India's first digital platform dedicated to Indian history and culture. An expert on princely India, he has also been researching and chronicling the lesser known history of Indian princely states, for the last two decades.
The Italian Embassy Cultural Centre - Mumbai or Istituto Italiano di Cultura (IIC) is part of a worldwide network of 83 Italian government offices located in all continents with a view to promoting Italian culture and civilization. IICs organize cultural events, offer courses of Italian language and civilization, facilitate contacts between Italian and local researchers and scholars and cooperate with local cultural organizations and academic institutions. Our main mandate is to make Italian culture known to the society at large in South Western India through the organization of artistic, cultural and academic events, the provision of courses of Italian language and civilization and the dissemination of information about Italy and its society.

Avid Learning, a public programming platform and cultural arm of the Essar Group, has conducted over 1000 programs and connected with more than 125,000 individuals since its inception in 2009. Driven by the belief that Learning Never Stops, AVID's multiple formats like Workshops, Panel Discussions, Gallery Walkthroughs, and Festival Platforms create a dynamic and interactive atmosphere that stimulates intellectual and creative growth across the fields of Culture & Heritage, Literature, Art and Innovation.

Facebook: www.facebook.com/Avidlearning; Twitter: www.twitter.com/Avidlearning; Instagram: @avidlearning
Venue
Essar House, Mahalaxmi, Mumbai
Essar House, 11 K K Marg, Opp Race Course,, Mumbai, Maharashtra 400034