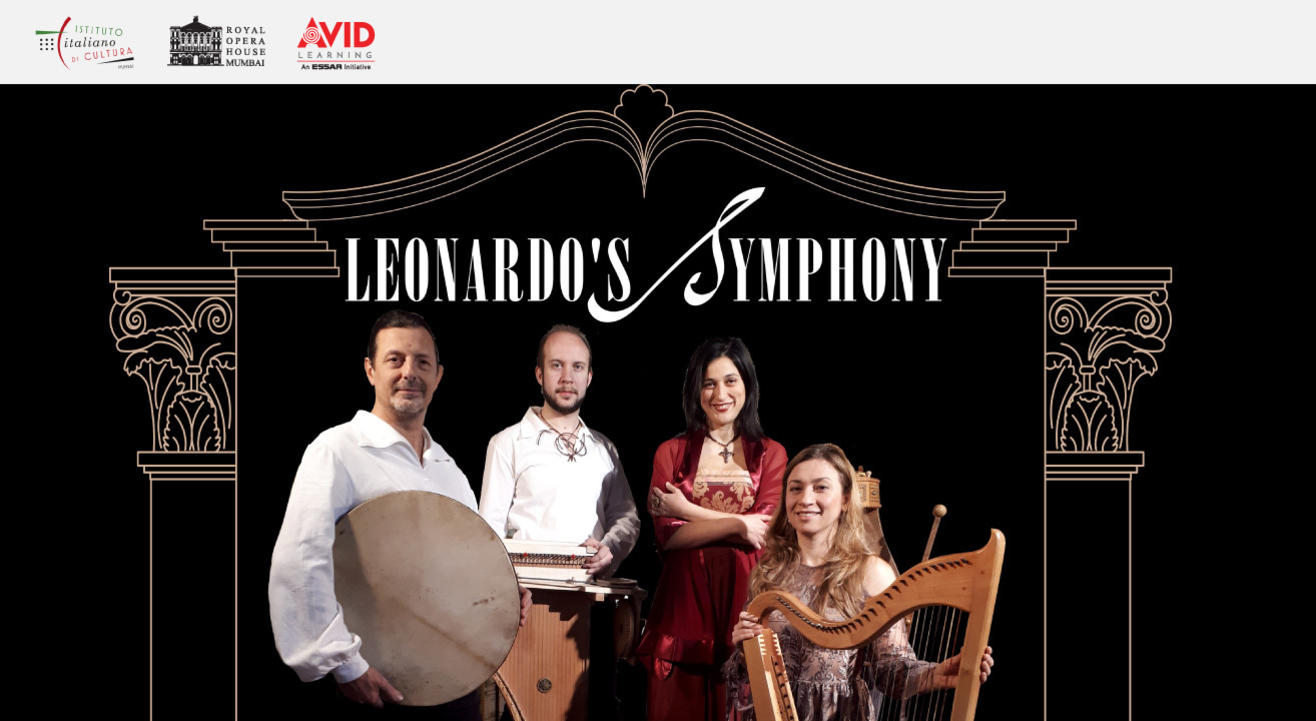 Leonardo's Symphony | An Ensemble Performance of Italian Renaissance Music
The Royal Opera House, Mumbai, Mumbai
Step out and enjoy this event
Invite your friends
and enjoy a shared experience
Leonardo's Symphony | An Ensemble Performance of Italian Renaissance Music
The Royal Opera House, Mumbai, Mumbai
Step out and enjoy this event
Invite your friends
and enjoy a shared experience
Invite your friends
and enjoy a shared experience
Come celebrate the remarkable and universal genius of Da Vinci and discover the polymath's flair for music! Music, as his other pursuits, was a well-rounded passion for Da Vinci. He was a singer and instrumentalist, invented musical instruments, designed sets for great court musical performances, studied musical acoustics and composed very particular musical miniatures: his famous rebuses. To celebrate 500 years of Leonardo da Vinci, Italian Embassy Cultural Centre, Mumbai, Royal Opera House, Mumbai and Avid Learning presentLeonardo's Symphony, a Performance of Italian Renaissance Music by the Sensus Ensemble. The Ensemble includes Mezzosoprano Arianna Lanci, Renaissance Instrumentalist Adriano Sangineto, Renaissance HarpistMarianne Gubri and Percussionist Marco Muzzati. This quartet of talented musicians and vocalists from Italy, will bring to our stage a visionary evening of Renaissance musical compositions, inspired by Da Vinci's rebuses. Of special mention are the instruments being performed, which include recreations of original instruments designed by Da Vinci himself!
Join us for a unique evening steeped in the sounds of the Renaissance that will bring Da Vinci's musical explorations to life!
Born in Rimini, Arianna Lanci graduated with honours in philosophy at the University of Bologna, earning her degree in opera singing in 2008 at the Conservatorio G. Rossini in Pesaro, where she studied under Evghenia Dundekova. She went on to perfect her baroque vocal technique with Roberta Invernizzi. She attended master-classes with major international performers of ancient, renaissance and baroque repertoire including Gloria Banditelli, Jill Feldman, Monica Bacelli, Rinaldo Alessandrini, also perfecting her Bel Canto technique with Sherman Lowe and Fernando Cordeiro Opa. In February 2014 she obtained a Level II Diploma in Renaissance and Baroque singing with full marks and honors from the Conservatorio "A. Pedrollo" in Vicenza. She has performed in prestigious theaters and concert halls, in Italian and international festivals (Teatro Rossini Pesaro, Teatro Comunale and Teatro Olimpico Vicenza, Teatro Accademico Castelfranco Veneto, Teatro della Fortuna Fano, Auditorium Pollini Padua etc). She collaborates with several vocal and instrumental groups specializing in both ancient and contemporary repertoire, among which Bologna Chamber Choir, the Melodi Cantores Ensemble, Vox Altera Ensemble, Cappella Artemisia, Festina Lente Ensemble, Cantar Lontano Ensemble and the Laus Concentus Ensemble.

Marianne Gubri studied and graduated in Medieval Renaissance and Baroque harp in Paris at the Centre de Musique Medievale, Tours Conservatoire National de Région (France), she also earns the Diplôme d'Etudes Approfondies Degree in Musicology at the University F. Rabelais of Tours (Centre d' Etudes Supérieures de la Renaissance). Performances in numerous concerts and international tours in places such as Italy, France, Portugal, Netherlands, Sweden, Switzerland, Spain, USA, China, India, Dubai, Brazil and Mexico: This was as a soloist, in a duo or with different music collections specialized in traditional, classical and antique music of which include: Harp & Hang Duo, Cappella Artemisia, Ensemble Doulce Mémoire, Ar Strobineller, Il Concento, Sensus, Ensemble Korymbos, Ensemble Produzioni Armoniche, Accademia degli Astrusi, Ensemble Armonia delle Sfere, Ensemble Lorenzo da Ponte, Duo Totocorde, Celtic Dream… Marianne Gubri has participated in 12 recordings for labels such as Mondo Musica, L'Empreinte Digitale, Brilliant Classics and Tactus.

  Adriano Sangianeto was born and raised in his father's workshop, where his growth as a musician was influenced by the presence of such leading figures of folk music as Alan Stivell, Carlos Nunez, Chieftains and others. He also revisits Italian and European folk music with original arrangements. Adriano plays several wind and string instruments. He specialized in clarinet at the Conservatory of Milan and taught himself how to play the Celtic harp. Adriano deepens his knowledge of classical composition at the Conservatory while strengthening his connection with folk music. In the same year, he publishes his first solo album Arpa Creativa, inspired by a series of shows performed by Adriano with the aim of proving the versatility of the Celtic harp. This project is currently spreading among harp festivals all over Europe (such as "Rencontres de la Harpe Celtique" of Dinan [F], "Edinburgh International Harp Festival" of Edinburgh [UK], "Arfavita" of Moscow, "Noia Harp Festival" of Vila de Noia [E], "Jornadas de Arpa" of Madrid) through masterclasses and concerts. With his twin sister Caterina, Adriano founds the Ensemble Sangineto with whom he plays the harp and the psaltery, offering a repertoire of Irish and Italian folk music. In 2013 Adriano founds Antica Liuteria Sangineto, offering a repertoire of ancient music (from the Middle Ages to Baroque), playing unusual instruments built by his father after studying paintings from the Renaissance by Giorgione, Piero di Cosimo, Gaudenzio Ferrari and Leonardo da Vinci. In 2013 Antica Liuteria Sangineto records a monography dedicated to musical instruments in pictorial art, followed by shows in Italy and France.

Marco Muzzati graduated in the Disciplines of Art Music and Performing Arts at the University of Bologna. Since 1985 he has been active into the field of ancient music, studying musicology and executive-praxis of Medieval, Renaissance, Baroque and Arabic instruments. He attended the course of percussions at the Conservatory "Tomadini" in Udine, and advanced courses on ancient musical practice under the guidance of celebrated masters, including René Clemencic. In 2006 he founded, as artistic director, Sensus, an ensemble that brings together artists from experiences in various fields of music, theatre and dance, with whom he produced some multidisciplinary performances ("Don Quixote", "Virgen de Miragres", "Fauvel et Fauvain", "Fuggi, Fuggi, Fuggi", "Aman Sepharad", "La Barca di Venezia per Padova"). He has held many concerts in Italy and abroad, working steadily since 1988 with the Ensemble Cantilena Antiqua (dir. S. Albarello), and since 2002 with Accademia degli Imperfetti (dir. M. Less). He also collaborated, among the various ensembles, with the Orchestra Barocca di Bologna (dir. P. Faldi), the Accademia degli Astrusi (dir. F. Ferri), the Accademia Strumentale Italiana (dir. A. Rasi), Janas Ensemble (dir. P. Erdas), the Cappella Musicale di S. Petronio (dir. M. Vannelli), Scintille di Musica (dir. F. Torelli and A. Branduardi). He took part in numerous recordings for RCA Passacaille, Symphonia, Stradivarius, Tactus and Bongiovanni, and also in radio and television broadcasting: RAI (Italy), BRTN (Belgium), WDR (Germany), RSI (Switzerland), HRT (Croatia).
The Italian Embassy Cultural Centre - Mumbai or Istituto Italiano di Cultura (IIC) is part of a worldwide network of 83 Italian government offices located in all continents with a view to promoting Italian culture and civilization. IICs organize cultural events, offer courses of Italian language and civilization, facilitate contacts between Italian and local researchers and scholars and cooperate with local cultural organizations and academic institutions. Our main mandate is to make Italian culture known to the society at large in South Western India through the organization of artistic, cultural and academic events, the provision of courses of Italian language and civilization and the dissemination of information about Italy and its society.

Royal Opera House, Mumbai is widely touted as Mumbai's Cultural Crown Jewel and India's only surviving Opera House. The original idea for the space was conceived of in 1908, inaugurated in 1911 by King George V, and eventually completed in 1916. The design incorporated a blend of European and Indian detailing. The space became a cinema in later years before falling into disrepair and shutting by the 1990s. Fittingly, the space has been owned by the Royal Family of Gondal since 1952 and was eventually restored by conservation architect, Abha Narain Lambah under the leadership of His Highness, Maharaja Shri Jyotendrasinhji of Gondal. The Royal Opera House Mumbai, now one of the last remaining Baroque structures in the city, reopened after 23 years in October 2016. The building was included on the 2012 World Monuments Watch to raise awareness about its history and significance, and support preservation efforts. The building has since been recognized with an Award of Merit in the 2017 UNESCO Asia-Pacific Awards for Cultural Heritage Conservation. The restored facilities feature a 575-seater 3-level auditorium with an orchestra pit and state of the art technological upgradations, including acoustics, stagecraft, lighting and air-conditioning, alongside retaining the old world charm of the proscenium stage, the royal boxes and the magnificent regal chandeliers. Some more enhancements to the venue include a motorized screen, co-axial ceiling speaker system, Four-zone volume control and all round wifi access. Today, it stands as a key performance and creative hub in the city's cultural landscape, while being a premier heritage landmark. Facebook: MumbaiOpera Twitter: @MumbaiOpera Instagram: @mumbaiopera

Avid Learning, a public programming platform and cultural arm of the Essar Group, has conducted over 1000 programs and connected with more than 125,000 individuals since its inception in 2009. Driven by the belief that Learning Never Stops, AVID's multiple formats like Workshops, Panel Discussions, Gallery Walkthroughs, and Festival Platforms create a dynamic and interactive atmosphere that stimulates intellectual and creative growth across the fields of Culture & Heritage, Literature, Art and Innovation.

Facebook : www.facebook.com/Avidlearning; Twitter : www.twitter.com/Avidlearning; Instagram: @avidlearning
The Royal Opera House, Mumbai
Mathew Rd, Charni Road East, Opera House, Girgaon, Mumbai, Maharashtra 400004
GET DIRECTIONS
Leonardo's Symphony | An Ensemble Performance of Italian Renaissance Music
The Royal Opera House, Mumbai, Mumbai
Step out and enjoy this event
Invite your friends
and enjoy a shared experience