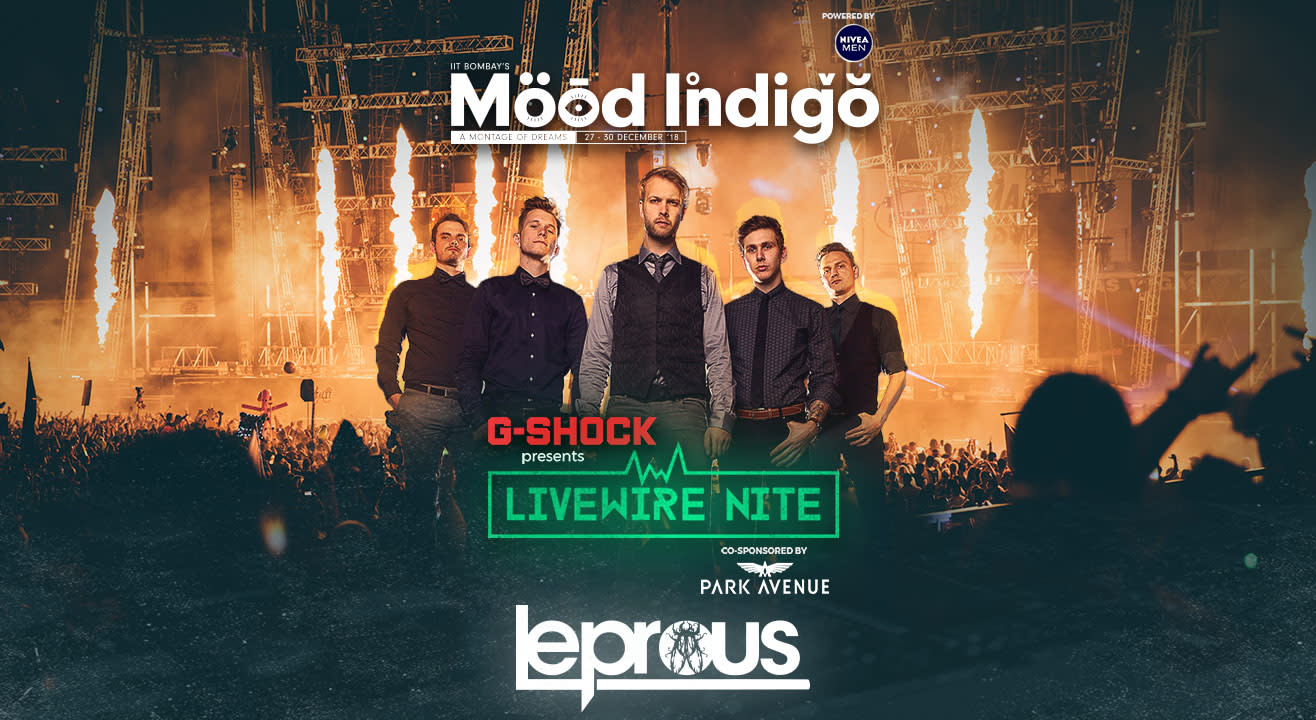 Music
Leprous at Livewire Nite, Mood Indigo
Gymkhana Grounds, IIT Bombay
About
Catch visionary progressive act Leprous this December as they head down to Mood Indigo for one of their legendary shows!

Hailed as one of the best live shows on the planet today, and having performed alongside renowned acts such as the Devin Townsend Project, TesseracT, and Between the Buried & Me; the band promises to deliver a world-class show!


About Leprous
Mixing blazing riffs, intricate vocal harmonies, and avant garde sensibilities, Leprous has carved out a niche for themselves in the prog community.

Their 2011 album, "Bilateral", was released to critical acclaim. Lauded for its seamless blend of eclectic influences from extreme metal to jazz, with Leprous' signature layered vocal harmony.
Known for reinventing themselves with every new album, their latest album, "Malina", features a brand new avant garde sound that received rave reviews from publications like Prog Magazine, Prog Metal Madness, and made it to Prog Sphere's best albums of 2017.


Mood Indigo, or MoodI as it is fondly known, is the cultural festival of IIT Bombay. Over the years the festival has grown to become India's largest college cultural festival, with a footfall of over 1,40,000 over its four days. The festival has seen a star-studded line-up over the years, from international sensations Porcupine Tree and Simple Plan, to chartbusters Vishal-Shekhar and Shankar-Ehsaan-Loy, to classical maestros Zakir Hussain and Asha Bhosle, to Bollywood stars Aamir Khan and Akshay Kumar, to dignitaries such as P. Chidambaram and Narayana Murthy.

This year, the 48th edition of Mood Indigo, during the Diamond Jubilee year of IIT Bombay, promises to climb even higher, and give you the Mood Indigo guarantee: the best 4 days of your life.
1. How do I enter IIT Bombay?
Please show your Insider e-ticket to the security at the IIT Bombay main gate, collect a printed pass, and enter the campus.

2. Where do I enter the grounds from?
There are separate queues for IIT Bombay students and visitors, please ensure you stand in the visitors queue.

3. What do I do with my bags/prohibited items?
Please do not carry any valuable prohibited items, such as musical instruments, into the grounds with you. You can deposit them at the cloakroom to be collected later.