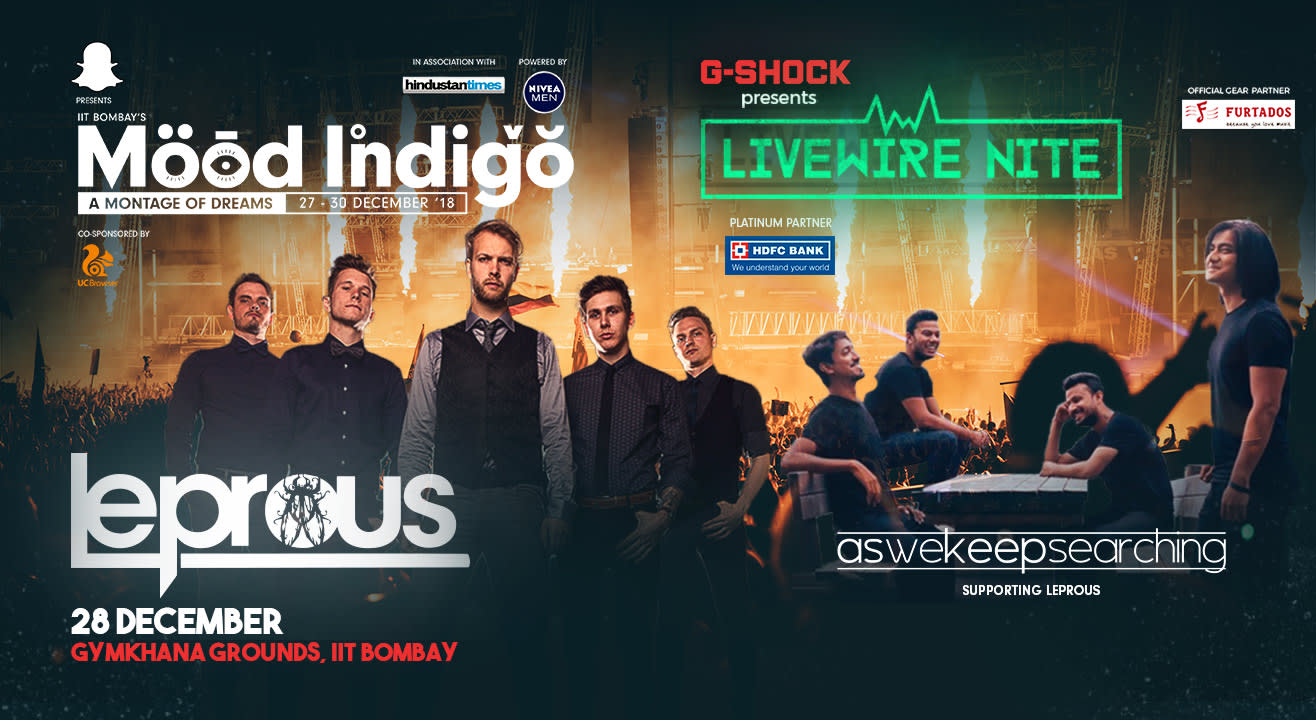 Music
Leprous at Livewire Nite, Mood Indigo | aswekeepsearching Opening Act
Gymkhana Grounds, IIT Bombay
About
Catch visionary progressive act Leprous this December as they head down to Mood Indigo for one of  their legendary shows!
Hailed as one of the best live shows on the planet today, and having performed alongside renowned  acts such as the Devin Townsend Project, TesseracT, and Between the Buried & Me; the band promises  to deliver a world-class show! 
Supporting Leprous for their epic set is the critically acclaimed band, aswekeepsearching. With their  first full length release, 'Khwaab', they turned heads and captured ears all over India. Their latest  release, 'Zia', enchanted audiences across their European tour with their eclectic influences,  manifesting as the finest 21st century post-rock


About Leprous
Mixing blazing riffs, intricate vocal harmonies, and avant garde sensibilities, Leprous has carved out a niche for themselves in the prog community.

Their 2011 album, "Bilateral", was released to critical acclaim. Lauded for its seamless blend of eclectic influences from extreme metal to jazz, with Leprous' signature layered vocal harmony.
Known for reinventing themselves with every new album, their latest album, "Malina", features a brand new avant garde sound that received rave reviews from publications like Prog Magazine, Prog Metal Madness, and made it to Prog Sphere's best albums of 2017.


About aswekeepsearching | Opening Act
Aswekeepsearching has been turning heads and perking up ears over the  world for a while now, spreading a message of positivity and good times in a way only they can, while  keeping their feet planted firmly on the ground. Hailing from sunny Ahmedabad, Gujarat, formed in  2013, the outfit comprises of vocalist/guitarist Uddipan Sarmah, guitarist/keyboardist Shubham  Gurung, bassist Bob Alex and drummer Gautam Deb. 
Their music is an aural painting, cathartic and unbiased, vividly colourful and infinitely kind. From the  first bar of the music till the curtain drops, it is apparent that the four members, fuelled by idealism  and the drive to build something beautiful, are set out to move mountains.  The albums also see the use of instruments like the Violin, Viola, Cello, Sitar and the Tabla, having  collaborated with like-minded artists on some songs, who've added their own unique colour to the  bands soundscape. 
Aswekeepsearching have a plethora of memorable highlights, having performed at notable music  festivals, some of which include all three editions of the NH7 Weekender 2016, Ctrl Alt Del, Into the Void, Indie March, and many more; sharing the stage with the likes of Steven Wilson, 65daysofstatic,  Tides From Nebula, Blackstratblues, Karsh Kale, I am waiting for you last Summer, and many more.  
aswekeepsearching are having the time of their lives. When they take the stage they cast the same  monochrome image that characterizes their music videos and press shots. It's a stark image and has a  startling visual impact. But that's what the band does best, leave an impact. The thing about  aswekeepsearching is they're an incredible well thought out complete package. From their image, to  their music, to their lyrics, everything slots together with deft precision.   They should be on your 'one to see' list.
Mood Indigo, or MoodI as it is fondly known, is the cultural festival of IIT Bombay. Over the years the festival has grown to become India's largest college cultural festival, with a footfall of over 1,40,000 over its four days. The festival has seen a star-studded line-up over the years, from international sensations Porcupine Tree and Simple Plan, to chartbusters Vishal-Shekhar and Shankar-Ehsaan-Loy, to classical maestros Zakir Hussain and Asha Bhosle, to Bollywood stars Aamir Khan and Akshay Kumar, to dignitaries such as P. Chidambaram and Narayana Murthy.

This year, the 48th edition of Mood Indigo, during the Diamond Jubilee year of IIT Bombay, promises to climb even higher, and give you the Mood Indigo guarantee: the best 4 days of your life.
1. How do I enter IIT Bombay?
Please show your Insider e-ticket to the security at the IIT Bombay main gate, collect a printed pass, and enter the campus.

2. Where do I enter the grounds from?
There are separate queues for IIT Bombay students and visitors, please ensure you stand in the visitors queue.

3. What do I do with my bags/prohibited items?
Please do not carry any valuable prohibited items, such as musical instruments, into the grounds with you. You can deposit them at the cloakroom to be collected later.