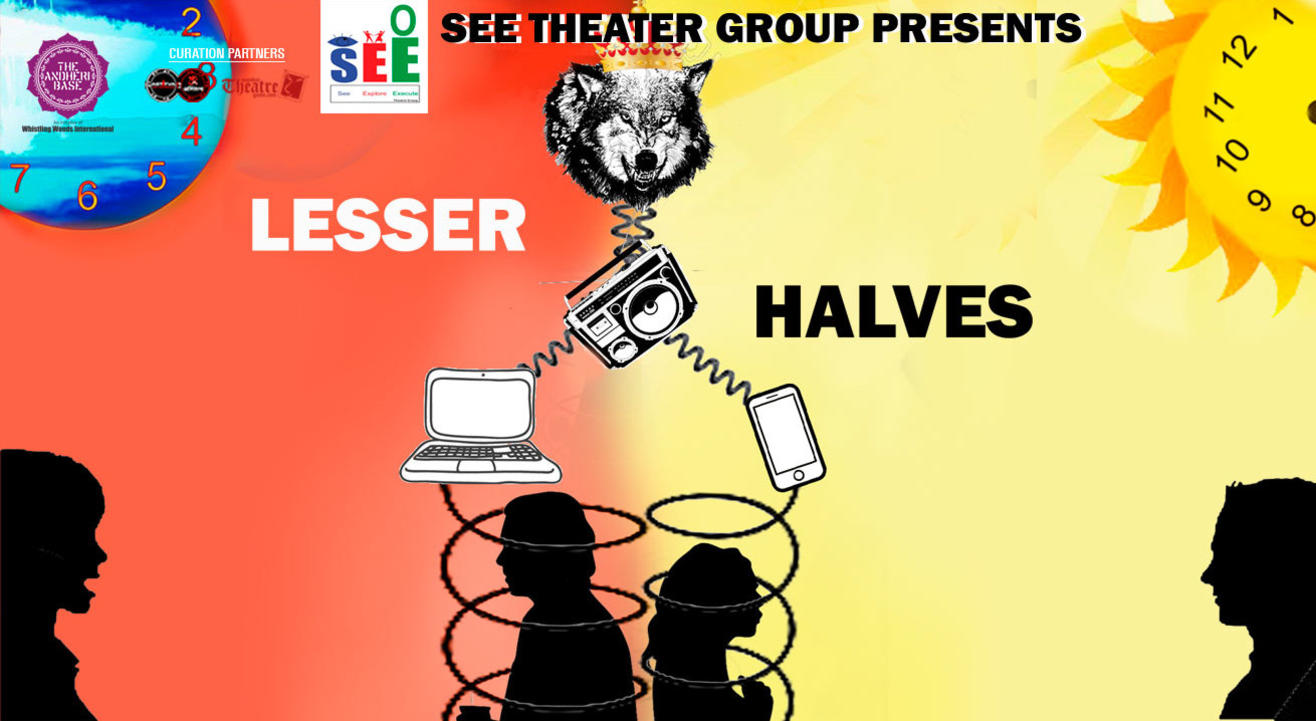 Play
LESSER HALVES
February 29 | 6:15PM & 8PM
About
Lesser halves is a play which belongs to the genre of theatre of absurd, but to put it simply it is a romantic-tragic comedy. The play follows the classic structure of an absurd play where there is a very thin plot with series of poetic images and there is no unity of time, space and action. The premise of this play is a studio apartment of a post modern town where a couple resides. They are detached from the world--- nobody comes to their house and neither do they venture out of their home. The set is minimalistic with very few but important properties. The play starts at midnight, travels till the evening of the next day and in these 3 quarters of a day the couple mature from youth to old org. Apart from the couple there is a third character in the play woh is intriguing but bizarre and represents the capitalist world. The play is a unique take on urban life, two people who consider themselves as unsettlers but tries to conserve the moralities and merits of human life. They are the conservationists of love and ethos of humanity and their togetherness can transcend loneliness, the curse of modern civilization. The twist in the tale is the intervention from the capitalist world and mystifying nature who try to destabilize their placid existence. The play never binges on melodrama, rather tragedy and comedy form the warp and weft of the play.
Artist Full Names
Pankaj Purohit,Juhi Pahuja,Suzanna,Prem Arya,Saurabh pratap Singh ,Prakhar
Artist Bios
Pankaj Purohit is an avid theatre professional. He has been arduously working in the realm of professional theatre for more than a decade. He has done masters in theatre arts from Mumbai University and has won himself the title of a national scholar bestowed upon him by ministry of culture, India for design and direction in the field of realistic and absurd theatre. He has worked along and under the guidance of theatre stalwarts like Waman Kendre, Shivdas Ghodke, Shafat Khan, Vijay Kenkre, Sanjay Mehta, Gopal dubey, Late Alakhnandan Sinha , Late Chandrahas tiwari , Mangesh Bansod and Priti jha tiwari. He is founder of SEE( see, explore, execute) theatre group. The last production of the group was END GAME by Samuel Beckett. Along with play writing he also writes for media and conducts theatre workshop for amateur and professionals.
Lakshika Pandey is a theatre practitioner, an actor, director and a dancer with over 15 years of experience. She is trained in Bharatnatyam, Chhau, Yoga and Butoh(Japanese dance theatre). She has also attended Trinity Laban Conservatoire for Dance(UK).
She is the founder of the Mumbai-based theatre company: The Shakti Ensemble, under which she has devised and directed Bebaak Beckett (based on Samuel Beckett's life and short plays), a play performed in six languages. And another production "Walking Naked" journey of women saints in India.
Her recent major production is Rang De: a musical folk drama adapted from Tagore's Horikhela, which made use of Awadhi songs and folk music and was well-received at the NCPA. Her upcoming project is a classic written by Bhishm Sahani "Kabira Khada Bazar Mein". She has been a faculty at the prestigious Drama School Mumbai.
A multilingual actor , been a part of many films, web shows and ad campaigns
Juhi Pahuja.
Born and brought up in Bombay. A Theatre artist. Also been part of a few films, webseries and TVC projects.
Venue
Andheri Base, Mumbai
Sharyans-Audeus, Hardrock Cafe building, Link Road, Andheri West, Mumbai, Maharashtra 400053
GET DIRECTIONS