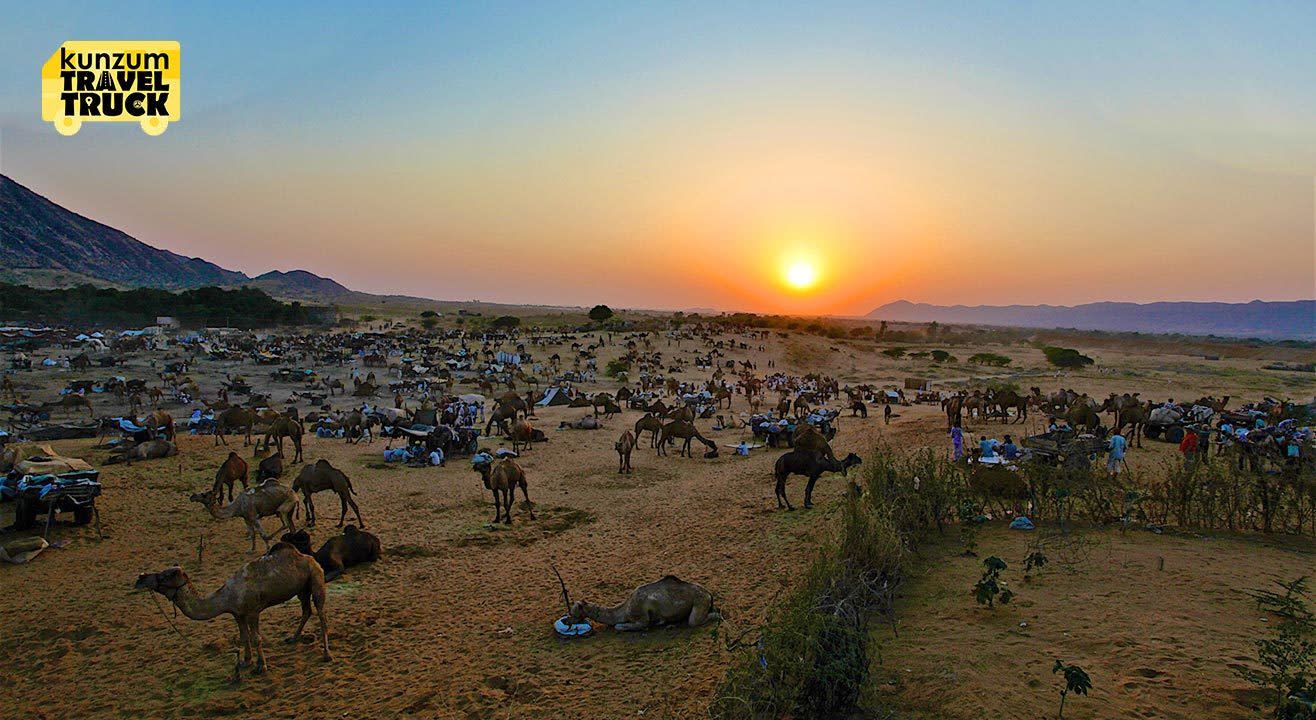 Adventure
Let's Celebrate The Pushkar Camel Fair
About
Kunzum Travel Truck
The Kunzum Travel Café opened its doors to the world on June 12, 2010 – it has since become synonymous with the idea of a traveller community.
As Brand Kunzum, established earlier in 2007, completes a decade, we have introduced an idea that promises to be another game changer – we call it the Kunzum Travel Truck. Very simply, it is recreating the café on wheels. People would no longer just talk travel, but head out together too.
On journeys curated by experts. In vans that make travel fun and engaging – comfortable push back seats, unlimited bar, WiFi on board, funky interiors, LED screens, music systems and more. Trips have been scheduled every week taking you to places you may not have considered on your own. With service standards that will delight you.
In other words, the Kunzum Travel Truck would be the destination in itself. Where you will make new friends too. Hop aboard – book a journey at http://kunzum.com.
Want to book a truck for your family, friends, alumni and office colleagues?
We all like to head out with our private groups – why not do it in style in a Kunzum Travel Truck? We can suggest itineraries and you can express your preferences. Leave the rest to us – we will handle all research, curation, bookings and organisation of the trip.
Pushkar is a town one can visit any time of the year – even during peak Rajasthan heat. It is a charming place in its own way – the quaint bazaars, the streetside eateries serving local cuisines, the spirituality, the calm…. Pushkar calls you all the time.
More so during the annual Pushkar Camel Fair – one of the most incredible sight on the planet. Where thousands of traders descend with countless camels, horses and cattle to sell or to buy. In a festive environment. The town comes alive with cultural shows, bright markets set up for the occasion, music, even more food and lots more. Attended by the religious minded, tourists, photographers, campers, artists, puppeteers, entertainers and almost everybody else. It is a jamboree not to be missed.
The Kunzum Travel Truck is rolling to Pushkar – one group visits during the opening weekend and other during the closing weekend. And to ensure double the fun, we will be taking not one but two trucks.
Dates: We go in two groups. First one visits during the opening from October 28 – 31, 2017 and other during the closing weekend of November 2 – 5, 2017. You may sign up for either. We leave New Delhi at 6:00 a.m. on day one and return around 10:00 p.m. on the last day. [These dates don't suit you? Call us to organize a private tour on a date of your choosing.]
Accommodation: The Country Side Resort
Travel: In the Kunzum Travel Truck, a 12-seater luxury van. The distance of about 400kms from Delhi will be covered in about seven hours.
Drive/ Ride along in your own car or bike:
Want to be a part of the trip but prefer to come in your own vehicle? Sure, no problem. Ask for rates for the same.
We check into our hotel on arrival and it's a free run after that. Our trip leader and trucks will be at hand to take guests wherever they want to in Pushkar. When at the Pushkar Camel Fair, it's best to wander around – there is a surprise waiting at every corner.
Special Rajasthani Dinner: One day two, we will all have dinner together at Shri Ram Kumawat, a dhaba behind the Brahma Temple. Where you get to enjoy Rajasthani delicacies including dal baatichurma, gattekisubzi, kersangri, bajra and missi roti, papad and more.
Refund of 50% to be given if cancelled at least 30 days before departure date. No refunds will be possible otherwise but you are free to transfer your booking to anyone else.