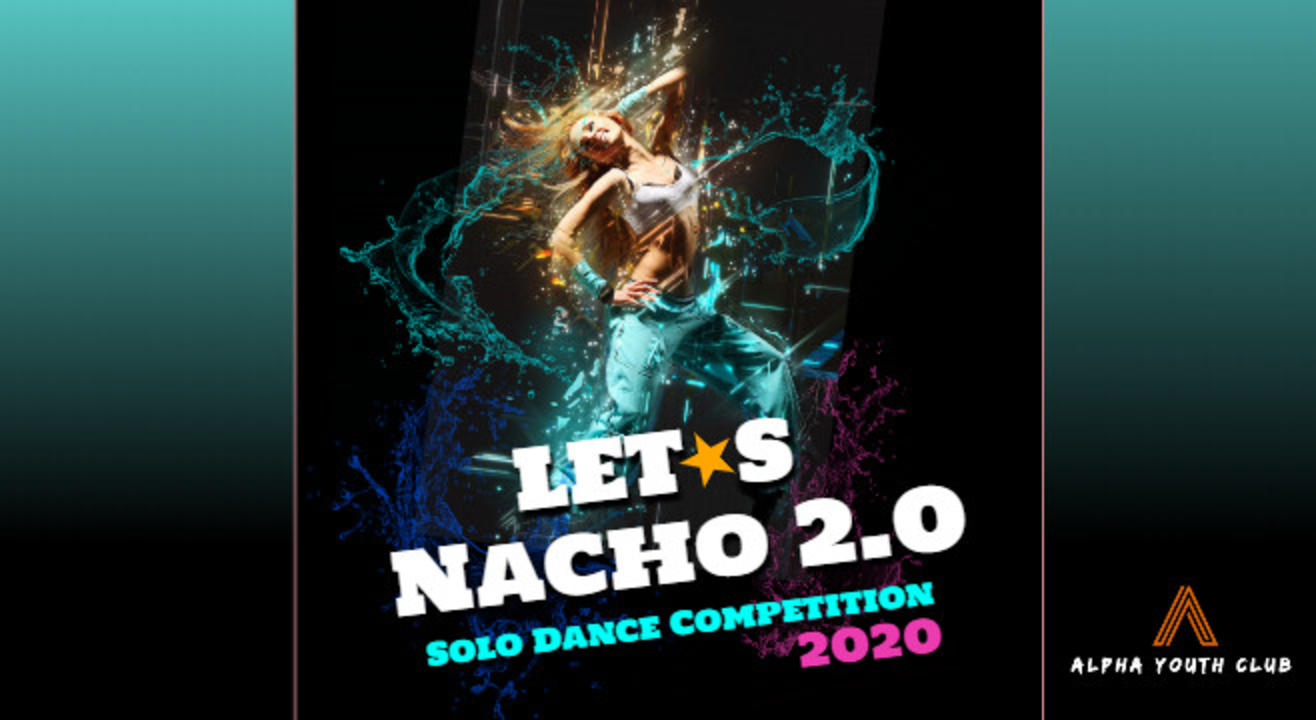 Lets Nacho 2.0 Dance Competition
Enjoy this event from your home
Invite your friends
and enjoy a shared experience
Invite your friends
and enjoy a shared experience
About the Event
About Event-
During this Covid - 19 of Global Pandemic get your kids ready and get equipped with Alpha Youth Club Presents Solo dance competition online. Here you can show your dance talent on our platform and feature in our Youtube, Instagram and Facebook Pages.
How to Join-
Once You Register for the event you get confirmation email on your email-id.
After registration you have to send us a dance video (non edited) not more than 2 minutes on whatsapp 9898877712 or 9104457880.
Along with video you have to send participant name, age and city and instagram id with booking screenshot.
After you send us video we will publish that video on our Instagram page in next 3 to 5 hour.
You can perform any type of dance in that video but it should be in solo only.
If video of dance will be more than 2 minute than it cannot be acceptable.
The Contest Will be Hosted On Instagram Page @AlphaYouthClub.
Once You send We provide you the link which you have to share to everyone for more likes on your Video.
Winner will be based on Best Dance performance and along with more on his or her dance video on Instagram.
Your Entry Guidelines -
One Dance Per person will be acceptable.
Shoot your dance upto two minute with song.(non edited)
Dance will be judged on their performance and talent.
Whatsapp Your Video on 9898877712 / 9104457880
Includes your name, City, Phone Number and Age and instagram id.
Entries will be closed on 8th August 2020 at 10 Pm.
You can send us your video till 8 August after that no video will be acceptable.
Result will be declared on 11 August 2020 at 4 pm on instagram page @Alphayouthclub
You can win exciting Cash award.
Age Category-
3 - 8 Years
09 - 15 years
15 Above.
Winners -
Top 2 Winner From Each Category Get Cash Award.
There will be a three category as mention above.
Winner will be based on best performance and More likes on Instagram video.
You have to share your Video link to all of your contacts which we provide by us.
(Note : Cash Prize will be declared on 7th Auguat on Instagram page. ( prize money will be depend on no. of Registration.)
Submission And Result -
You Have to submit Your video till 08th August.
Result will be declared on 11th August At 4 Pm On Instagram Post You can see the winner.
When you whatsapp your video in next 3 hour we send you a link to you on whatsapp.
// Time To Express Your Talent on Our Platform during this Pandemic World //
About Us
Alpha Youth Club is a community who organize a events for family & friends . We host Fun events, Sports events & meet-ups, with games, food and music, for all the family and friends to have a good time, and to rekindle their relationships.
Follow Us Now
Instagram : https://www.instagram.com/alphayouthclub/
Facebook : https://www.facebook.com/alphayouthclub/
Youtube : Alpha Youth Club
Stay Home | Stay Safe
Lets Nacho Dance Competition Highlights