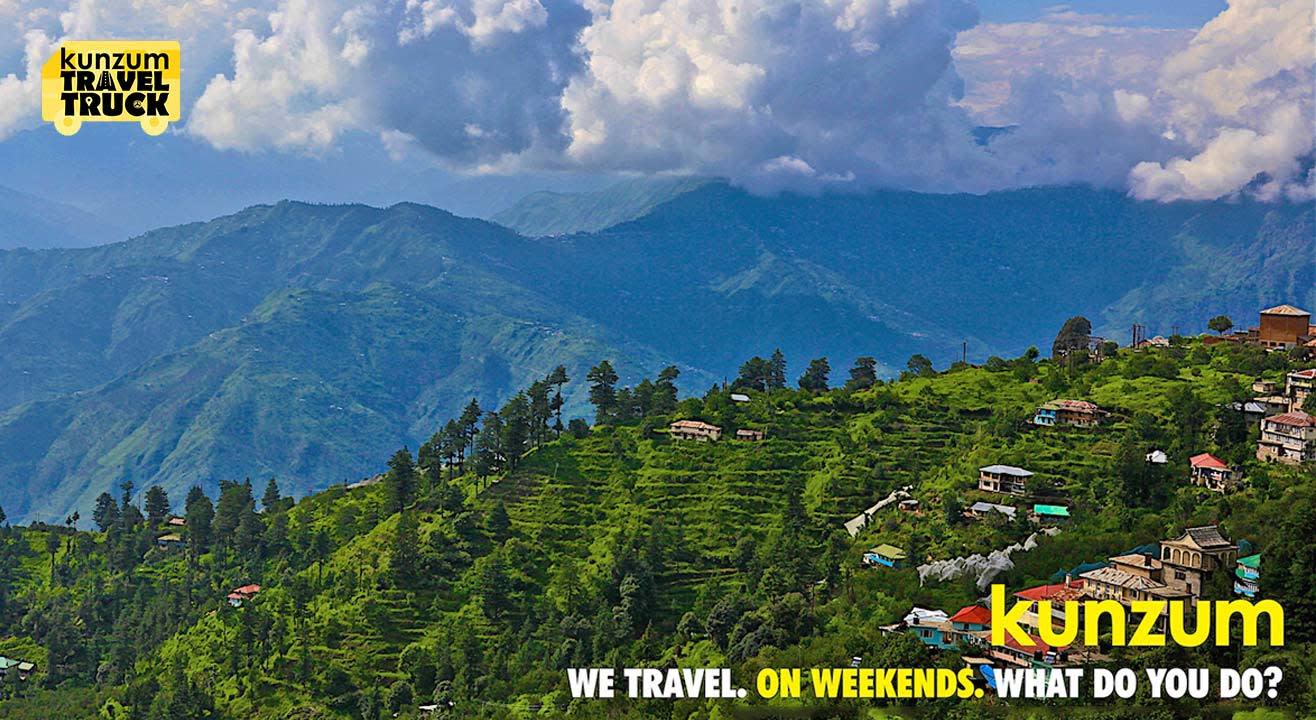 Experiences
Let's Pluck And Crush Apples In Himachal Pradesh
About
Kunzum Travel Truck
The Kunzum Travel Café opened its doors to the world on June 12, 2010 – it has since become synonymous with the idea of a traveller community.
As Brand Kunzum, established earlier in 2007, completes a decade, we have introduced an idea that promises to be another game changer – we call it the Kunzum Travel Truck. Very simply, it is recreating the café on wheels. People would no longer just talk travel, but head out together too.
On journeys curated by experts. In vans that make travel fun and engaging – comfortable push back seats, unlimited bar, WiFi on board, funky interiors, LED screens, music systems and more. Trips have been scheduled every week taking you to places you may not have considered on your own. With service standards that will delight you.
In other words, the Kunzum Travel Truck would be the destination in itself. Where you will make new friends too. Hop aboard – book a journey at http://kunzum.com.
Want to book a truck for your family, friends, alumni and office colleagues?
We all like to head out with our private groups – why not do it in style in a Kunzum Travel Truck? We can suggest itineraries and you can express your preferences. Leave the rest to us – we will handle all research, curation, bookings and organisation of the trip.
Himachal Pradesh goes red with ripe apples in August – and there is no better place to be at than Thanedar. After all, this is where apples were first grown in India. We will pluck apples, try our hand at chutneys and juices, and hit the nature trail.
Dates: August 25 – 27, 2017.
We leave New Delhi at 6:00 a.m. on day one and return around 9:00 p.m. on the last day. [These dates don't suit you? Call us to organize a private tour on a date of your choosing.]

Accommodation: Banjara Orchard Retreat, Thanedar

Travel: In the Kunzum Travel Truck, a 12-seater luxury van. The distance of 440 kms from Delhi will be covered in about 10 hours.

Drive/ Ride along in your own car or bike:
Want to be a part of the trip but prefer to come in your own vehicle? Sure, no problem. Ask for rates for the same.
Apple plucking with locals farmers – bite into crunchy apples, and also attempt to make chutneys and juices.
Tani – Jubbar Lake: This is a tiny little lake is famous for the adjoining 'Nag Devta' temple The lake is 6 kms from the retreat.
Hatu Peak: 15 kms away, at 11,000 ft, this peak offers a panoramic view of the snowline. You could drive or hike up to it.
St. Mary's Church: Built in 1843, this church at Kotgarh is one of the oldest churches in India.
Saroga Forest: Ideal for a refreshing early morning walk.
Chats over bonfire: Your host, Mr. Prakash Thakur, will regale you with stories, anecdotes and history of apples and of the destination.
Refund of 50% to be given if cancelled at least 30 days before departure date. No refunds will be possible otherwise but you are free to transfer your booking to anyone else.