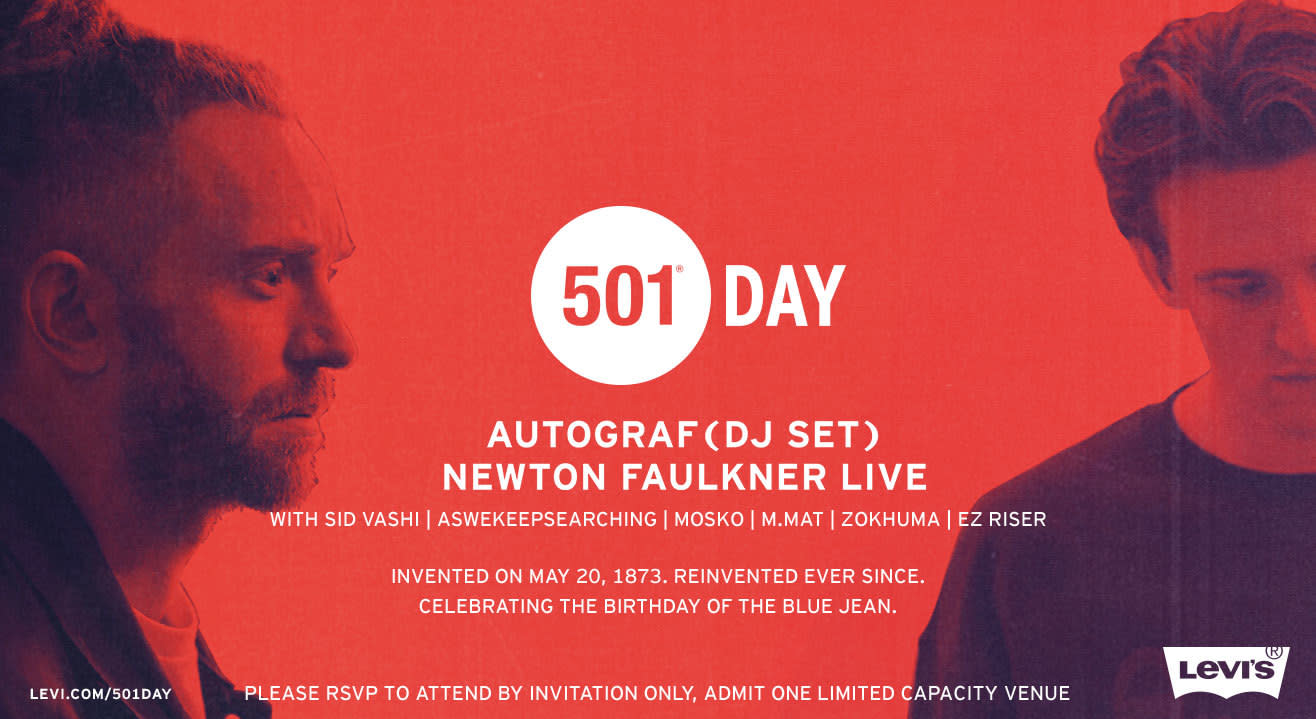 Levi's® 501® Day: Birthday of the Blue Jean, Mumbai
Razzberry Rhinoceros, Mumbai, Mumbai
Step out and enjoy this event
Invite your friends
and enjoy a shared experience
Levi's® 501® Day: Birthday of the Blue Jean, Mumbai
Razzberry Rhinoceros, Mumbai, Mumbai
Step out and enjoy this event
Invite your friends
and enjoy a shared experience
Invite your friends
and enjoy a shared experience
Artist Info:
Autograf (DJ Set)
Combining two art students and a derivatives trader into an all-encompassing art project was surely a novel concept. Autograf -- formed by Jake Carpenter, Louis Kha, and Mikul Wing -- craft a shimmery mix of futuristic electronica with a D.I.Y. ethos that melds the skills from their former day jobs.
The trio first put their talents together at a gallery exhibition, where Carpenter, a sculptor and painter who was working as a welder, and Wing, a street artist, created an installation that included a homemade robot for what became their first DJ show in their home town in Chicago.
As the electronic music scene reached a certain peak in 2015, the group wanted to bring a different kind of artistry back to electronic music and after remixing songs by a string of prominent artists like Lorde, Odesza and Pharrell, they released their first original song, "Dream." Today their forward looking philosophy and diverse creative talents have led them to step back from the DJ world and designing their own live show and stage installations, whilst find new and exciting ways to engage with fans and the public with thought provoking and positive messages through their music, street art and illustrations, encouraging everyone to leave their Autograf on the world.
Newton Faulkner
Big, beat-conscious and astonishingly diverse are not the adjectives that might have sprung immediately to mind with regard to Newton Faulkner in the past. He was the singer-songwriter once tagged 'the British Jack Johnson' and tossed in alongside sensitive, strumming troubadours in the tradition of Jackson Browne and James Taylor. He was the guy with the dreadlocks he had been cultivating since the age of 15, the one who flayed the hell out of an acoustic guitar whenever he played live.
Aswekeepsearching
aswekeepsearching has been turning heads and perking up ears over the world for a while now, spreading a message of positivity and good times in a way only they can, while keeping their feet planted firmly on the ground. Hailing from sunny Ahmedabad, Gujarat, formed in 2013, the outfit comprises of vocalist/guitarist Uddipan Sarmah, guitarist/keyboardist Shubham Gurung, bassist Bob Alex and drummer Gautam Deb.
Mosko
An eclectic mix of posh, groove laden electronica and smooth acoustic jams. MOSKO is an avant-garde duo from Delhi comprising of Kavya Trehan and Moses Koul. They came together to form MOSKO just 10 odd days before their first ever performance at Ragasthan 2014 Music Festival that happens in the middle of the Khuri Dunes. And ever since then there has been no looking back for them. Deriving influences from topics and subjects as diverse as Manga and anime to tea,independent drama and films. An evocative cinematic experience with a hint of ballroom waltz, emotional subversion and copious amounts of noir.
Sid Vashi
Sid Vashi is an electronic musician and composer from Mumbai India. Vashi's music is often characterized by the use of field recordings and organic textures coupled with samples from Bollywood and Indian classical recordings from the past. In 2013, he released his first EP entitled 'Motherland Tourism' which received praise from noted online platforms including THUMP by Vice and The Wild City. More recently, Vashi has released two singles from his upcoming album 'Azuma Kazuma' which is set to release in May 2017. The album tells a narrative of a man desperately trying to reach home after leading an unfulfilling life as a prospector in space. In addition, Vashi plans to release a collection of bootlegs and remixes which were created while he was recently bedridden with a broken foot.
Razzberry Rhinoceros, Mumbai
Uditi Tarang Housing Colony, Juhu Tara, Juhu, Mumbai, Maharashtra 400049
GET DIRECTIONS
Levi's® 501® Day: Birthday of the Blue Jean, Mumbai
Razzberry Rhinoceros, Mumbai, Mumbai
Step out and enjoy this event
Invite your friends
and enjoy a shared experience