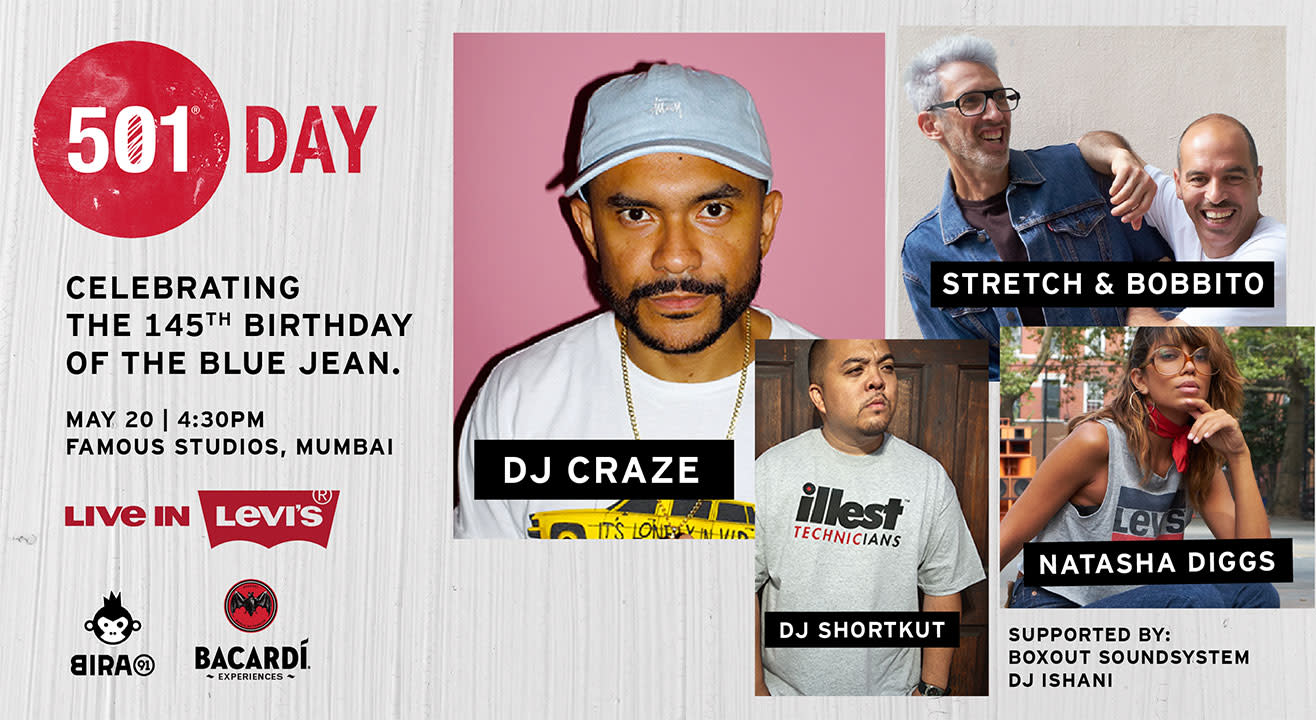 Music
About
On May 20, 1873, Levi's® invented the blue jean.
145 years later, Levi's® is celebrating 501® Day with the jean that started it all. From its creation, the original blue jean has been a canvas for self-expression, repurposed in countless ways. With an epic scale Levi's Tailor shop to customize denim and performances by some of the biggest hip-hop DJs from around the world, join us as we celebrate what is means to be forever original.
#501Day. Invented by us. Reinvented by you.
DJ Craze
At just 20, DJ Craze won his first DMC World Championship. Time Magazine named him "America's Best DJ" after his next 2 wins. He has toured with Kanye West as his personal DJ, and with Yelawolf across America.
He has performed in Jamaica, Australia, Japan, and even Nicaragua, which his family fled during a civil war when he was only 3 years old. He's known for his top-notch showmanship, and a special blend of rap, dubstep, and Miami bass.

Stretch & Bobbito
During the 1990s, Stretch and Bobbito introduced the world Nas, Biggie, Wu-Tang, and Big Pun as well as an unknown Jay-Z, Eminem, and the Fugees, who went on to become legendary rappers. Record sales for the artists that premiered on their radio show exceed 300 million. The late-night program had a unique following: it was loved in the art/fashion world and prison population alike. The audience would tune in for humour just as much as a peek at the freshest music. Stretch and Bobbito built a platform that went on to change music forever.

Boxout Soundsystem
Comprising boxout.fm co-founders DJ MoCity and Dualist Inquiry, in addition to the New Delhi community radio station's innermost crew-slash-resident DJs - Rohan Kale, MadStarBase and Abhi Meer - Boxout Soundsytem offers a refined, 360-degree take on music in all its forms packaged as India's first community radio.

Natasha Diggs is one of the most versatile and well-respected DJs in the world. She has made a global career with her musical sets that come from a deep knowledge of music and turntable skills behind the decks at clubs spread across New York, Tokyo, Berlin, Prague, Sydney, and Beijing. She has shared the stage with legends like Erykah Badu, Rakim, and Questlove.

DJ Shortkut is a pioneering turntablist with veteran credentials in battle DJ competitions. He is responsible for creating some of the most influential turntable routines of all time, literally birthing new techniques & innovations to the turntablist culture, while maintaining dance floors internationally playing the latest in music spanning countless genres.
While visiting over 20 countries annually, Shortkut often finds himself together with other legendary artists such as Maseo (De La Soul), Ali Shaheed Muhammad (A Tribe Called Quest), and DJ Premier. He has also played at legendary underground dance parties like The Boiler Room. His diverse selection in music combined with his turntablist roots makes him a musical legend in any room.

DJ Ishani has a unique style that smoothly mixes the sounds of old and new schools of Hip-Hop. The clever merging has made her a club regular in Mumbai, from where she often flies out to share stages with international DJs like Kardinal Offishall and Camouflage. She has played at over 75 clubs in India, as well as at the NH7 Weekender festival.