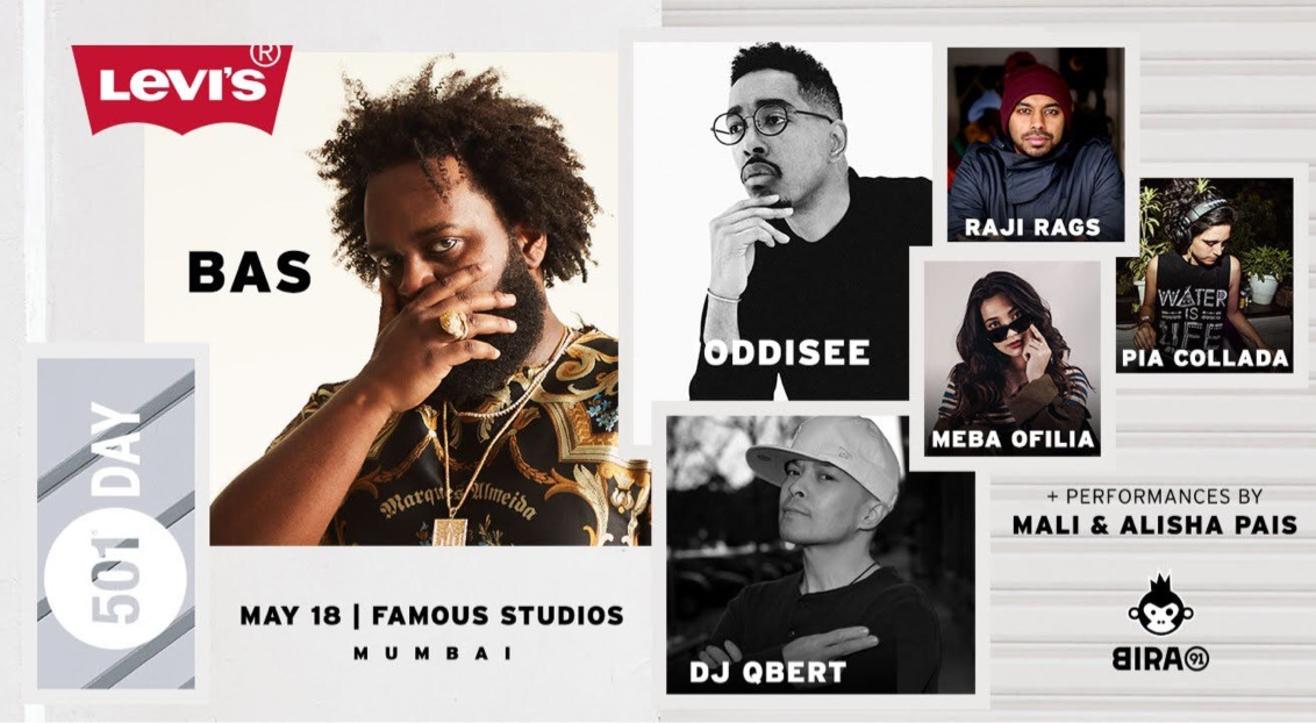 Music
Levi's® 501® Day
May 18 | 6PM (Gates Open)
About
In 1873, we invented the blue jean.
146 years later, we are celebrating 501® Day with the jean that started it all. From its creation, the original blue jean has been a canvas for self-expression, repurposed in countless ways.
Join us on May 18th at Famous Studios, in Mumbai as we celebrate music, art, customization and Levi's®.
#501Day Make it personal.
BAS
There's very little typical about Parisian export turned Queens expert Bas, the first artist signed to J. Cole's Dreamville imprint, a label partnership with Interscope Records. The multilingual Bas, who's been ably accompanying Cole on tour, fires his first official shot across the bow with Last Winter—what began as a mixtape but morphed into a full-length collection on Interscope. Though Bas' foray into the limelight might seem sudden, the rapper's ascent has been admirably deliberate and methodical. He's held his own alongside Cole and 50 Cent on the sizzler "New York Times." But it's behind the scenes where Bas has done his best work: building a brand – The Super Mookin Fiends – and also the infrastructure to ensure longevity.

IG - https://www.instagram.com/bas/?hl=en
YouTube - https://www.youtube.com/channel/UCi05TWluMO9aCDpYrDLx8rA
FB - https://www.facebook.com/FiendBassy/

Oddisee
Born in Washington, D.C., to a Sudanese father and an African-American mother, Amir Mohamed aka Oddisee grew up in Maryland, influenced by soul and rap as well as myriad musicians on both sides of his family. Oddisee released his debut album "People Hear What They See" in 2012. The critically acclaimed album i.a. was rewarded with the "Apple Itunes Music Award 2012" for best HipHop album. 2016 saw the release of The Odd Tape -- an all-instrumental album and his EP Alwasta, including one of the most discussed songs in 2016, "Lifting Shadows" The same year, Oddisee performed along Kendrick Lamar, Will.i.am and Herbie Hancock at the industry get together "Summit At Sea" in the Carribeans. His new album 'The Iceberg' is a smoldering window into the soul of an artist thinking critically about individuality and identity. The album has been met with high praise from Time Magazine, NPR, Stereogum, a powerful NPR Weekend Edition segment and a premiere on Ebro's Beats 1 radio.

IG - https://www.instagram.com/oddisee/?hl=en
FB - https://www.facebook.com/oddiseemusic/

DJ QBERT
DJ QBert, born Richard Quitevis, is widely regarded as the most highly skilled skratching dj that has walked this planet.

DMC World Championship appearances since 1991-1994 gave global exposure to DJ QBert's unbelievable skills and performances. Since then no other has matched his command of the DJ scene on and off the turntables. Hailed as the ambassador of skratching for today and to the future, he has been recognized by his peers as innovating more styles and systems of skratching. He comes from the era of experimental battle DJs who in the mid-90's gave shape to the infinite sounds of 2 turntables and skratching vinyl. Honorably knighted "Grandmixer" by legendary pioneer GrandMixer DXT. An honor dignified by hip-hop's most hallowed Knighting tradition; securing his place as one of hip-hop's living legends.

DJ QBert was officially awarded the title America's Best DJ in 2010. With a well-documented and successful DJ career, he is considered as one, if not "The Greatest DJ Of All Time".

IG - https://www.instagram.com/djqbert/?hl=en
FB - https://www.facebook.com/skratchdjqbert/

Raji Rags
A Londoner through and through, Raji Rags is an integral part of the London music scene. Raj has a unique style of DJing that effortlessly and seamlessly travels a huge range of music. Raj is former Head of Music for Boiler Room and continues to program, host and DJ for Boiler Room. As well as A&Ring the Bleep.com record label that has released the likes of Hudson Mohawke, Flying Lotus, Karenn (Blawan and Pariah), Objekt and Modeselektor to name a few - Raj has shared the stage with some of electronics biggest names.

As well as being a well-known DJ in London with his residency on NTS Radio which he has held since the radio station started, but has also travelled the world DJing in places such as Cairo, Paris, Tokyo, Hong Kong, New York, Los Angeles, Rio de Janeiro, Milan, Recife, Delhi.

Raj has a unique style of DJing that effortlessly and seamlessly travels a huge range of music. He is co-founder and DJ of Livin' Proof - London's biggest and most well known hip-hop party that were the first to bring A$AP Rocky, Danny Brown, and Flatbush Zombies to the UK, as well as hosting early parties with the likes of Hudson Mohawke, Just Blaze, A$AP Ferg, Schoolboy Q, Action Bronson, Joey Badass and a raft of other acts.

FB - https://www.facebook.com/livinproofldn/

Meba Ofilia
Born and brought up in Shillong, Meba Ofilia is an artist to look out for. Her style is rooted in Hip Hop and RnB and she is a joy to watch live.

She started making waves in the Shillong indie circuit in 2016. Her first collaboration with Khasi Bloodz on the song Don't Stop was what caught people's attention. Since then she's been the topic of many a conversation when it comes to artists in the music scene.

After the release of Done Talking, a song she collaborated and wrote with Big Ri of Khasi Bloodz fame, her potential and delivery could be seen and heard. Meba Ofilia and Big Ri were then nominated for 2018's MTV EMA Best India Act and were later crowned winners.

Having won the award she is poised for what lies ahead. She's currently working on newer songs for her EP and a live set which is backed by some of shillong's most sought musicians.

IG - https://www.instagram.com/mebaofilia/?hl=en
FB - https://www.facebook.com/MebaOfiliaOfficial/

Pia Collada
Pia Collada is a half India, half British DJ whose love for music comes from having grown up across India, U.S.A and Tanzania. Her sets reflect this journey, mixed with a dose of strong female energy being shared by artists from across the globe. She has played at festivals such as Goa Sunsplash, Boxout Weekender and Bira April Fools Fest as well as events such as Krunk Presents, St.Art India, and Boxout Wednesdays. Pia Collada is part of Coven Code, New Delhi's own femme creative collective.

FB - https://www.facebook.com/djpiacollada/

Mali
Mali AKA Maalavika Manoj is a Mumbai-based singer-songwriter whose tunes capture the authenticity of classic pop from the 1970s, '80s and '90s. Her debut EP Rush, recorded live with some of the most talented musicians from the Indian independent scene, embraces the kind of warm, raw, analog sounds that are rarely heard in contemporary pop today. Put simply, it's pure, unadulterated music that's fresh but without the frills. Think back to the Carpenters, Fleetwood Mac and Alanis Morissette, but with lyrics that detail the experiences of a twentysomething woman in urban India

IG - https://www.instagram.com/maalavikamanoj/?hl=en
FB - https://www.facebook.com/Malimanojmusic/

Alisha Pais Alisha Pais is a singer-songwriter from Mumbai, with rich powerful husky vocals and guitar. She plays an eclectic mix of haunting originals and interpreted covers both contemporary and retro that carry the audience on a reflective journey through life, love and longing. Pais has been writing poetry and lyrics since childhood, developing her style to what it has become today. As well as making music, she loves to travel, and takes inspiration from all that surrounds her. She was invited to perform on the TV show titled 'The Stage', as one of India's top 20 artists.

Instagram - https://www.instagram.com/paisslick
Facebook - https://m.facebook.com/paisslick
Soundcloud - https://soundcloud.com/alishapais
YouTube - https://www.youtube.com/user/PaisSlick
Designers / Visual Artists
Aaravani Art Project, Airphish, Akanksha Sharma , Bobocalcutta , Bykhatra , Chandan Mahimkar, Debangshu Moulik , Dostreetart, Jyotirmayee Patra , Little Shilpa , Loveleen Bajaj, Metal Head Studio, Mira Malhotra, Mit Shah, Mitisha Mehta , Naushad Ali, Neha Doodles, Osheen Siva, Pranav Bhardwaj , Priyesh T , Sam Madhu , Smit Khond, Srillustrator, Studio Moebius, Taarika John, The Ikat Story, The Ink Bucket, Thedoodlemafia , Varsha Patra , Viraj Mithani, Yash Pradhan, Zeenat Kulavoor