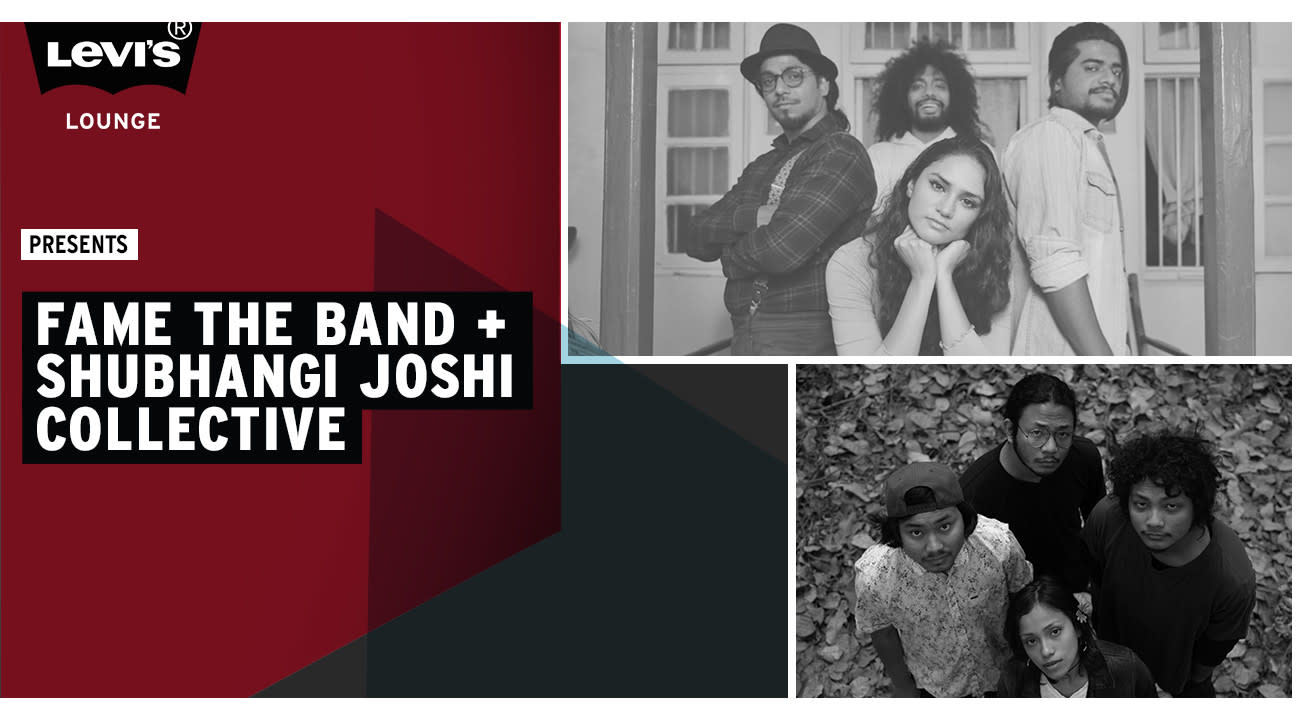 Levi's® Lounge presents Fame The Band + Shubhangi Joshi Collective
Levi's Lounge, Lower Parel, Mumbai
Step out and enjoy this event
Invite your friends
and enjoy a shared experience
Levi's® Lounge presents Fame The Band + Shubhangi Joshi Collective
Levi's Lounge, Lower Parel, Mumbai
Step out and enjoy this event
Invite your friends
and enjoy a shared experience
Invite your friends
and enjoy a shared experience
Fame the Band:
Formed in 2013, Fame The Band is a four piece band from a small town in Meghalaya, India that broke down hometown barriers to become musicians. They released their debut album nouns on 21st October, 2017 and has since been touring and performing at various venues and festivals in India and Nepal. The band's music video for 'Autumn' in collaboration with Jamsteady was released in February, 2018.
On their way to releasing their album they have won the 'Best Potential Band' at Hornbill International Rock Festival, Nagaland in 2015. They later went on to win Strawberry Fields XX, Bangalore along with prizes for 'Best Vocalist' and 'Best Bassist' at the same event in December, 2016 and also won Livewire, Mood Indigo in Mumbai in the same month. They have had the opportunity of opening for Crown The Empire. They qualified for the West Zonal Finale of the Sennheiser Top 50 bands, India in 2017.
The band consists of Mikkimra Shira on guitars, Mark Shira on drums, Tengsam Momin on bass and Fame Sangma on vocals.

Shubhangi Joshi Collective:
With a refreshing sound and intriguing lyrics, Shubhangi Joshi Collective's music cuts across geographies, appealing to music lovers beyond borders. Having performed across India and The US, Joshi's contemporary sound has got her invited for prestigious music residencies across the world, such as The ISINA program (Los Angeles, 2017) where she was mentored by Grammy-winning industry legends such as Kenny G and Walter Afanasieff, among others
• Having completed a successful pre-launch 3 city tour of The US for 'Babelfish', the band's debut full length is slated for release in July, 2019
• An empanelled artist by the ICCR (Indian Council of Cultural Relations) the collective was invited to represent India on a 4 city band performance tour of Bhutan from 25th-30th January 2018, by the Government of India and Bhutan, to celebrate 50 years of successful diplomatic relations between the two nations.
• Having performed in Los Angeles, San Francisco, Nashville, Philadelphia, New Jersey at iconic venues such as The Belasco Theater, The Baked Potato Jazz Club, Sofar Sounds Los Angeles and more, and across India, Joshi loves experimenting with an eclectic range of songwriting themes to engage her audience.
Levi's Lounge, Lower Parel
Unit 2, New Mahalaxmi Silk Mills, Mathurdas Mills Compound, NM Joshi Marg, Mumbai - 400013
GET DIRECTIONS
Levi's® Lounge presents Fame The Band + Shubhangi Joshi Collective
Levi's Lounge, Lower Parel, Mumbai
Step out and enjoy this event
Invite your friends
and enjoy a shared experience