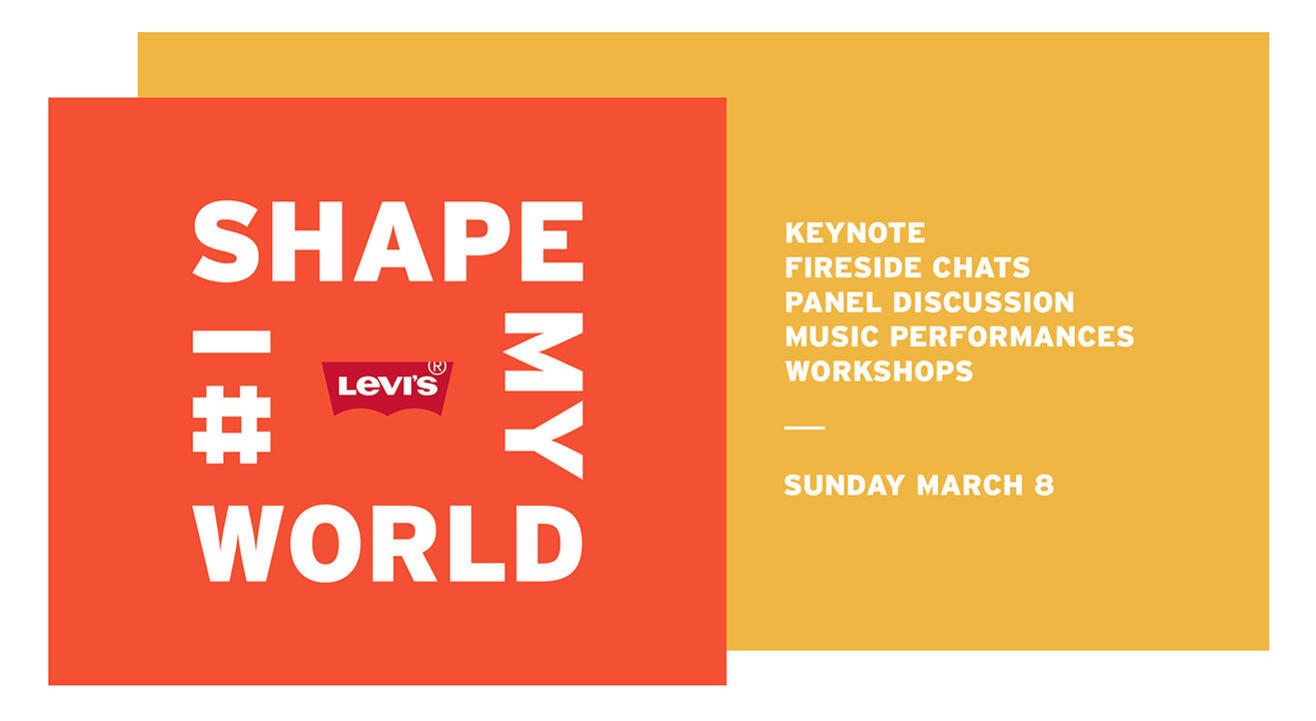 Levi's® presents I Shape My World
The Great Eastern Home, Mumbai, Mumbai
Invite your friends
and enjoy a shared experience
Levi's® presents I Shape My World
The Great Eastern Home, Mumbai, Mumbai
Invite your friends
and enjoy a shared experience
Invite your friends
and enjoy a shared experience
Levi's® I Shape My World is a celebration of unstoppable women. The trailblazers, the game changers, the risk-takers and the change-makers who are pushing boundaries, using their voice and refusing to settle. Over 5 seasons, it has showcased stories of extraordinary women from across industries who have made a difference to their communities and the world at large.
On March 8, Join us for a special event where we inspire and enable a nation of powerful women to shape their own worlds, fearlessly and unapologetically.
Zoya Akhtar



Zoya Akhtar is an Indian film director and screenwriter. After completing a diploma in filmmaking from NYU, she assisted directors such as Mira Nair, Tony Gerber and Dev Benegal, before turning writer-director in her own right.



Meghna Gulzar



Meghna Gulzar began her professional career in 1989 as a freelance writer for The Times of India and other publications. A master of feature films, her most recent one 'Chhapaak' was based on the subject of acid violence.



Anupama Chopra



Anupama Chopra is an Indian author, journalist, film critic and director of the MAMI Mumbai Film Festival. She is also the founder and editor of the digital platform Film Companion which offers a curated look at cinema.



Radhika Apte



Emmy nominated star, Radhika Apte, is one of the most credible names in the Indian Film Industry. Radhika has broken the barrier of language and given stellar performances in Hindi, Bengali and South Indian cinema.



Shaheen Bhatt



Shaheen Bhatt is a screenwriter and author of the bestselling book I've Never Been (Un)Happier. In October 2019, Shaheen launched a mental health awareness campaign - Here Comes The Sun - to help address the stigma and discrimination around depression and anxiety.



Arushi Sethi



Meet Arushi Sethi the MD and Co-founder of Trijog - Know Your Mind, India's most promising organisation for mental health care and wellness.



Avanti Malhotra



Avanti Malhotra is a psychotherapist with a Masters in Applied Psychology, Mental Health Counseling from NYU. She believes authenticity, consistency, and a safe holding space effectively bring out an individual's capacity to confront and heal themselves.



Shinjini Kumar



Shinjini Kumar is Country Business Manager, Global Consumer Bank, Citi India. Shinjini manages all of Citi's consumer businesses including retail banking, wealth management, commercial banking, cards and mortgages in India.



Aabha Bakaya



Aabha is a career business journalist, news anchor, editor, writer and producer. She has worked for major networks like NDTV Profit, ET NOW & Bloomberg TV India. She was the lead anchor for Bloomberg TV India, where she anchored the morning market news, and created the highly rated shows on entrepreneurship 'E-Inc' & 'Rising Stars'.



Kaneez Surka



Kaneez Surka is a South African improv artist, actor, comedian and a YouTuber who works mainly in India. She started her career with the show The Week That Wasn't. She has performed on various stand up platforms. She was a judge for the Amazon Prime stand-up comedy reality show Comicstaan.



Diskit Angmo



Diskit Angmo, 21, plays in the defense position on the Indian Women's Ice Hockey Team and is currently an English Literature student at the Delhi University.



Val Resh



Reshma Valliappan, also known as Val Resh, is an artist-activist for a number of issues related to mental health, disability, sexuality and human rights.



Falguni Nayar



Falguni Nayar founded Nykaa in 2012 with the vision of building a multibrand omnichannel beauty-focused retail business. By empowering customer choices and enabling brands to reach the breadth and depth of the country, Falguni has been instrumental in developing the beauty market in India.



Sand Dunes



Sandunes is a keys player, composer and beatsmith. Hailing from Mumbai, her work has trodden a global footprint lately, Seeing her open for Bonobo at Manchester International Festival, support George Fitzgerald's album release tour at Evolutionary Arts Hackney, perform at London's Barbican Centre under a commission from Warp Records and Boiler Room, take in India's celebrated Magnetic Fields festival and prestigious National Centre for Performing Arts, Mumbai, and tour the US supporting Pretty Lights.



Raja Kumari



Indian-American rapper, singer, songwriter, and dancer Raja Kumari is a force of nature. She's a fearless, charismatic personality and natural-born storyteller whose mission is to create art that blends her Indian roots with her American upbringing.



Nirmika Singh



Nirmika Singh is a music journalist, lyricist, and poet based in Mumbai. A multi-faceted creative leader, she is also the youngest music critic to hold the position of Executive Editor at Rolling Stone India, the Indian edition of the world's greatest music magazine.



Shubha Mudgal



Shubha Mudgal is a Hindustani classical vocalist trained by some of the finest scholar musicians and gurus of the country. Awarded the Padmashri by the Government of India in 2000, she has received several accolades and awards and has also worked on several projects related to music education.


The Great Eastern Home, Mumbai
The New Great Eastern Mills, 25-29, Dr. Ambedkar Road, Near Rani Baug, Byculla, Dhaku Prabhuchi Wadi, Byculla East, Mazgaon, Mumbai, Maharashtra 400027
GET DIRECTIONS
Levi's® presents I Shape My World
The Great Eastern Home, Mumbai, Mumbai
Invite your friends
and enjoy a shared experience