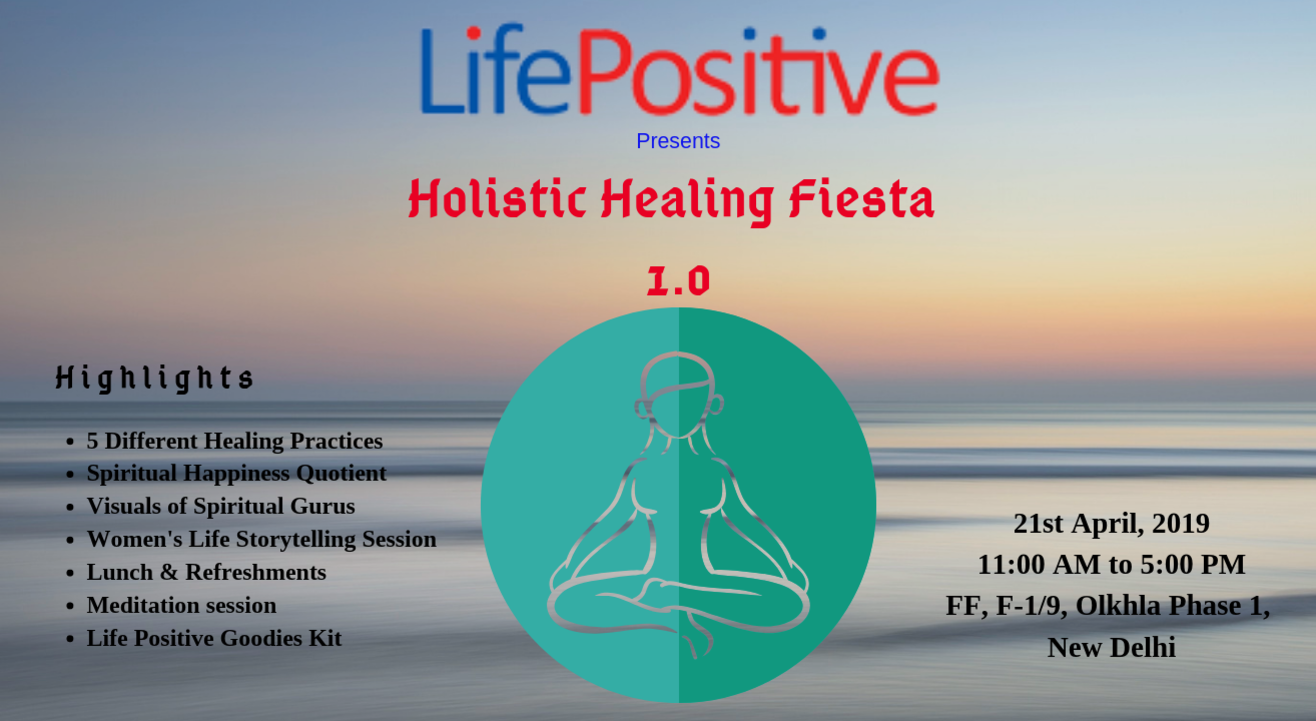 Self Improvement
Life Positive Holistic Healing Fiesta 1.0
About
Women's Day is gone, but the essence of the Day lingers on.
It's going to be "Women's Day" again at Life Positive on April 21, 2019 at the Holistic Healing Fiesta 1.0 in the elite presence of women healers.
The Divine feminine energy is soft, stable and, at the same time, strong with the power to heal and nurture. It has the power to create a new life and to transform a life.
So, the one-day Holistic Healing Fiesta 1.0 provides you a golden opportunity to experience this Divine energy in its healing avatar.
Main attractions:
Angel Oracle session by Priya Kaul
Angel Healing by Christinaa Josan
Spiritual Counseling using Numerology by Poonam Malhotra
Neuro Linguistic Programming session by Ritu Tandon
Magnetic Therapy by Gagan Kaur Thukral
You can choose any 2 sessions out of the above listed 5 healing therapies.
Added features:
Visuals of spiritual gurus
Assessment of Spiritual Happiness Quotient through a questionnaire.
Meditation session
Women's life storytelling session
Lunch & refreshments
Life Positive Goodies Kit.
About healers and what they will do
Stall 1: Angel Oracle by Priya Kaul
Priya Kaul is an award-winning and certified Spiritual Healer and Coach. Her dream is to make people aware of their own powers and to make them strong enough to win over any challenge in life.
Her mission is to ensure that a healer is present in every family so that there is more practice of our ancient healing techniques. She wants people to understand and follow the spiritual path. She has been working towards creating awareness about holistic healing and therapies for a long time.
She believes that healing modalities have powers way beyond the allopathic treatments and should be the first resort for anyone.
Angel Oracle Session is for spiritual growth and transformation. Angel therapy is a powerful healing and guidance process that involves working with your guardian angels. Each card has a message or an answer for you. It is suitable for both children and adults. Oracle cards have been around about 200 years and used as a spiritual tool to gently guide, protect, and connect us with the wisdom and help of the Higher Realms on our journey through life.
If you are looking for powerful insight into the next 6 or 12 months, an Angel Card session is an excellent choice. You will become aware of important issues, attitudes, and influences for each month. Angel Oracle card readings focus on the full perspective of your life, including job, career, finances, relationships, life purpose, spiritual development, and health.
Stall 2: Angelic Remedy by Christinaa Josan
Christina Josan a Reiki Grand Master, Angel Remedy Practitioner, Tarot and Angel Card Reader, Psychic Medium, Hypnotherapist, and a Past Life Regression Therapist. She is a born clairvoyant and has had many profound spiritual experiences since her childhood, which lead her to her Life's Purpose. After working in the corporate for many years she finally found her calling and started healing work 9 years ago.
With her psychic and intuitive abilities, Christinaa is able to connect with the Angelic Realm and the Spirit World, and see, hear, and feel them. She follows the guidance of Angels in her healing sessions and gives accurate information, guidance, and messages to her clients that she receives directly from heaven. It is her connection with the Angelic Realm, which makes her healing work effective and her readings 100 % accurate and reliable. Christinaa believes in empowering her clients so that they are able to make the right choices and attract abundance in their lives and walks them towards their betterment until they no longer need her.
Other than Healing work, Christinaa specializes in Alternative Medicine like Traditional Chinese Medicine (Chinese Acupressure) and Auricular Therapy.
Angel Remedy or Angel Healing is a powerful form of healing where we ask Angels and Archangels to perform healing for a person. Within seconds, they can help with everything that we can think of, such as positive parenting, protection for yourself, loved ones and your home, courage, writing skills, job or career-related issues, financial issues and arranging money in case of emergency, health issues, relationship issue, finding love, ideas and resources for all creative ventures or projects like art, writing, music etc., finding lost objects, increasing wisdom and confidence, help with getting in touch with the right people who can help with career, job, projects, healing etc., and more.
Stall 3: Spiritual Counseling using Numerology by Poonam Malhotra
Poonam Malhotra is a spiritual psychologist. She is also a paranormal investigator with psychic powers, which she developed after her near-death experience in 2005.
Everything in this universe has a sound...every sound has a vibration...everything in this universe works according to it. Experts believe that there are no coincidences in the Universe that your name and birthday affect the journey of your life that you will take.
Before our soul comes on this earth in this human body we decide our journey to learn some lessons. We do not come on this earth by chance but have come by choice. Life is a journey. Earth is our school. Our body is the vehicle for our soul.
The idea behind numerology is that the cosmos and your life is affected by your birth date, birth name, and many other factors surrounding an individual. In this way, there are great depths that a numerology reading can go into. Consequently, it can provide often astounding insights about you and your life.
Stall 4: NLP by Ritu Tandon
Ritu Tandon is a trained NLP ( Neuro linguistic program) practitioner and has acquired a basic understanding of hypnotherapy, Time Line Management, and Life & Breakthrough Coaching. She also practices as a Happiness Coach. She has been practicing meditation and healing for the past few years. Avid reading and self-introspection have given her the focus and the purpose to live a more significant life. Taking this journey forward of empowering people to live their best lives has become her purpose in life.
She will empower you to take charge of your life with the help of the following:-
NLP techniques - This is a scientific based approach to help you understand human behavior and then transform it for the better. It is a link between what you think, what you speak, and how your body behaves in daily life...identifying the way you process external information and suggesting solutions based on your internal alignment.
NLP exercises help you use effective body language, internal dialogue, and thought processing to bring changes.
Meditation techniques help to bring about a deep-rooted internal transformation to give everlasting results.
Breathing techniques help to calm nerves and create internal balance to deal with stress and anxiety.
Self-hypnosis and positive affirmation help to bring about paradigm shifts to induce behavior change.
Stall 5: Magnetic Therapy by Gagan Kaur Thukral
Gagan Kaur Thukral is an Acutherapy specialist practicing in New Delhi and uses seeds, colors, and magnets for treatment! She is the Co-Creator and the Co-Promoter of CareHeal Humanity Institute - a center for Training, Treatment, and Research in Acutherapy, the natural healing science of the 21st century. The company's unique vision is providing a platform of health and wealth to people through the skill development training programs in Acutherapy with 100% job security and also providing cost-effective and safe treatment to the masses with this modality.
It is the most advanced, simple, effective method of Acupressure healing and cures without medicine. It is natural, painless, self-healing, non-invasive, do-it-yourself, and has no side effects.
The magnetic field of magnets restores the balance of energy, slows down effects of aging, stimulates energy meridians pathways, improves immunity by helping to balance endocrine functions, helps to energize and increases circulation and accelerate the healing of organs and systems, releases more endorphins (body's natural pain killers promoting repair), enhances enzyme production for reducing swelling, stiffness, and acidity from wounds helping to reduce inflammation, invigorates the body's metabolism and provides more oxygen to muscles and tissues for mental and physical vigor, and helps to get rid of body wastes, flushing out unwanted toxins, thus, improving the bodies' anti-infective activity and invigorates overall well-being.
Don't miss this golden opportunity of getting 5 sessions under one roof! This could become a unique spiritual rejuvenation for you.
So, what are you waiting for?
Venue
Life Positive
F-1/9, First Floor, Pocket F, Okhla Phase I, Okhla Industrial Area, New Delhi, Delhi 110020