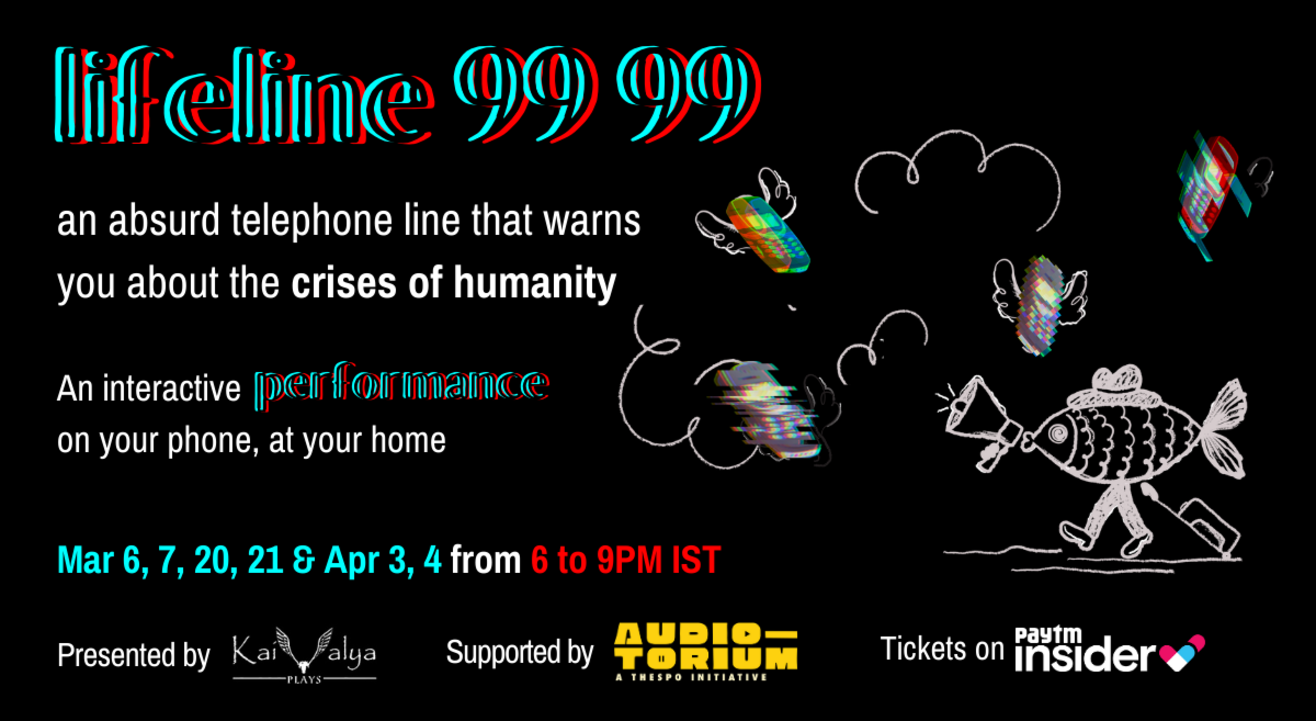 Lifeline 99 99 - An Interactive Theatre Performance On Your Phone
Enjoy this event from your home
Event Guide
Interactive show
Be a part of the show
Invite your friends
and enjoy a shared experience
Event Guide
Interactive show
Be a part of the show
Invite your friends
and enjoy a shared experience
About the Event
Kaivalya Plays presents
LIFELINE 99 99
An interactive play that takes place on the phone.
"An example of how theatre has adapted to and thrived in socially distanced times" - Mint Lounge (read more at bit.ly/9999mintlounge)
"Lifeline 99 99 shines as an experimental art practice among the evolving theatre explorations in the Indian sub-continent. This is one phone call you definitely do not want to miss." - Firstpost (read more at bit.ly/9999firstpost)
"(Lifeline 99 99) stands out as one of the more innovative forms of theatre which have mushroomed in the post-Covid, socially distanced era." - The Daily Guardian (read more at bit.ly/9999dailyguardian)
"Lifeline 99 99 is a one-of-a-kind play that blends Interactive Voice Response Service (IVRS) technology with live storytelling over the phone." - Mid Day India (read more at bit.ly/9999-midday)
"Creative expressions find a way even in the toughest of times. One example is Lifeline 99 99, an interactive play, by Delhi-based Kaivalya Plays, that takes place over a phone call." - New Indian Express (read more at bit.ly/9999indianexpress)
About The Show
Lifeline 99 99 is an absurd telephone line that interrogates the greed and alienation of human experiences. The audience calls a phone number, where they hear an IVRS voice that asks them certain questions and subsequently connects them to any one of the five fictional experiences available – a one on one conversation – a conflicted sex chat operator or an aggrieved idealist or a dude alien or a dead insurance agent or art itself, personified
However, do not mistake Lifeline 99 99 to be a service helpline, my friend. It won't serve to your excessive wants; it will give you a glimpse at human experiences that will not be replicated. In the thirty minutes of conversation, if you listen carefully, maybe you can understand the fate of humanity.
LIFELINE 99 99 is an innovative piece of interactive theatre currently available for audiences in India.
Performance Dates
6th and 7th March 2021.
Shows at 6PM, 7PM and 8PM IST.
20th and 21st March 2021.
Shows at 6PM, 7PM and 8PM IST.
3rd and 4th April 2021.
Shows at 6PM, 7PM and 8PM IST.
Limited tickets, only five audience members in each slot.
Tickets priced at INR 250/- available on PayTM-Insider. Book your spot at bit.ly/lifeline9999
About The Team
Directed and Designed by Akshay Raheja and Gaurav Singh.
Performed by Kumar Abhimanyu, Nikie Bareja, Ramita Menon, Raghav Seth and Gaurav Singh.
Writing by Akshay Raheja, devised by ensemble.
Technical Production by Gaurav Singh.
Production Management by Stuti Kanoongo.
Presented by Kaivalya Plays, an Indian performing arts and production company known for their work in spontaneous improvisation, adaptation of foreign language texts and innovative theatrical experiences. With multilingual shows and performances in their calendar every month, they also offer a slew of training opportunities in improvisation, acting and arts management for individual professionals, schools, institutions and corporates. Learn more at kaivalyaplays.org
For more information, questions and queries you can get in touch with us at lifeline9999@kaivalyaplays.org