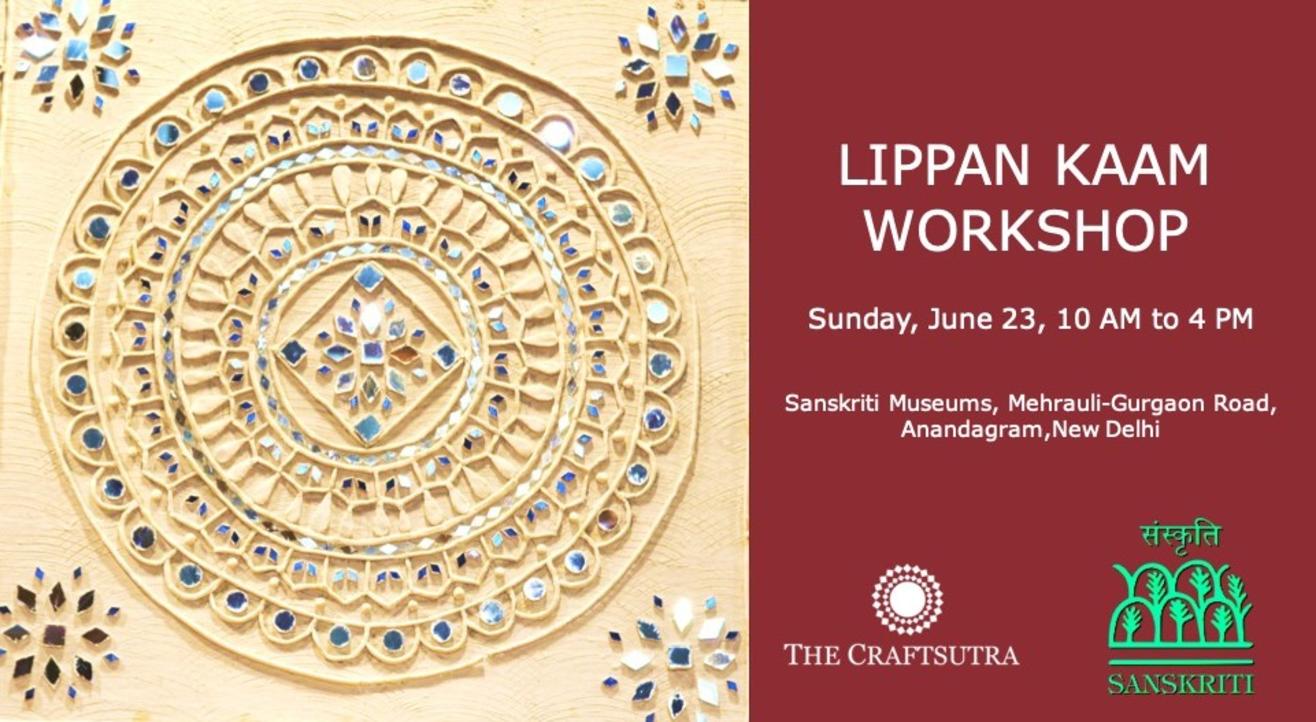 Art
Lippan Kaam (Mud-mirror Art) Workshop
Sanskriti Kala Kendra, Delhi
About
Spend a Sunday exploring a new & unique art at the beautiful & perfectly artistic premises of Sanskriti Kendra (Cultural Centre) a creative haven.
Learn the traditional art of Kutch, Gujrat : Lippan Kaam or Mud-mirror Art with the guidance of our enthusiastic expert mentors.
So, come enjoy wetting your hands in this aromatic dirt playfully, lay your hands gracefully on the panels and meditate in the process of bringing your imagination to this earthy art form. This whole journey of working with simple material in a natural tranquil surroundings is therapeutic.
It is triple bonus, you create art together, share and bond with other art enthusiasts and take home the masterpiece you created.
About Lippan Kaam:
The beautiful Mud and Mirror art is an integral part of rural Kutchhi life style. Traditionally, this art work is done on the inner walls of the circular houses called Bhunga, which are seen in the desert region of the Kutchh. Women of the house make mud and mirror murals to decorate it. These murals have various patterns and designs.
Mirrors on Lippan art glitter and glimmer with change in light. This art allows one to feel earth in their hands.
Key take-aways:
Learn the process of creating Lippan art from the scratch (you'll be taught to prepare the clay as well)
Take home your very own unique creation
Zen lunch in a tranquil setting
Experience the idyllic & beautiful natural surroundings of Sanskriti Kendra
Loads of inspiration and a refreshing break from your routine work while you make new friends
Any one can join, no prior arty experience is required. We promise a fun filled learning experience :)
Who We Are?
'The Craftsutra' is a platform for people to engage in Arts, learn and acquire a new skill, meet, and bond with like-minded people. We believe that anyone can create Art and look forward to offering you the opportunity to paint, create, learn and explore art in a way like never before.
We invite people who are even vaguely interested in art to participate in a myriad of workshops. From paint parties to mandala-making to clay sculpting, tie-and-dye, and even glass cutting, these crafts get-togethers are held across the city and at different venues.
The idea is to collaborate together, chill with like-minded folks and obviously, harness some painting/crafting talent.
To know more about us, you can check out our Instagram @The Craftsutra.