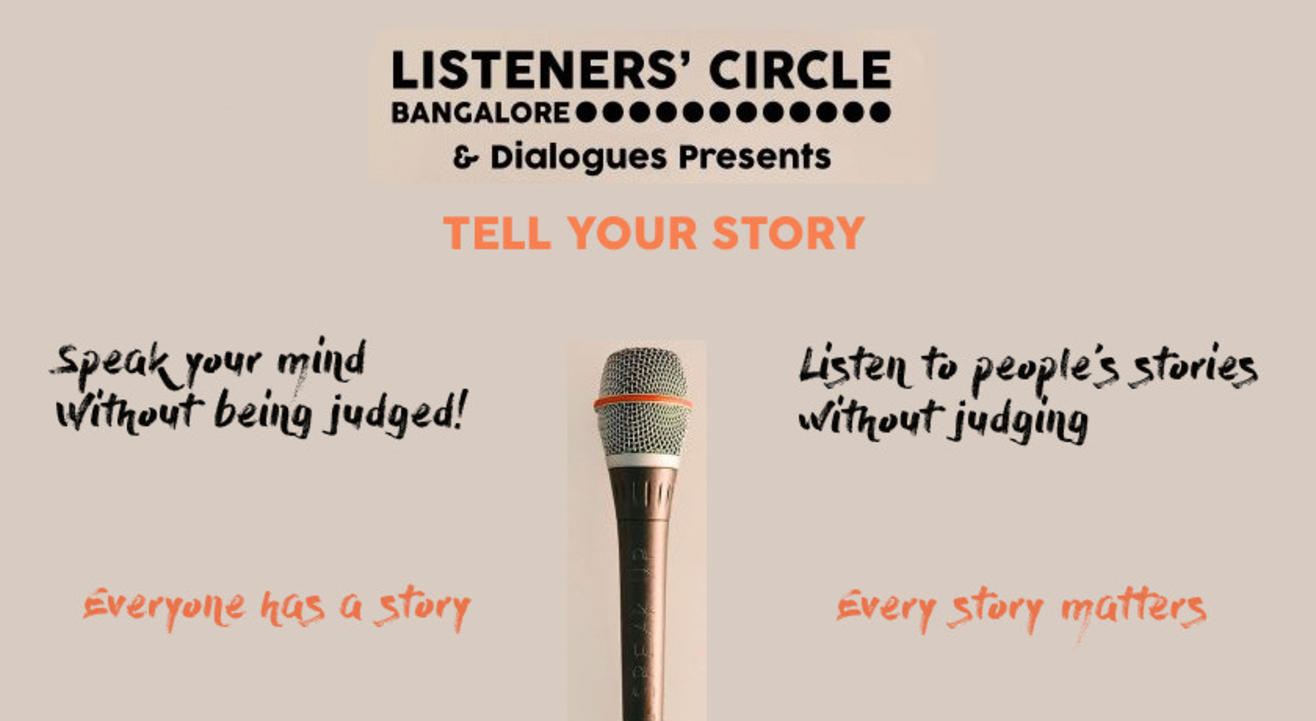 Listeners' Circle - Tell your story
September 17 | 5:30PM - October 15 | 7:30PM
Dialogues Cafe JP Nagar, Bengaluru
Invite your friends
and enjoy a shared experience
Listeners' Circle - Tell your story
September 17 | 5:30PM - October 15 | 7:30PM
Dialogues Cafe JP Nagar, Bengaluru
Invite your friends
and enjoy a shared experience
Invite your friends
and enjoy a shared experience
Listeners' circle is now back after a pause, more committed to the cause than ever. Listeners' Circle in association
with Dialogues now happening again at venue!! Speak your heart out without fear of judgment and listen without judging!
Every story matters. Every life matters. Every feeling matters.
But do we share our stories, struggles, and experiences with others openly?
What stops us? Isn`t it the fear of judgment?
And how often we listen to others patiently without judging them?
Think about how it would feel to take an hour out of your fast-paced life
and tell your story to people who listen to you without judging?
Also, listen to the stories of others without judging.
Listeners` circle, Bangalore is an initiative to make that happen.
Started in May 2018 at as a not for Profit Initiative, we have hosted 30+ editions until now, impacting more than
250+ Speakers and 500+ Listeners.
Listeners Circle is an initiative to facilitate listening without judgment, hence giving a safe
space for anyone to speak their heart out without the fear of judgment.
We have done 30+ events over the years, enabling people to voice their stories.
The previous editions had some exciting stories to listen to. ​
​
An Entrepreneur from IIT Madras shared his life-changing near-death experience and how it transformed his complete life.​
​
A Management Professional shared how has been just 'Ordinary' all along his life and how that has helped him and his circles. He articulated that being 'Ordinary' is the new difference.​
A theatre group founder shared how she bravely stood up to the sexual harassment of a fellow passenger in a bus moving through the middle of the forest in midnight. ​
​
A thirty-something professional shared how she is in a journey of re-discovering love after five years of separation and being single. ​
​
Everyone has such stories to share. Do you have something to share? ​
​
Be a part of the Listener`s circle.
​
Speak your mind without being judged. Speak your mind without any boundaries. ​
​
Would you like to just listen? We have a place for you too.​
​
Book your passes in advance to avoid the last-minute sell outs.
Dialogues Cafe JP Nagar
619, 15th Cross Rd, Gangadhar Nagar, JP Nagar Phase 6, J. P. Nagar, Bengaluru, Karnataka 560078, India
GET DIRECTIONS
Listeners' Circle - Tell your story
September 17 | 5:30PM - October 15 | 7:30PM
Dialogues Cafe JP Nagar, Bengaluru
Invite your friends
and enjoy a shared experience