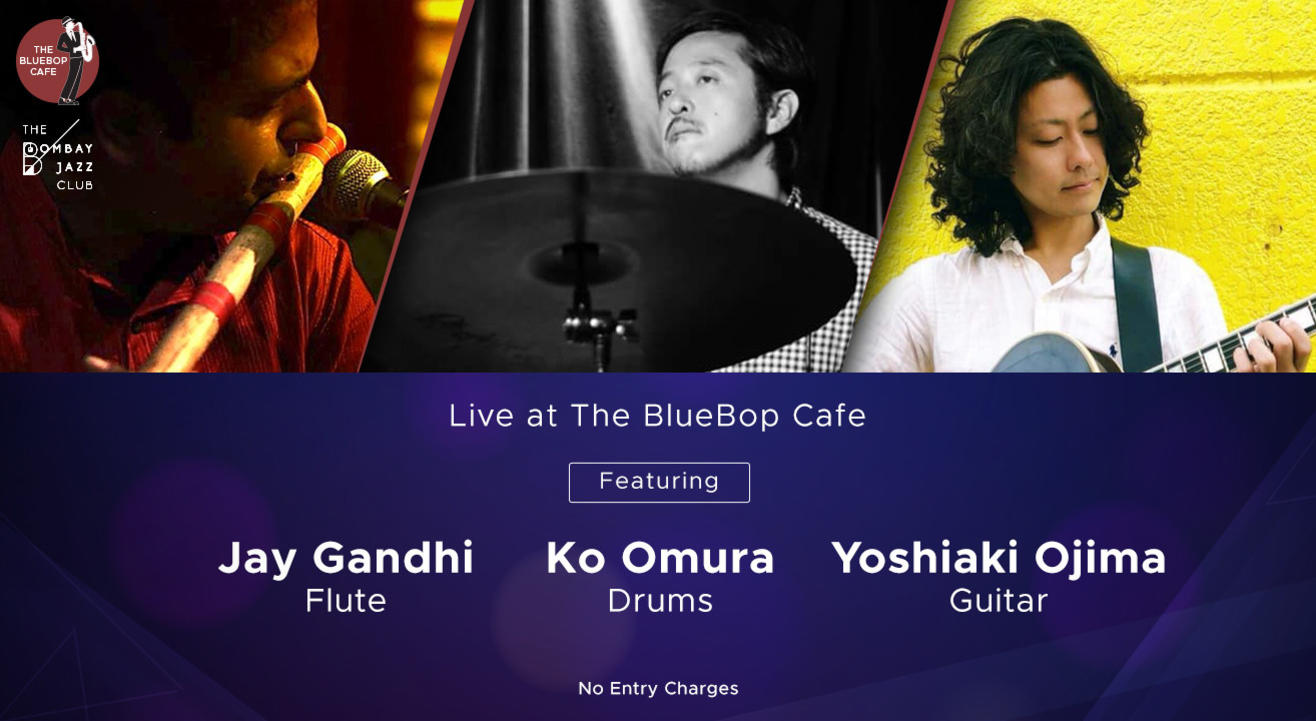 Music
Live at The BlueBop Cafe on February 28th
About
Experience a jazzy Friday evening at the BlueBop Cafe with the talented Jay Gandhi on Flute , Ko Omura on Drums and Yoshiaki Ojima on Guitar on 28th February, 9:00 pm onwards.
A multifaceted artist, Jay's music is at once reflective of his devotion to his Guru, the inimitable legend of the bansuri, Pt Hariprasad Chaurasia, as well as a diverse range of other musical influences. With an initial training in Hindustani music under Smt. Kum Kum Sanyal (vocal) and later in bansuri under Pt. Ronu Majumdar and Pt. Raghunath Seth, Jay was inspired to gain deeper knowledge of both the gayaki ang (vocal style) as well as the tantrakari ang (stringed instrument style) and had also taken valuable guidance from Pt Vidyadhar Vyas (vocal) and Pt. Nayan Ghosh (sitar, tabla). In 2006, he was blessed to have been accepted as a disciple of Padma Vibhushan Pt. Hariprasad Chaurasia, and has since had the honor of accompanying his Guru on stage for multiple concert tours.
From his formative years, Jay's musical inclinations were not limited to that of the Indian sub-continent and he was also strongly drawn to the music of the African diaspora and American Jazz in particular. With the desire to bring the sound and versatility of the bansuri into the jazz idiom in a meaningful way, he formally studied Jazz Performance at Oberlin College/Conservatory of Music (Ohio) and trained under such Jazz luminaries as Gary Bartz and the late Marcus Belgrave. Today, his journey into this world continues to evolve in new and promising ways, and in more recent times he has had the fortune of performing with such greats as Ravi Coltrane, Reggie Workman, Jeff "Tain" Watts, as well as of sharing the stage with one of the great voices of the tenor saxophone, Pharoah Sanders himself. A recipient of the prestigious AIIS Performing Arts Fellowship, Jay maintains a busy schedule performing for audiences across the globe. He currently is based out of New York City, where he is very active as both a teacher and performer and also as a founding member of Brooklyn Raga Massive, a prominent musicians collective.
Ko Omura, Drummer, Composer and Tabla Player was born in Tokyo, Japan, Ko was brought up in the United States of America and Australia. A graduate of the Sydney Conservatorium of Music, during his time in Australia he has performed and recorded with some of Australia's leading voices in Jazz such as Mike Nock (Sam Rivers, ECM) and Dale Barlow (Jazz Messengers). After a long stint overseas he relocated to Tokyo in 2007. Since then he has been working with a number of collaborative projects both nationally and internationally. Since 2013 he has been visiting India to study tabla under the guidance of Pandit Yogesh Samsi. In 2015 he was selected as an upcoming artist to be sponsored by the Japanese government, ministry of cultural affairs to pursue his tabla studies and has been spending a substantial amount of time in India.
He runs a collaboration group with Mike Rivett (Winner of National Jazz Awards Australia) called Bungalow. He is also involved in an organization by the name of Orbiturtle with New Zealand pianist Steve Barry and Australian saxophonist Dave Jackson (both National Jazz Awards finalists) which aims to curate collaborations between international artists hosting a mixture of Eastern and Western aesthetics, Ancient and Modern, Sacred and Secular ideologies. Their first series features internationally renowned Koto artist Michiyo Yagi and is to be released in 2018.Collaboration with Davy Mooney has initiated in 2012 and has taken shape to record a new series of original material with John Ellis, Glenn Zaleski and Matt Clohesy in 2018. Ko has toured extensively throughout Japan and overseas such as Australia, China, United States, Taiwan, India and Jordan and aims to reach more listeners in order to share music globally.
Born in Kanazawa and raised in Chiba, Yoshiaki Ojima studied piano at an early age and became interested in guitar when he was a high school student. Since then, he has performed live and had sessions with various musicians mainly in Tokyo, and moved to the United States in 2013. Yoshiaki, after having a successful run with musicians from New York, plans to interact with various musicians in Mumbai to study. He released his Solo Album "Fragment" from Jazz Mobile label in 2018. In 2019, he released his 2nd solo album "Popular Standard songbook" from the same label. Currently, he is active in the contemporary progressive band "Guruw". He is also active in Sendai, Nagano, Fuji, Nagoya, Nara, Osaka, Kobe, Himeji, and Okinawa on a release tour of the new album "Popular Standard Song Book".
Artist Bio:
D. Wood
D. Wood is a guitarist, bassist and composer, who was awarded the prestigious Fulbright scholarship to study North Indian classical music. Based in Mumbai, he's the founder of the Bombay Jazz Club and a Professor of Music at the Whistling Woods Institute.
No entry charges.
Reservations will be on first- come first- served basis.
Venue
The BlueBop Cafe
318, Linking Rd, Khar West, Mumbai, Maharashtra 400052
GET DIRECTIONS