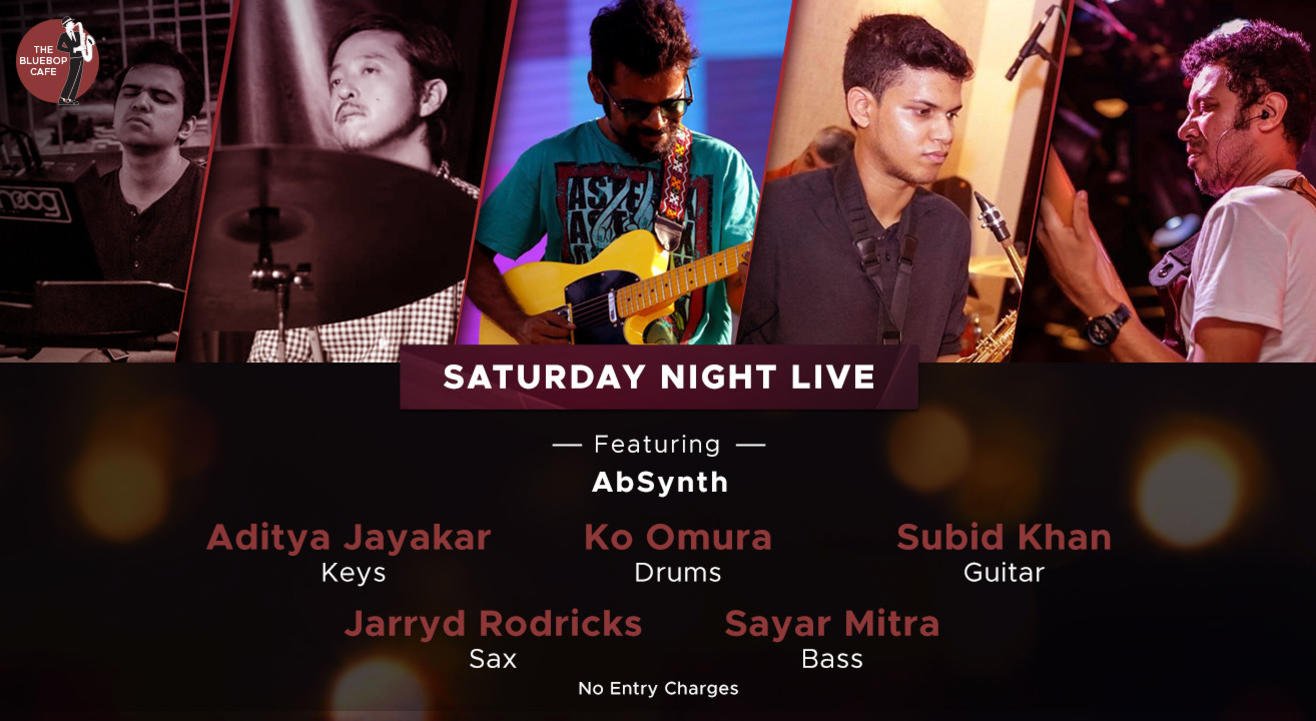 Music
Live at The BlueBop Cafe with AbSynth on 29th February
About
Join us for a groovy night with AbSynth featuring the talented Aditya Jayakar on Keys, Ko Omura on Drums, Subid Khan on Guitar, Jarryd Rodricks on Sax and Sayar Mitra on Bass on 29th February , 9:00 pm onwards.
AbSynth is a group fusing Traditional Jazz, Synth Jazz, Funk and a lot more. We bring Fresh sound, Mad tone, Heavy funk and a Lot of Fire. Our sound incorporates Jazz and Funk drumming, heavy Synthesizer use, Atmospheric Guitars and Leads along with powerful and energetic solos.
The individual group members are as below:
Aditya 'Keys On Fire' Jayakar:
Piano, Keyboards, Synthesizers
Born and brought up in Mumbai, Aditya is known for his innovative tones and incorporation of Analog Synthesizers in Jazz and Funk Jazz bringing a fresh and unique sound. He gets his nickname 'Keys On Fire' through his energetic solos and crazy improvisation technique. Aditya started AbSynth early in 2019 as a project to bring fresh sounds and challenging tunes that captivate and thrill audiences all around. Aditya released his own album Catching Dreams in 2018 which got listeners and recognition worldwide.
Ko Omura:
Drummer, Composer, Tabla Player
Born in Tokyo, Japan, Ko was brought up in the United States of America and Australia. A graduate of the Sydney Conservatorium of Music, during his time in Australia he has performed and recorded with some of Australia's leading voices in Jazz such as Mike Nock (Sam Rivers, ECM) and Dale Barlow (Jazz Messengers). After a long stint overseas he relocated to Tokyo in 2007. Since then he has been working with a number of collaborative projects both nationally and internationally
He runs a collaboration group with Mike Rivett (Winner of National Jazz Awards Australia) called Bungalow. He is also involved in an organization by the name of Orbiturtle with New Zealand pianist Steve Barry and Australian saxophonist Dave Jackson (both National Jazz Awards finalists) which aims to curate collaborations between international artists hosting a mixture of Eastern and Western aesthetics.
Collaboration with Davy Mooney has initiated in 2012 and has taken shape to record a new series of original material with John Ellis, Glenn Zaleski and Matt Clohesy in 2018. Their album Benign Strangers was mentioned in the list of Best CDs of 2018 in Downbeat Magazine.
Ko has toured extensively throughout Japan and overseas such as Australia, China, United States, Taiwan, India and Jordan and aims to reach more listeners in order to share music globally.
Subid Khan: Guitars
Subid Khan - Subid Khan is a guitar player/composer originally from Kolkata, India but currently based out of Mumbai, India. Among his various teachers Sanjay Divecha, Amyt Datta and Pt. Debashish Bhattacharya are noteworthy. He is the founder member of the bands The Many Roots Ensemble(Afrobeat/jazz/hiphop band)and Riddim Funktion(Reggae/Ska band) and is also currently part of the Rashtriya Swing Sena(contemporary jazz/fusion band). He has also been a part of Run Pussy Run, DunCun Rufus, Peter Pussarnig
Quintet/pp5(Funk/Jazz outfit led by Austrian guitar player/composer Peter Pussarnig) and project:Albatross (jazz/fusion project started by Nishad pandey and Aman Mahajan, featuring some of the stalwarts of the jazz and improvised music scene in India) among others.
Jarryd Rodricks: Sax
Coming from a family with a high musical background, Jarryd Rodrigues (23) picked up the saxophone at the age of 13. He is the son of two musicians, Darryl and Sharon Rodrigues. His teacher and mentor is the legendary jazz saxophonist, Braz Gonsalves, who is also his grandfather. His grandmother is the famous jazz singer Yvonne Gonsalves and his great grandfather
is the legendary, Anthony Vaz aka Chic Chocolate. Jarryd specialises in pure Jazz and his repertoire consists mainly of jazz standards, which includes tracks from Louis Armstrong, Dizzy Gillespie, Miles Davis, John Coltrane, Herbie Hancock, Chick Corea and so on. These standards include different styles ranging from swing, blues, ballads, bossa novas to funk, bebop, sambas and so on.
Sayar Mitra: Bass
Sayar Mitra, a bass player from Kolkata now residing in Mumbai, accommodates a wide variety of playing styles ranging from Bebop & Funk to melodic chordal zones, with influences in classical music.
Sayar, mostly a self taught musician has been playing for 9 years and has been mentored by the lt.khokon mukherjee, amyt datta and mainak chowdhury.
He has performed with renowned musicians like pt. Bickram Ghosh, ustad Rashid Khan and pt. Tarun Bhattacharya.
Enjoy the energetic Saturday Jazz vibe with our scrumptious menu and signature cocktails at The BlueBop Cafe!
Venue
The BlueBop Cafe, 318, Linking Rd, Khar, Khar West Mumbai, Maharashtra.
No entry charges.
Reservations will be on first- come first- served basis.
Venue
The BlueBop Cafe
318, Linking Rd, Khar West, Mumbai, Maharashtra 400052
GET DIRECTIONS