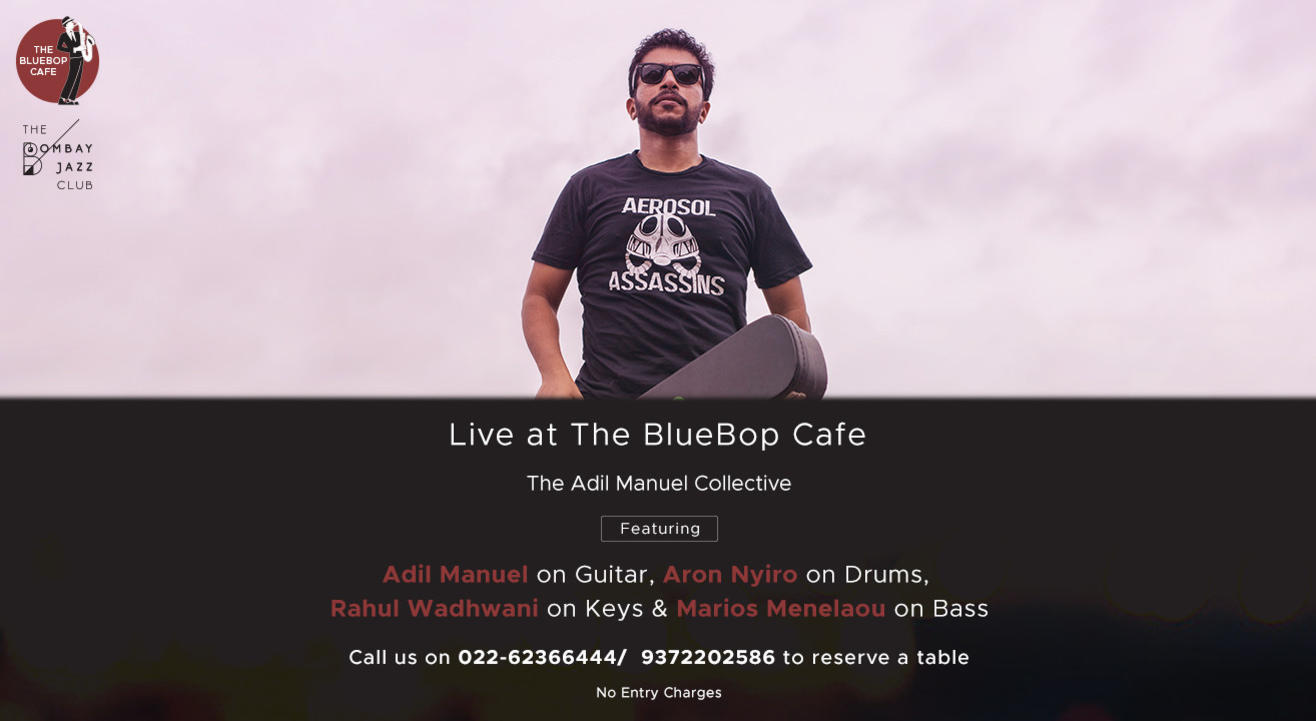 Music
Live at The BlueBop Cafe with The Adil Manuel Collective on November 15th
About
Come join us at The BlueBop Cafe on 15th November, 8:30 pm onwards with the Bombay Jazz club featuring the talented Adil Manuel on Guitar, Aron Nyiro on Drums, Rahul Wadhwani on keys, Marios Menelaou on Bass in association with The Bombay Jazz Club
Adil Manuel
Adil Manuel, a stalwart of the Indian jazz circuit, is a seasoned composer, guitarist and music curator. He's worked with the talented music maestros like Shubha Mudgal, Indian Ocean, Clinton Cerejo, Louiz Banks and Loy Mendosa. He also conceptualises and curates jazz music festivals across the country and has appeared as a speaker on the TEDx stage.
Aron Nyrio
Aron Nyiro, a qualified Jazz Drummer is a big fan of recording live music, taking gigs, tours, and studio-work. He's quite well known in the industry and has appeared in more than two-dozen albums, several TV shows and on countless stages so far. Currently, he's the head of drums department at the True School of Music, Mumbai and an active session musician in India
Rahul Wadhwani
Rahul Wadhwani is a Pop, Funk, Jazz keyboard and piano player who has studied Jazz music in the music university of Vienna, MDW. He has performed with musicians like Karl Peters, Rajeev Raja, Sanjay Divecha, Gino Banks, Samantha Noella, and Adil Manuel to name a few. Apart from playing Jazz, Jazz-fusion, he has also performed Pop, Bollywood music with Shannon Donald, Sharvi Yadav and many more
Marios Menelaou
Marios Menelaou was born and raised in a tiny Mediterranean island, Cyprus. Laying in the crossroads of three continents, Africa, Asia and Europe, he has been influenced since young age to a variety of musical traditions..
In 2010, Marios moved to the Netherlands and studied Bass guitar in the Conservatory of Amsterdam. He also studied four years Karnatic techniques on improvisation and composition. In his years in Amsterdam, Marios was influenced and fused music from jazz, middle eastern music and african music. In 2015, he was awarded a scholarship at ISI Despensar University in Bali Indonesia where he studied Balinese Gamelan and became a gamelan player.
Enjoy a fun enjoy jazz evening with the talented maestros at The BlueBop Cafe and jazz up your evening.
Venue
The BlueBop Cafe, 318, Linking Rd, Khar, Khar West Mumbai, Maharashtra
No entry charges
Reservations will be on first- come first- served basis.