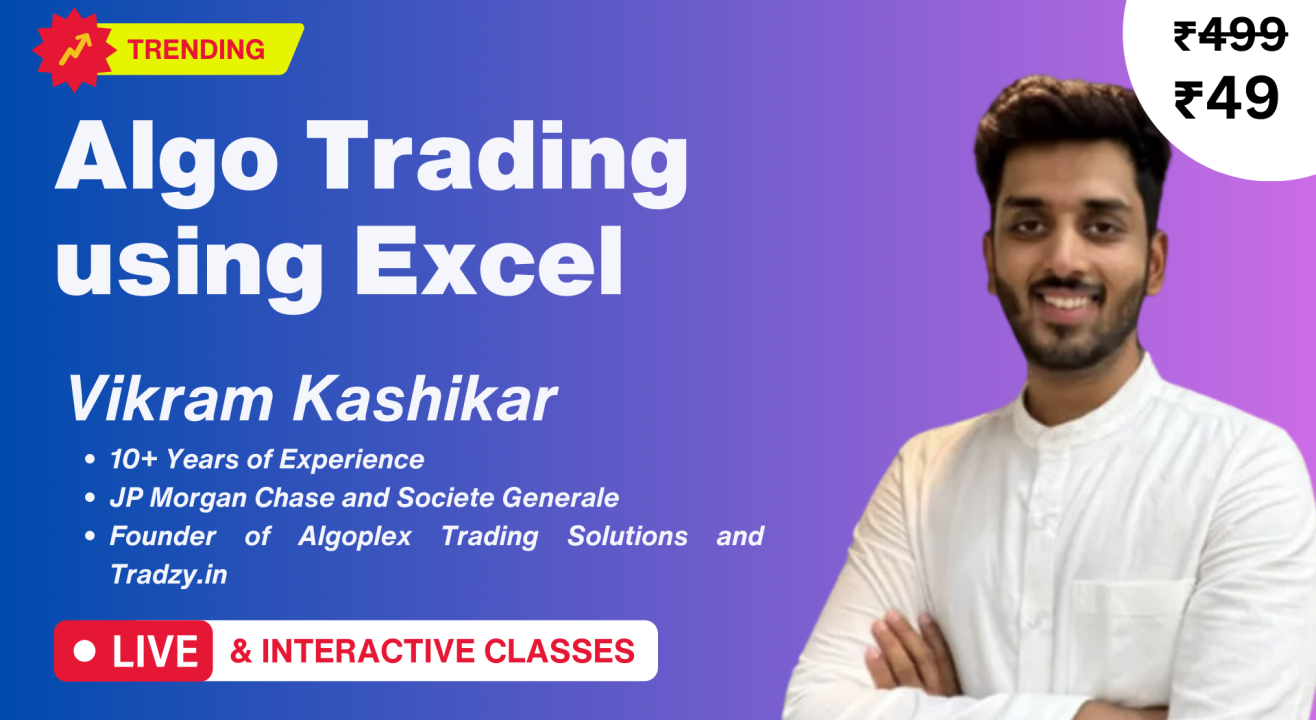 Live Masterclass on No-Code Algo Trading with Mr. Vikram Kashikar
December 10 | 12PM - December 27 | 8PM
Event Guide
Language
English, Hindi, Hinglish
Masterclass
Learn from an expert
Invite your friends
and enjoy a shared experience
Live Masterclass on No-Code Algo Trading with Mr. Vikram Kashikar
December 10 | 12PM - December 27 | 8PM
Event Guide
Language
English, Hindi, Hinglish
Masterclass
Learn from an expert
Invite your friends
and enjoy a shared experience
Event Guide
Language
English, Hindi, Hinglish
Masterclass
Learn from an expert
Invite your friends
and enjoy a shared experience
FREE Live Masterclass on No-Code Algo Trading with Mr. Vikram Kashikar:
Algorithmic trading (also called automated trading, black-box trading, or algo trading) uses a computer program that follows a defined set of instructions (an algorithm) to place a trade. The trade, in theory, can generate profits at a speed and frequency that is impossible for a human trader.
Learn Algo Trading Strategies with Mr. Vikram Kashikar (Founder Algoplex Trading Solutions | Developed quantitative trading models for institutions like JP Morgan Chase & Societe Generale)
You will be learning the following in the Masterclass:
What is Algo Trading and Why Algo Trading
NO CODE ALGO TRADING
Profitable strategy with Consistent income
Live Backtesting using free tools
Automation using Excel
Build your profitable portfolio using 3 easy steps
QnA
About Instructor:
Hi, I am Vikram Kashikar, an experienced teacher specializing in systematic and automated trading for over 10 years. My educational background includes an MBA in Finance, and I have a strong command of options trading and proficiency in Excel and Python for automated trading. During my career, I have had the privilege of working with esteemed companies like JP Morgan Chase and Societe Generale, where I actively contributed to developing quantitative trading models. As the founder of Algoplex Trading Solutions and Tradzy.in, my platforms provide comprehensive trading solutions and education.
Live Masterclass on No-Code Algo Trading with Mr. Vikram Kashikar
December 10 | 12PM - December 27 | 8PM
Event Guide
Language
English, Hindi, Hinglish
Masterclass
Learn from an expert
Invite your friends
and enjoy a shared experience