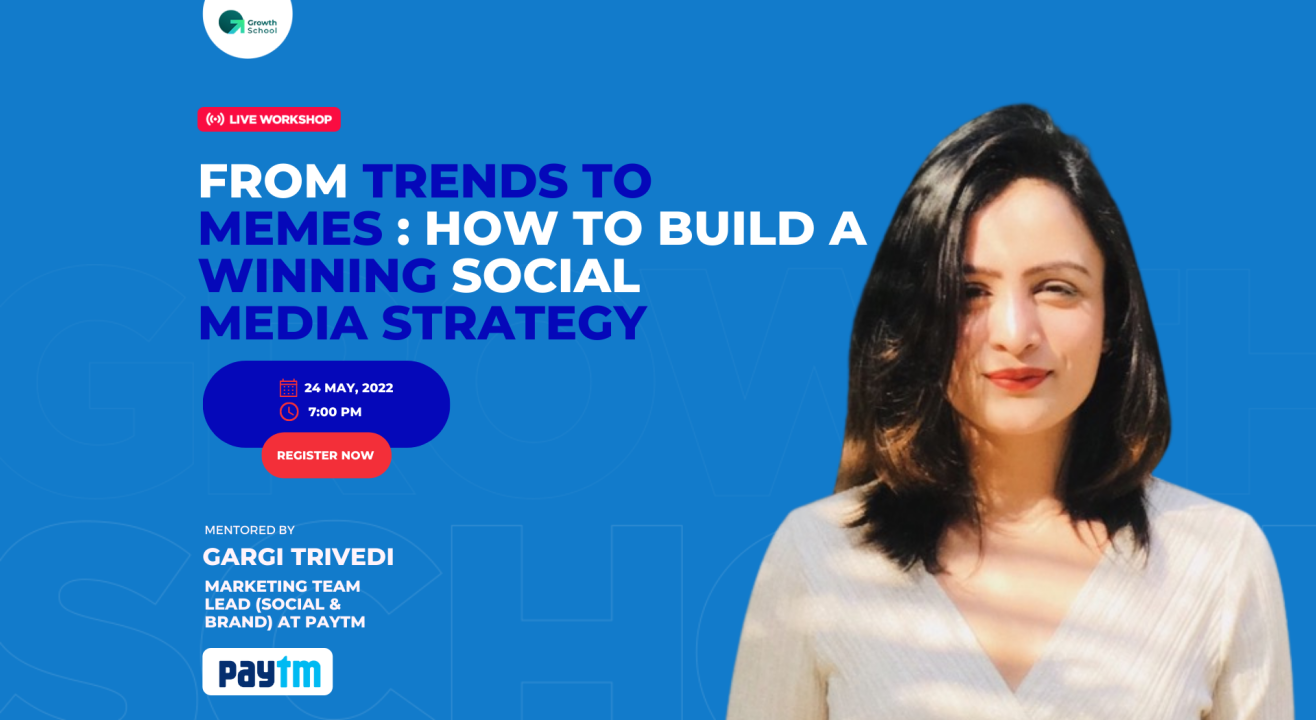 Live Masterclass on Social media marketing by Gargi
Enjoy this event from your home
Event Guide
Masterclass
Learn from an expert
Invite your friends
and enjoy a shared experience
Live Masterclass on Social media marketing by Gargi
Enjoy this event from your home
Event Guide
Masterclass
Learn from an expert
Invite your friends
and enjoy a shared experience
Event Guide
Masterclass
Learn from an expert
Invite your friends
and enjoy a shared experience
From trends to memes: How to build a winning Social Media Strategy


What will you learn in this Workshop?


What does social media mean to brands like Paytm, Zomato etc?
How are brands leveraging social media to acquire customers?
Live approach on creating a social media campaign for your brand (Case Study)
How to crack the social media marketer job in brands (skills and responsibilities)
Who is this Workshop for?
Budding Social Media Marketers
Marketing Professionals looking to upskill themselves
Founders & entrepreneurs to quickly learn how to effectively benefit from social media.
People looking to switch careers to Social Media Marketing
Freelancers
About the mentor:
Gargi Trivedi
Marketing Team Lead (Social & Brand) at Paytm
Gargi is a writer who found her ikigai in crafting creative communication for some of the most popular, social-first brands in India. Passionate about storytelling, her first stint with social media marketing was when she self-published her first book, at 19 and sold over 100 copies in 2 months with an organically driven social media strategy. Since then, she has worked with multiple brands, including Panasonic, Amazon, Daikin, Valvoline, Paytm, among others in driving their brand communications.
In 2021, Gargi started her own Social Media Marketing Agency, Alter Media with an aim to help Small-owned and Home-owned Indian brands in building a strong digital presence. With years of experience in creating social media strategy for brands and individuals alike, Gargi believes that if you know the answer to, "What's your story?", you have got your winning social media strategy. Want to learn more? Sign up!
We partner with the top 1% of instructors to create high-impact CBCs on personal and professional growth for learners all over the world. GrowthSchool does what colleges still don't provide - an engaging learning experience. We stay relevant by co-creating hands-on programs with the top professionals who find bookish knowledge as dull as we do.
Q) Is this a live webinar?
A) Yes, this would be a one hour live webinar, where the mentor would take you through various aspects and topics as mentioned above.

Q) Will I get a recording of this webinar later?
A) No, there would not be a recording provided. It would be a one time live webinar.

Q) Why should I attend this webinar?
A) This webinar will help you keep up to date with the domain and learn from the industry's best. We have selected the top mentors from across domains to mentor you.

Q) Are there any prerequisites for this webinar?
A) No, there aren't any prerequisites. This webinar would cover the basics of the domain, taking you through the various opportunities and potential that the field holds.

Q) How do I know if this program is right for me?
A) If you checklist any one of the points mentioned in the 'Who is this webinar for?', we assure you that this would be one of the best and most informative journeys for you.

Q) Is there any refund policy?
A) Our coupons ensure you access the best of content at the best prices. However, there will not be any refund issued for the webinars.
Live Masterclass on Social media marketing by Gargi
Enjoy this event from your home
Event Guide
Masterclass
Learn from an expert
Invite your friends
and enjoy a shared experience