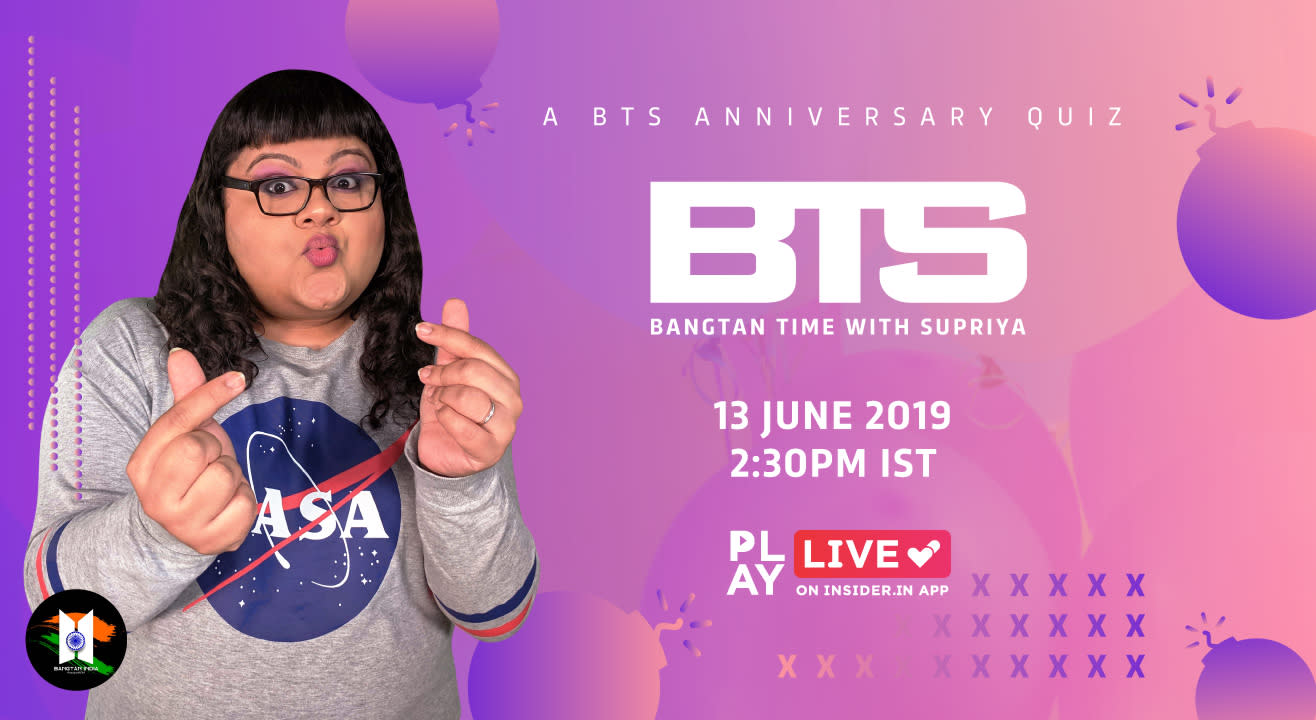 Events
BTS Bangtan Time with Supriya: Play it live on Insider.in App
Are you a true member of the BTS ARMY? Play this live quiz and prove it.
RM, Jin, Suga, J Hope, Jimin, V and Jungkook - the seven-member K-Pop band are taking the world by storm. And this June, the Bangtan Boys will be completing 6 years. To celebrate the special occasion, BTS ARMY member, Supriya Joshi aka supaarwoman is hosting a super-special live online gameshow only on the Insider.in app.
About the show
Happy Sixth Birthday BTS!

June 13, 2013, a phenomenon by the name of BTS took their first steps to become the worldwide superstars we know today! From making their debut to now selling out stadiums all over the world, BTS are taking their music and their message to a massive worldwide scale.

To celebrate this phenomenal date, show up on Insider.in app at 2:30 PM on June 13 and join proud BTS ARMY, Supriya Joshi aka supaarwoman live. Why? We are bringing you a live quiz centred around the Bangtan Boys - all you have to do is answer a series of 7 multiple choice questions. Get them all right, and you can win Insider stash! That's not all, folks. Lucky winners will win official BTS albums. Switch on your game mode and get ready to quiz!

We purple you, ARMY!

When: Thursday, June 13 | 2:30 PM
Host: Supriya Joshi
FAQs
1. How do I use my rewards?

Rewards are credited directly to your Insider account and will reflect in your profile page- https://insider.in/users/me. You can then use your rewards to buy tickets for any event on Insider.in! Check out awesome events near you on the insider.in app.
2. I couldn't participate. Can I watch the video elsewhere?

Unfortunately, you can only participate in shows that are hosted on Insider.in live! However, we do have a bunch of exciting shows coming up. To stay updated, follow the shows you're looking forward to under the 'Play it Live' section on the app. We will be archiving videos as well - you can catch the first episode below!


3. How do I check my historical scores?

At this time, historical scores are not available for public viewing. However, if you've won previous quizzes, your prizes will reflect in your Insider wallet. You can check this here- https://insider.in/users/me


4. My screen froze after I answered the last question. How do I check if I've won?

In case this happens, check if you've won by logging into your profile page to see if the reward has been credited to your wallet. You can view this here - https://insider.in/users/me
5. How do I check how many lives I have currently?

To see how many lives remain unused, please visit your Insider profile page here- https://insider.in/users/me. You can use these lives in any of our subsequent live shows! To stay updated, just follow the shows you're looking forward to here under the 'Play it Live' section on the app.
6. What are the recommended tech specifications to participate in Live on Insider.in?

We recommend you use the latest version of Android and iOS and be on either a WIFI or 4G connection.
Download the app to play!
The live feature is available exclusively on the Insider.in app. Click below to get started.
Subscribe to receive our newsletter!
Find the best experiences happening out there in your city or enjoy handpicked content while sitting comfortably at home. Paytm Insider is your go-to place to figure out what to do today!