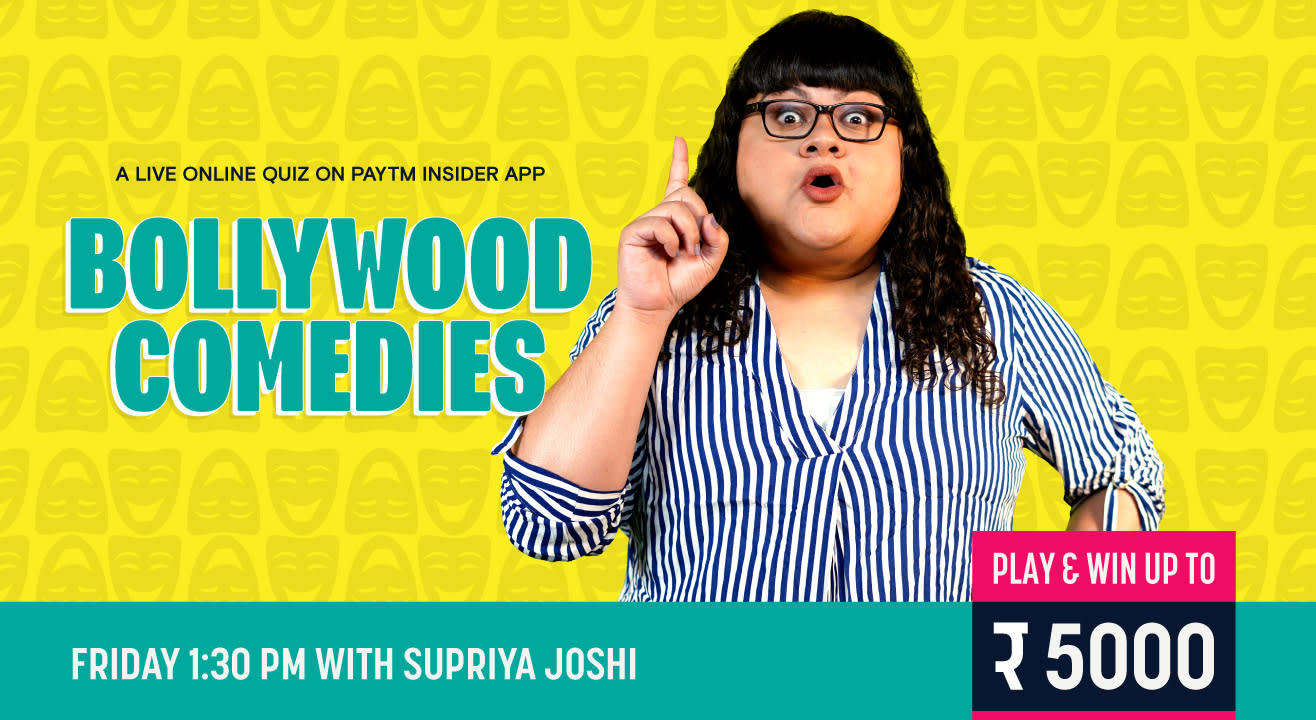 Games
This Week in Movies: Play it live on Paytm Insider App
Do you have what it takes to be the champion in movies? Take the quiz and find out.
Try the awesome interactive live video feature and play this quiz show only on the Paytm Insider app!
About the show
Are you a fan of the movies? More specifically, the ones that make you laugh uncontrollably?
Play our "This Week In Movies" quiz dedicated to comedy geniuses in the Bollywood industry and you could win from a split pot of ₹5,000. Also, instant film buff status in a split second.

When: Friday, August 9 | 1.30 PM
Host: Supriya Joshi
Theme for the week
It's all going to be a laughing matter now!
This Friday, hold onto your chairs and tune in on the Paytm Insider app at 1.30 PM. From Baburao's ishtyle to Munnabhai's "jaadu ki jhappi", if you know your Teja from the mark, join us for this week's hilarious quiz with supaarwoman Supriya Joshi and laugh a little.

P.S. New rules, new gameshow - everyone's a winner here!
How do I play this gameshow?
Rule #1
Every question holds a different split pot prize. Answer all of them correctly and you can win Insider stash upto ₹5,000!

Rule #2
It's cool if you don't know all the answers. We've introduced "STEPMARKING" - for every correct answer, you win something. Answer incorrectly, and you can simply move onto the next question...without being eliminated. Khaali haath aaye the, par khaali haath nahi jaaoge!

Rule #3
Once you pick an answer, it will be locked in and you won't be able to change it.

Rule #4
Your winnings will reflect in your Stash Passbook once the show is over.
FAQs
1. How do I use my rewards?
Rewards are credited directly to your Insider account and will reflect in your profile page- https://insider.in/users/me. You can then use your rewards to buy tickets for any event on Insider.in! Check out awesome events near you on the Paytm Insider app.

2. I couldn't participate. Can I watch the video elsewhere?
Unfortunately, you can only participate in shows that are hosted on Paytm Insider app live! However, we do have a bunch of exciting shows coming up. To stay updated, follow the shows you're looking forward to under the 'Play it Live' section on the app. We will be archiving videos as well - you can catch the first episode below!

3. How do I check my historical scores?
At this time, historical scores are not available for public viewing. However, if you've won previous quizzes, your prizes will reflect in your Paytm Insider wallet. You can check this here- https://insider.in/users/me

4. My screen froze after I answered the last question. How do I check if I've won?
In case this happens, check if you've won by logging into your profile page to see if the reward has been credited to your wallet. You can view this here - https://insider.in/users/me

5. What are the recommended tech specifications to participate in Live on Paytm Insider?
We recommend you use the latest version of Android and iOS and be on either a WIFI or 4G connection.
Download the app to play!
The live feature is available exclusively on the Insider.in app. Click below to get started.
Subscribe to receive our newsletter!
Find the best experiences happening out there in your city or enjoy handpicked content while sitting comfortably at home. Paytm Insider is your go-to place to figure out what to do today!