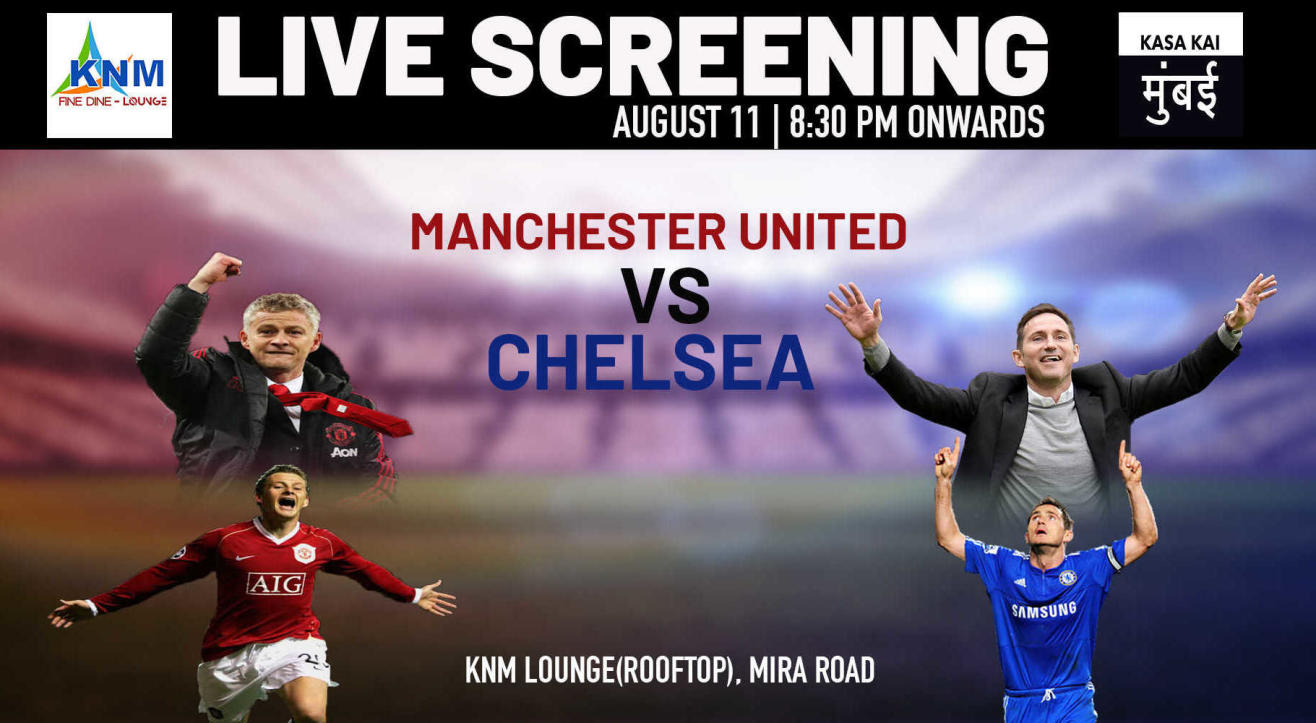 Screening
Live Screening : Manchester United vs Chelsea at KNM Lounge Rooftop Mira road
KNM Fine Dine and Lounge, Mira Road
About
Join KASA KAI MUMBAI as we bring to you the first match of the season for Manchester United and Chelsea and what a game it is! Start the season with a bang by watching the game on a big screen with friends and other fans cheering over every goal.
Are you coming?
Commentary will be on and beer will be flowing!
Q: Will the match be shown on a huge screen?
A: Yes, the match will be projected on a huge screen.

Q: Will the commentary be played along with the match?
A: Yes, at Kasa Kai Mumbai, we ensure that there is live commentary available for all our matches.

Q: Will the matches be shown in HD (high definition)?
A: We try our best to screen our matches via HD channels, but this depends on the broadcaster's schedule as well as the channel availability at the venue.

Q: Will the commentary be in English only?
A: Yes.

Q: Do we have to wear our jerseys compulsorily?
A: Though there is no compulsion, we suggest that you wear your jerseys so that it creates an atmosphere unlike no other!

Q: Is there any formal dress code?
A: There isn't, but most venues expect you to arrive in a well dressed and respectful manner. Jerseys, jeans and shoes are usually the norm whereas shorts and flip-flops are a disastrous no-no.

Q: Can I bring accessories like scarves, footballs, flags, banners, etc?
A: It is best in your interest that you confirm with the venue a day or so before the match screening, since it may disrupt the screening experience as well as the venue's interiors.

Q: What time should I reach the venue?
A: It is recommended that you reach the venue before suggested starting time.

Q: Are stag entries allowed?
A: Yes, of course!

Q: Can tickets be purchased on the spot?
A: It is recommended that you purchase tickets beforehand so that you aren't left out if the venue is at full capacity. A ticketholder gets privileges over walk-ins, so a lack of a ticket may spoil plans for your friends and you.
Venue
KNM Fine Dine and Lounge, Mira Road
Near Mira bhayander bus depot New, Road, Pleasant Park, Mira Road, Mira Bhayandar, Maharashtra 401107